Margaret Hodge demands civil service changes amid West Coast main line rail fiasco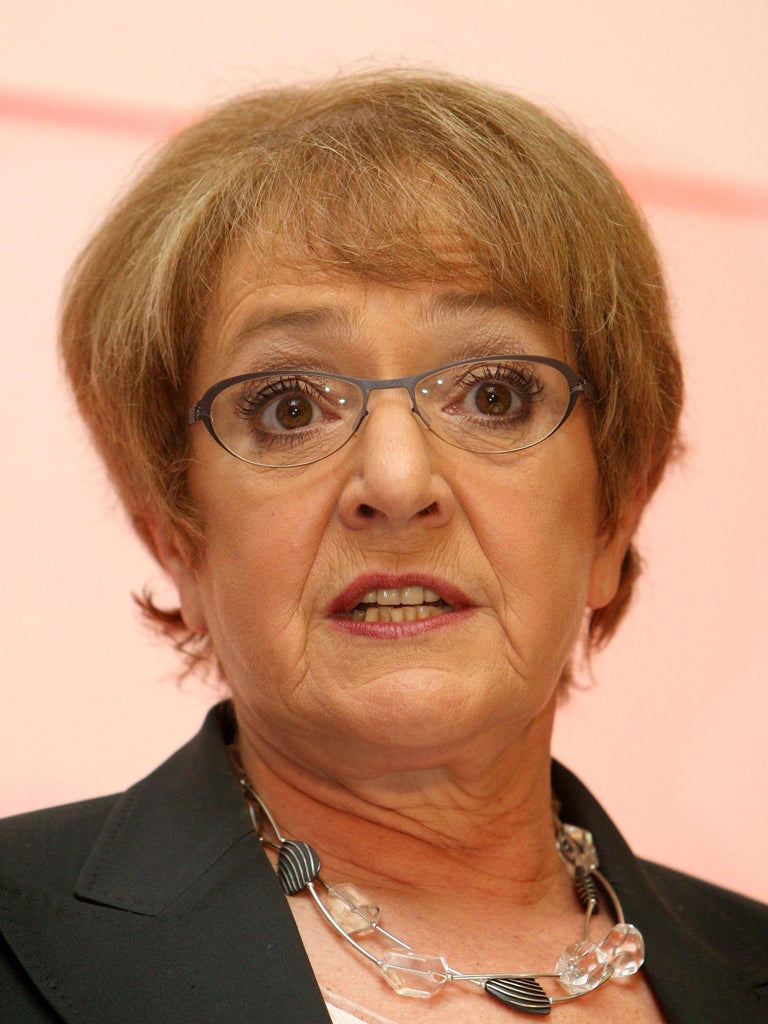 A senior MP today demanded sweeping changes to the civil service amid the West Coast main line rail fiasco.
Labour MP Margaret Hodge, who chairs Westminster's powerful Public Accounts Committee, said the embarrassing and costly debacle exposed flaws in Whitehall processes.
She called for "proper accountability" to "raise civil servants' game" and improve quality and standards after three Department for Transport (DfT) civil servants were suspended following the Government's U-turn which will cost taxpayers at least £40 million.
FirstGroup was expected to take over the franchise from Sir Richard Branson's Virgin Rail which runs services between London and Scotland.
But Transport Secretary Patrick McLoughlin scrapped the deal, admitting the DfT made "unacceptable mistakes" in managing bids - and laid the blame "wholly and squarely" on civil servants.
Mrs Hodge said today: "It exposes in a very stark way that the present conventions on accountability between civil servants and ministers to Parliament and the public aren't working.
"It's yet another example ... of where the civil servants themselves have not really captured and taken on the role that is expected of them in today's society.
"People came into the civil service in the past because they were interested in policy, they wanted to devise policy.
"Today, the job of a civil servant is much more about delivering programmes, and that requires a different set of skills."
She told BBC Radio 4's Today programme more training was needed to ensure "incredibly bright, talented, committed" staff could manage projects.
Mrs Hodge wanted civil servants to stay longer in their jobs so they could develop expertise.
"The way you climb the greasy pole in the civil service is that you change your job every couple of years," she said.
"That's a disaster and we need to leave people in post so they take proper responsibility for the very difficult and complex job they have to do.
"Then we have to open up this issue of accountability so they can't hide behind lack of accountability for not telling us what the outcomes are."
Mrs Hodge's call came as Scotland's Transport Minister Keith Brown prepared to make a statement on the "shambolic" cancellation of the West Coast contract, which has sparked two independent inquiries.
Mr Brown complained the Scottish Government was not warned of a decision which affects the country.
"This is a shambolic situation that affects thousands of passengers in and out of Scotland," he said.
"I will do everything I can within our current limited powers to help minimise any uncertainty and disruption for them and I urge the Department for Transport to sort out this horrendous mess and do the same."
Former cabinet secretary Lord O'Donnell, who retired last December, admitted the West Coast fiasco "does raise some issues about skills in the civil service".
He said civil servants who made mistakes should be held accountable, adding: "There are civil servants up and down the country doing great jobs, but we are suffering some areas where there are skills shortages, in the commissioning area, in the procurement area."
He claimed Whitehall must pay higher salaries if it wanted the best staff, telling Today: "That's part of the answer and we should be prepared to do that.
"Having an arbitrary constraint like the Prime Minister's salary isn't helpful."
Lord O'Donnell added: "It's not that they're greedy, but pay is a measure of how much they feel they're valued."
He also criticised ministers who attacked civil servants, saying it was "a mistake" and "self-defeating".
The Institute for Government's director Peter Riddell said the scrapping of the West Coast main line franchise "goes to the heart of the civil service's credibility and reputation for competence".
He said while such mistakes should not tarnish the whole civil service, "errors, particularly as costly and serious in their consequences as over the franchise, inevitably overshadow the successes".
Mr Riddell added: "At a time when relations between some ministers and some senior civil servants are already strained, the disclosures could hardly be more damaging."
PA
Join our commenting forum
Join thought-provoking conversations, follow other Independent readers and see their replies