Theresa May says UK faces losing control over immigration - even it leaves EU
Home Secretary makes major foray into EU referendum debate
Oliver Wright
Political Editor
Sunday 24 April 2016 18:46 Comments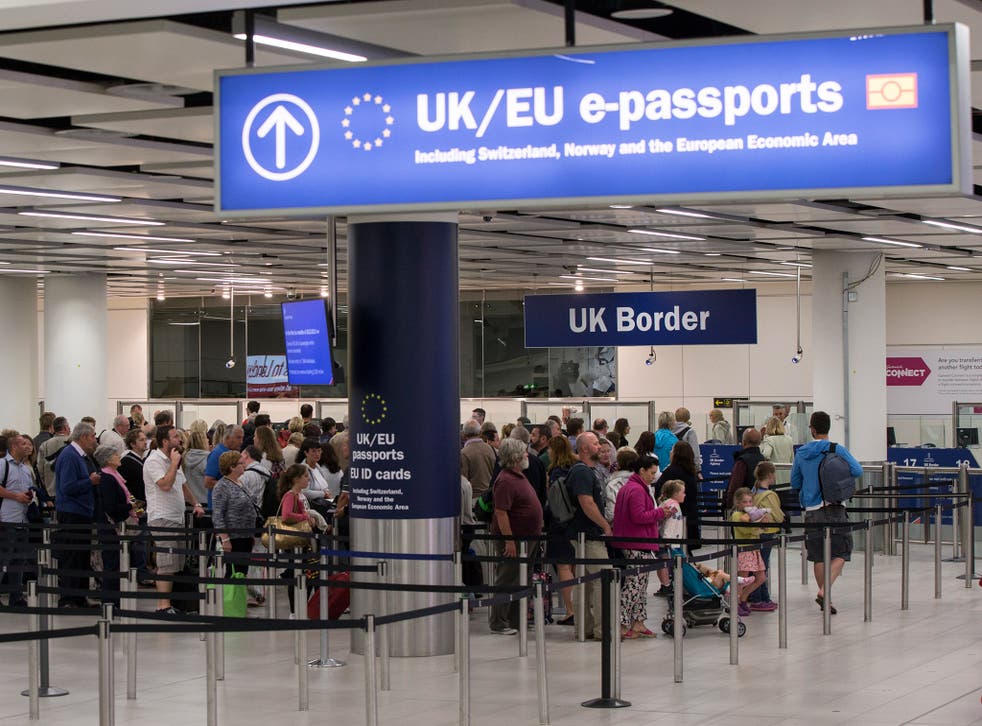 Britain could be forced to accept unlimited immigration from other European countries even if the country votes to leave the EU, the Home Secretary Theresa May has warned.
In her first major intervention in the referendum debate Mrs May said if the UK wanted access to the single market we would have no choice but to allow the free movement of people just as we do at present.
And she insisted it was still possible to control immigration as part of the EU denying that the UK had "lost control of its borders".
"Yes, free movement makes it harder to control immigration but it does not make it impossible," the Home Secretary told the Andrew Marr show.
She added: "If we were to be outside the EU and still wanted to access the single market then you would have to accept free movement rules."
Her comments came as President Barack Obama again waded into the Brexit battle, warning the UK would have to wait up to a decade for a trade deal with America if it quits the EU.
Unbowed by the backlash from the Leave camp against "interference" in British affairs, Mr Obama moved to explain his stark statement that the UK would be at "the back of the queue" for a beneficial economic arrangement if it breaks away from Brussels.
Insisting he had not sought to "scare" Britons into rejecting Brexit, Mr Obama told the BBC: "My simple point is that it's hard to negotiate trade deals. It takes a long time.
"We wouldn't abandon our efforts to negotiate a trade deal with our largest trading partner, the European market, but rather it could be five years from now, 10 years from now, before we were able to actually get something done."
In her interview Ms May did admit that it was harder to control due to the EU's free movement of labour rules however she insisted the task was not impossible as she tried to distance herself from an official Treasury study showing that immigration would soar by three million by 2030.
Her remarks were seized on by the Leave camp as proof Britain had an "open door" policy.
Ms May would not be drawn on a Government document saying immigration would jump by three million.
"That was an independent figure, that was an independent estimate," the Home Secretary said of the Office for National Statistics' prediction of a steep rise in immigration, which was put out by the Treasury as part of the Government's claim that Brexit would cost each household £4,300 a year.
The Home Secretary insisted Britain had won a landmark concession from Brussels on immigration in that the EU will overturn judgments of the European Court of Justice that make it is easier for people to abuse the free movement rules.
Meanwhile in an escalation of the highly personalised attacks launched against Mr Obama by the Leave campaign, Ukip leader Nigel Farage said the president's priority in attacking Brexit was to "guarantee his financial future".
What's the European Parliament ever done for us?

Show all 5
"There is a bigger motivation and that is, with this trip, and with what he has said, he has guaranteed his financial future. He has done the bidding of the giant American corporates who want Britain to stay in the EU," Mr Farage told Sky's Murnaghan.
Prominent Labour MP Chuka Umunna accused London mayor Boris Johnson of being "unfit" to be prime minister after his remarks drawing attention to Mr Obama's Kenyan heritage.
Brexit would make households £40 a week better off, one of Margaret Thatcher's economic gurus, Professor Patrick Minford, told The Sun on Sunday.
Before the campaign began some commentators suggested that Ms May would join Boris Johnson and Michael Gove in the Leave camp.
But she said after having looked at all the issues she was convinced that, on balance, Britain was better off in.
"It is not a black and white decision," she said. "It is not an issue of whether we can survive (outside the EU) – its what's best for Britain's future.
Ms May said in terms of law and order being able to share criminal records with other EU countries made Britain safer – something that could be lost if we pulled out.
"There is no doubt that we need to do more in exchanging criminal records but we are not going to be able to do that better outside the EU."
Challenged over accusations that Britain had "lost control of its borders" Ms May insisted that the idea "everybody can walk into the UK" was "not the case."
She pointed to a letter written to her by Labour calling for her to ban the French National Front Leader Marine Le Penn who wants to campaign for Britain to pull out of the EU as evidence that the UK is far from powerless in controlling who is allowed into the country.
Register for free to continue reading
Registration is a free and easy way to support our truly independent journalism
By registering, you will also enjoy limited access to Premium articles, exclusive newsletters, commenting, and virtual events with our leading journalists
Already have an account? sign in
Join our new commenting forum
Join thought-provoking conversations, follow other Independent readers and see their replies