'Megrahi was my friend. He did not kill my daughter': Lockerbie father says British government is not telling the truth about the bombing
On the 25th anniversary of the atrocity, Dr Jim Swire accuses the Government of covering up key facts about the bomb that killed 270 in 1988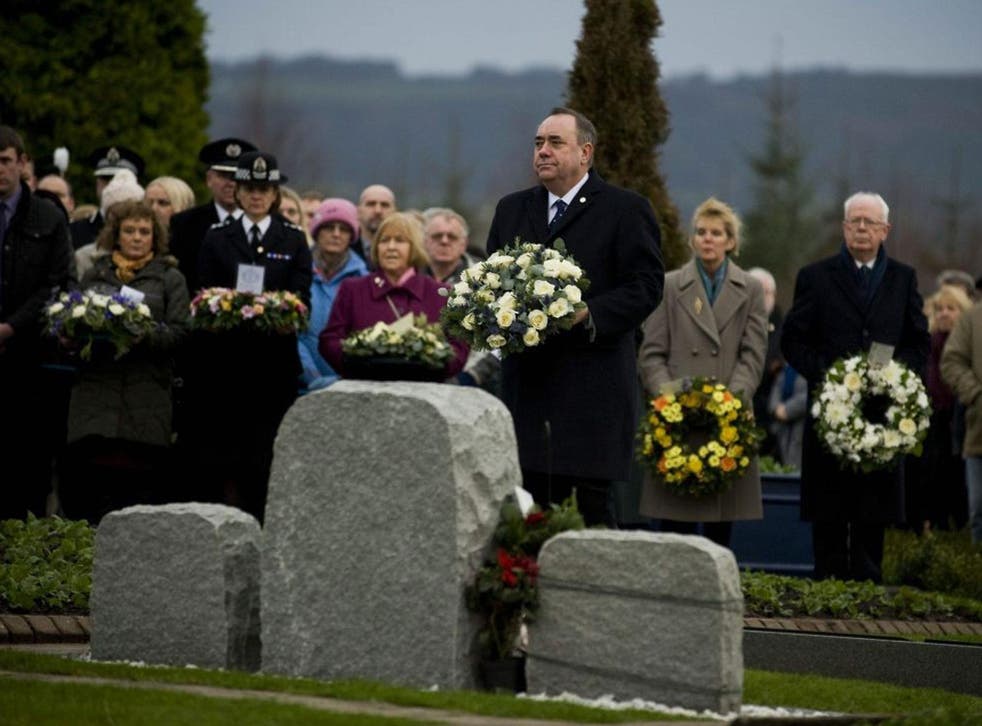 The father of one of the 270 victims of the Lockerbie bombing has asked mourners to pray for the "innocent family" of the only person convicted of the worst mass murder in British history, as the nation marked its 25th anniversary.
In his address to a memorial service at Westminster Abbey yesterday evening attended by relatives of the victims, Dr Jim Swire also accused the British government of failing to tell "all the truth they know about this terrible tragedy".
Before the service, the UK, US and Libyan governments in a joint statement promised to work together to "reveal the full facts of the case", saying that they wanted "all those responsible for this most brutal act of terrorism brought to justice, and to understand why it was committed".
Dr Swire said the Libyan intelligence agent Abdelbaset al-Megrahi – jailed for life for mass murder but released after eight years in prison on compassionate grounds, as he had terminal cancer – had "died my friend". He also repeated his claim that a convicted terrorist, an Egyptian now living in Sweden, was involved in the bombing.
Dr Swire said he had recently tried to confront that man. "All day long the curtains were drawn shut and the blinds down. Inside was a man who has spent his whole life as a terrorist. I believe he played a key role in the Lockerbie atrocity," he said. "Too afraid to answer the bell himself, he sent his wife to an upstairs window to threaten [me]."
Although he did not name the man, it is understood he was referring to Mohammed Abu Talb, jailed for life for carrying out terrorist bombings in 1985 in Copenhagen and Amsterdam, but since released.
Dr Swire, whose 23-year-old daughter Flora was a passenger on the plane, has previously described Talb as "a life-long, proven terrorist". By contrast, Dr Swire said he once received a Christmas card from Megrahi: "In it, he had written, 'Dr Swire and family, please pray for me and my family.' He died my friend.
"Over Christmas, if you pray, please pray for his innocent family, but also for all those who wrestle with hatred, that they may be healed by God's love. Please pray also that we who will sit down at a Christmas table with chairs forever empty may find peace."
Dr Swire also denounced successive British governments. "I claim habeas corpus as I say in this ancient Abbey that I do not believe that our governments have told us all the truth they know about this terrible tragedy," he said.
Speaking yesterday to The Independent on Sunday, Dr Swire reiterated his call for a public inquiry. "If we are not granted an inquiry – and for goodness' sake we've been trying for 25 years to force an inquiry out of them with no results at all – we'll have to go to the European courts and take our own government to court for not meeting their obligations under human rights legislation," he said.
Megrahi's release in 2009 came after the Scottish Criminal Cases Review Commission gave him leave to appeal for a second time, citing six reasons why there were serious concerns about his conviction.
Doubts about his guilt were fuelled on Friday, when it was revealed that Dr Richard Fuisz, a businessman and CIA asset, gave a sworn statement implicating Palestinian militants.
Under oath in 2001, Dr Fuisz told the original defence team that senior Syrian officials had told him that the Popular Front for the Liberation of Palestine-General Command, which was based in Syria, had carried out the bombing. This evidence has never been used in a court.
John Ashton, author of Megrahi: You are my Jury, discovered the deposition by Dr Fuisz buried in the defence team's files. He said it was "hugely significant" and further undermined the case against Megrahi. "It's absolutely scandalous there's never been a public inquiry," he said.
Megrahi's brother, Abdel-Hakim Al-Megrahi, told the BBC that the family planned a posthumous appeal, and hoped the Libyan government would help fund it. "We wish for the truth to be revealed, and this is not just for our own benefit but also for the benefit of the families of the victims and for public opinion," he said. "We need to know who committed this horrible crime."
Professor Hans Koechler, the UN observer at the trial that convicted Megrahi, also called for an inquiry, but feared that "power politics [had] made it impossible for the families to find out what really happened".
At a wreath-laying ceremony in Lockerbie yesterday, the Rev John MacLeod told mourners: "We, the people of Lockerbie … welcome you once again to this place where you know you are always welcome. In doing so we seek to comfort and console you."
The bombers, he said, "chose to set aside their humanity and destroy the lives of 270 people… [and] not only their lives but also those who survived, families and friends".
Join our new commenting forum
Join thought-provoking conversations, follow other Independent readers and see their replies