Mhairi Black says Tory MPs stopped looking at her after she delivered maiden speech in House of Commons
21-year-old SNP MP launches scathing attack on 'selfish' and 'dangerous' Tories who 'always prey on what I would call the worst bits of human nature'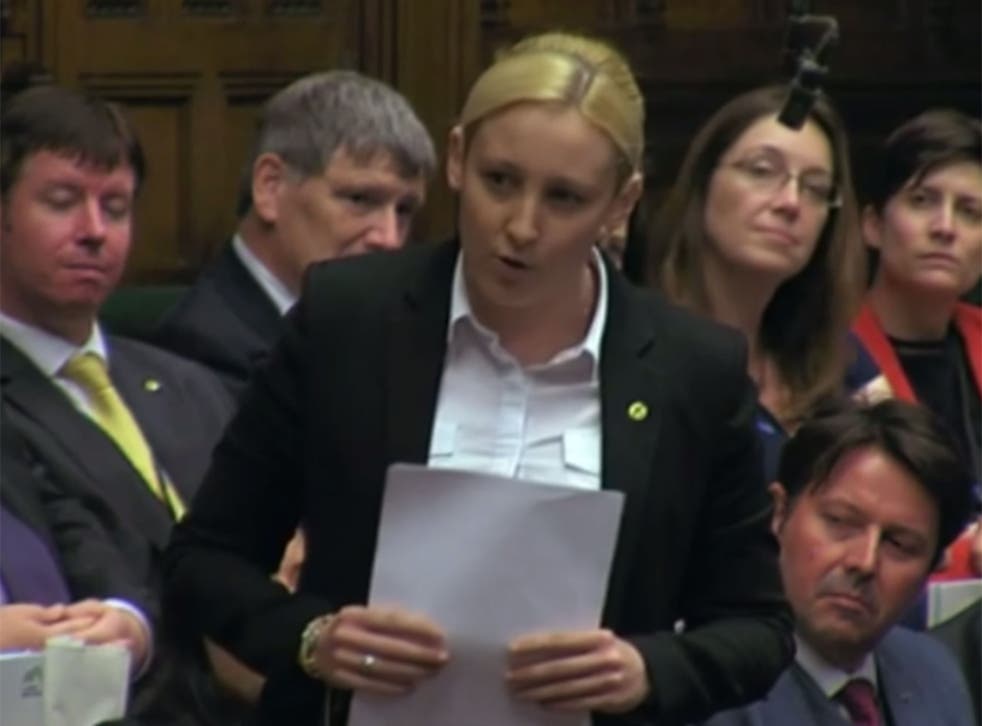 Britain's youngest MP Mhairi Black has explained how Conservative MPs stopped looking at her after she delivered her maiden speech, which went viral online and hit 10 million views by the end of the day.
The 21-year-old SNP MP, reflecting on her first five months in Westminster, described the Tories as a "really dangerous party" who "always prey on what I would call the worst bits of human nature".
She said Labour MPs had not looked her in the eye from the off, perhaps embarrassed at what her triumph signified for their party, but having launched a scathing attack on the Tories in her first speech in the House of Commons in July, they too stopped looking at her in the eye.
Ms Black became the youngest MP in 350 years after ousting former Labour Cabinet minister Douglas Alexander as MP for Paisley and Renfrewshire South at the age of just 20-years-old.
In an interview with the Guardian, Ms Black said she expected to be patronised due to her age but said it "went to a whole new level" than what she was anticipating. She said: "If one more person pats me on the back … it was all the time: 'How are you, are you alright? How are you finding it?'"
Among her most memorable lines in her maiden speech was her attack on George Osborne's decision to abolish housing benefit for all those under the age of 21. "I am the only 20 year old in the whole of the UK that the Chancellor is prepared to help with housing."
Explaining the reaction to her speech by rival MPs, she said: "After the maiden speech, there are quite a few of them won't even look at me anymore." Asked whether she was referring to Labour or Tory MPs, she said: "Tories. A lot of Labour wouldn't look at me in the first place."
Mhairi Black makes first speech
Ms Black described the Conservative party as shrewd operators who exploited the selfish element in voters and used simplistic arguments to justify "brutal cuts".
She said: "I look at it as a really dangerous party. Conservative policies, quite often, if you were to look at them in one sentence, make perfect sense. If somebody's claiming taxpayers' money in order to sit on their backside and watch Homes Under the Hammer every day, why the hell shouldn't they be made to get a job? It's an excuse that has been used to justify so many brutal cuts. They're talking about people who are working harder than a lot of MPs are. The Conservatives are really good at this, and they always have been, and they always prey on what I would call the worst bits of human nature. The ideology always comes down to selfishness."
Ms Black turned 21 on the same day as Jeremy Corbyn's landslide victory in the Labour leadership election last month and said she was prepared to "give him a shot".
However she has not been impressed with his first month in charge, questioning why he had appointed the unelected peer Lord Falconer as shadow justice secretary and expressed dismay at Labour's failure to debate the renewal of Trident, a move fiercely opposed by the SNP.
She said: "A Lord in the [shadow] cabinet? And then Trident, you're not even going to debate it? Where's this fresh, new, straight-talking politics? Everything they've done so far, they've disappointed."
Join our new commenting forum
Join thought-provoking conversations, follow other Independent readers and see their replies