Michael Gove: Britain's worst political serial killer thwarted by a text message
The Westminster Chainsaw Massacre is over. The Justice Secretary has finally been ousted from the Tory leadership race. But was it all worth it?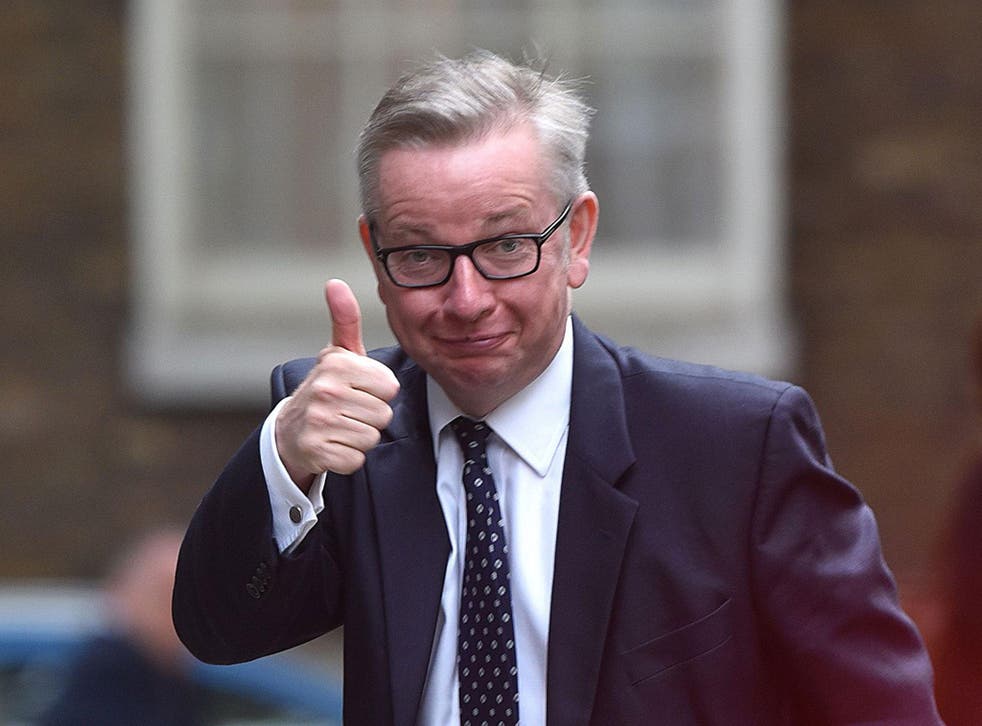 As Macbeth said in one of the Simplified Shakespeare for GCSE texts Michael Gove once tried to outlaw in schools: "Oh God. I have totally ballsed this up."
We shouldn't laugh, because the consequences for us all are uniquely terrible, but one minor footnote to the Tory leadership ballot is that in the second round, with five candidates having been whittled down to three, Michael Gove's votes actually decreased by two, down from 48 to 46, and as such he will forever after be known as Britain's worst political serial killer.
Criminologists argue over the precise meaning of that term. How many killings are required to qualify as a serial killer? But having dispatched his old best mate David Cameron in spectacular and prolonged public fashion, knifed the favourite to replace him in an even more ugly spectacle, and then to be derailed in the act of botching a third attempt surely meets the criteria.
That a shabby little leaked text message was what came finally to expose him was fitting enough in the end. On Wednesday night, Gove's campaign manager Nick Boles texted potentially wavering Tories saying: "In the national interest surely we must work together to stop AL [Andrea Leadsom]?" Political machinations, like rhythmic gymnastics, do not make life easy for those whose job it is to judge them, but the minus two it achieved in votes seems like a fair enough score for his efforts.
Theresa May vs Andrea Leadsom - who will be the next PM?
Arguably this does the man a disservice. Cameron and Johnson are hardly his only victims. In a short concession speech, Gove said he now hoped for a "civilised, inclusive, positive and optimistic" debate about Britain's future. Hope indeed. Hope for a "civilised" debate when there's a 500 per cent rise in reported incidents of racism. Inclusive when the favourite to be next Prime Minister pointedly won't rule out deporting three million people. Positive when the currency and the stock markets are crashing, all the major banks are about to forecast self-inflicted recession and if you point this out to the people whose fault it is they'll accuse you of "talking Britain down". And optimistic because, well, when everything else has gone that's all you've got left.
Hope eh? As Billy Bob Thornton's Bad Santa warns an overly entitled nine year old boy: "Kid. Hope in one hand and sh*t in the other and see which one fills up faster."
Of course, the man himself has recast his act of Boriscide as a heroic dash into a burning building to drag out the vulnerable baby that was the nation, an analogy that slightly loses its way when you consider who it was that set the building ablaze in the first place.
Goodbye to the visionary then. The radical. And welcome to the only two people left standing at the end of the Westminster Chainsaw Massacre. One, a Home Secretary of six years service, whose greatest hits include driving "Immigrants Go Home" billboards around racially charged neighbourhoods and whose unrivalled longevity in the role owes most to a unique approach to it in which every potential cock-up has been outsourced to G4S, and the other an anthropomorphised Daily Mail Comments section.
The favourites in the Tory leadership race

Show all 5
At some point, in the quiet moments to come, Britain's worst political serial killer will have plenty of time to reflect on whether it was all worth it. Don't imagine he'll change his mind. The defining characteristic of the radical is that he knows he's right. But there is cause for sympathy. Serial killers find gratification for their abnormal desires in the act of killing itself. For Gove it was a means to an ends that never arrived. Britain broken for a dream unfulfilled. A tragedy for us all to share. A tale told by an idiot, full of sound and fury, signifying nothing.
Register for free to continue reading
Registration is a free and easy way to support our truly independent journalism
By registering, you will also enjoy limited access to Premium articles, exclusive newsletters, commenting, and virtual events with our leading journalists
Already have an account? sign in
Register for free to continue reading
Registration is a free and easy way to support our truly independent journalism
By registering, you will also enjoy limited access to Premium articles, exclusive newsletters, commenting, and virtual events with our leading journalists
Already have an account? sign in
Join our new commenting forum
Join thought-provoking conversations, follow other Independent readers and see their replies