Michael Gove 'gets stuck in Commons toilet' on first day in new job as Chief Whip
Former Education Secretary apparently wasn't aware a vote was happening, got trapped in a toilet - and missed his first ever Commons vote in new role
Adam Withnall
Thursday 17 July 2014 14:46 Comments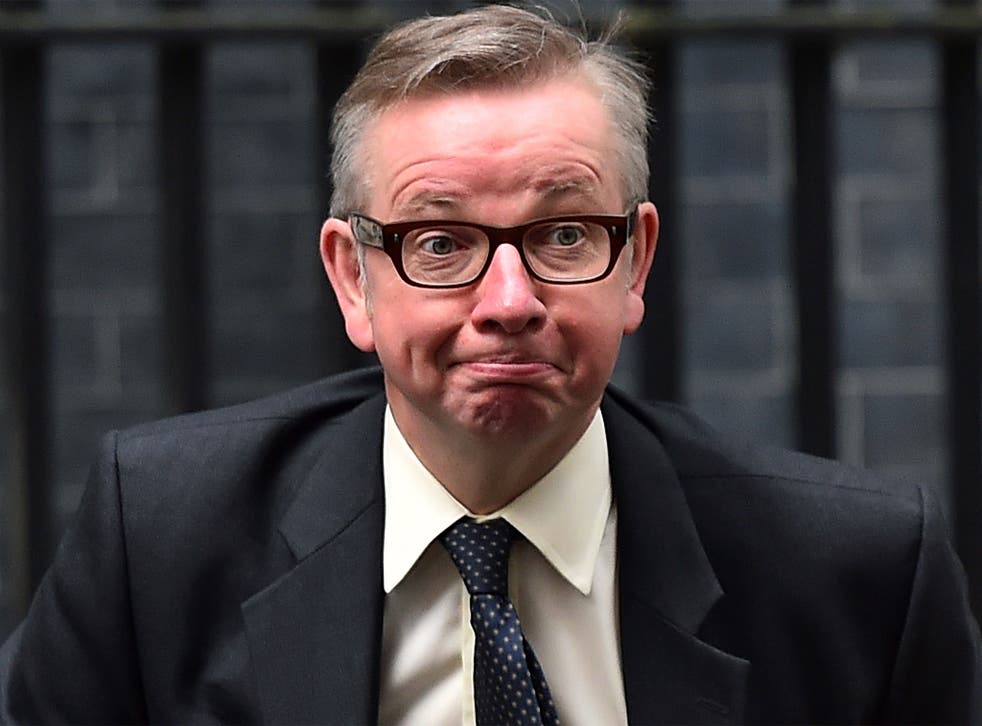 Michael Gove's first day on the job as David Cameron's Chief Whip did not quite go according to plan yesterday after the newly appointed minister "got stuck in the toilet" at the Commons.
The former Education Secretary's misfortune was revealed today by the Shadow Leader of the Commons, Angela Eagles, who explained to MPs that Mr Gove "hadn't had the most auspicious of starts" in his new role.
Ms Eagles said that Mr Gove "not only lost his first vote but he managed to get stuck in the toilet in the wrong lobby and he nearly broke his own whip".
It later emerged that Mr Gove had been using the toilet on the "aye" side of the Commons when a vote was called in the chamber.
As Chief Whip, it is now his responsibility to get MPs to vote the way the Coalition wants them to – so MPs said it was "odd" he didn't know about the motion brought by Labour's Alison McGovern.
Mr Gove ended up stopping in the toilet to speak to a Labour backbencher, and by the time he realised what was happening he had no choice but to stay there until the votes were cast.
The doors to the Commons are locked eight minutes after a vote is called, and if he had left at that point he would joined the side that was against his own Government.
Speaking to politics.co.uk, the MP and education committee member Bill Esterson who bumped into Mr Gove explained how he engaged him in "a bit of a chat".
"I nipped into the toilet and he was finishing, so to speak, and stopped to talk to me," Mr Esterson said.
"He stopped to apologise to me for missing our select committee appearance that morning because of his change of job - he was due to talk to us about our inquiry on extremism in Birmingham schools."
Michael Gove's memorable moments

Show all 5
Aside from the embarrassment of having to twiddle his thumbs in the toilet while the vote went on, Mr Esterson said it was "a bit odd" he was in the wrong lobby at all, adding: "You would have thought the chief whip wouldn't have been in that situation. He was a little careless."
The former Foreign Secretary and now Coalition Leader of the Commons, William Hague, made light of the incident at Parliament today, joking: "Knowledge of who is in the toilets in whatever lobby is a very important piece of information for any chief whip and I take this as evidence that he was carrying out his duties very assiduously."
Register for free to continue reading
Registration is a free and easy way to support our truly independent journalism
By registering, you will also enjoy limited access to Premium articles, exclusive newsletters, commenting, and virtual events with our leading journalists
Already have an account? sign in
Register for free to continue reading
Registration is a free and easy way to support our truly independent journalism
By registering, you will also enjoy limited access to Premium articles, exclusive newsletters, commenting, and virtual events with our leading journalists
Already have an account? sign in
Join our new commenting forum
Join thought-provoking conversations, follow other Independent readers and see their replies