Michael Gove 'liked by only 22% of the public'
A poll revealed Gove to be one of the UK's least popular politicians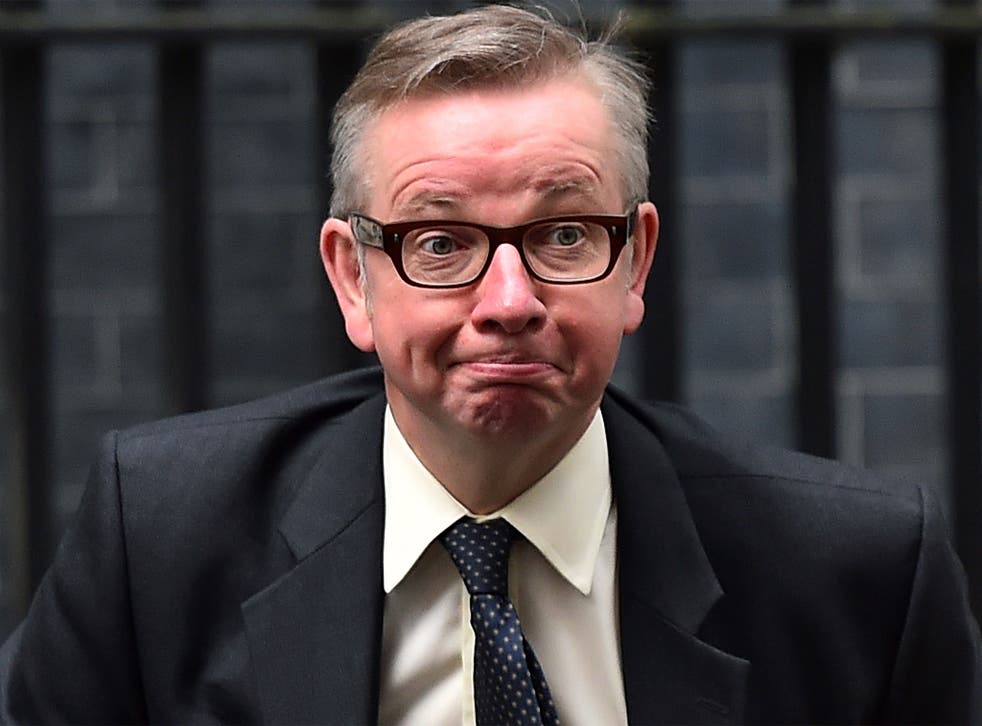 Michael Gove has been named as one of the most unpopular politicians in the UK – just one day after he left his post as Education Secretary in David Cameron's Cabinet reshuffle.
Just 22 per cent of the public say they like Mr Gove, while over half (54 per cent) say they dislike him, according to an Ipsos MORI poll for the London Evening Standard, which was carried out before the reshuffle.
And although 11 per cent believe Mr Gove would make a good prime minster, a far larger 66 per cent do not think he has what it takes.
Mr Gove has taken on the less senior post of Government Chief Whip after four years as a radical education reformer. He will also have a role in campaigning and doing media interviews in the run-up to next year's general election.
But the findings of the poll are likely to add weight to the argument that he was downgraded for becoming "toxic" to the electorate. Mr Gove has pushed through controversial reforms such as the expansion of free schools but his confrontational approach has alienated many in the education world.
The poll showed that Mr Gove's policies are liked by 25 per cent but disliked by 51 per cent of respondents.
However, other high-profile politicians fared better. Home Secretary Theresa May has a popularity rating of 40 per cent and is disliked by only 45 per cent. Almost a third (30 per cent) of people believe she would make a good prime minster.
Meanwhile Chancellor George Osborne is liked by 30 per cent but disliked by 54 per cent. His policies are liked by 35 per cent and disliked by 49 per cent. Just 18 per cent of people think he has prime ministerial qualities.
David Cameron fared better than his ministers, with a 44 per cent popularity rating and 36 per cent of people saying they like his policies.
But London Mayor Boris Johnson came out on top with 58 per cent of respondents saying they like him and 45 per cent liking his policies.
In the Labour camp, leader Ed Miliband is liked by 33 per cent of people but his policies are only liked by 31 per cent. Of more concern to his supporters is that only 22 per cent think he has what it takes to be prime minister.
Gideon Skinner, head of political research at Ipsos MORI said: "Our poll helps put the reshuffle in perspective, with the lack of popularity for Michael Gove and his policies. More generally, it shows on the key battleground of the economy the Chancellor's policies are more liked than he is, and Cameron maintains his lead over Ed Miliband."
Register for free to continue reading
Registration is a free and easy way to support our truly independent journalism
By registering, you will also enjoy limited access to Premium articles, exclusive newsletters, commenting, and virtual events with our leading journalists
Already have an account? sign in
Register for free to continue reading
Registration is a free and easy way to support our truly independent journalism
By registering, you will also enjoy limited access to Premium articles, exclusive newsletters, commenting, and virtual events with our leading journalists
Already have an account? sign in
Join our new commenting forum
Join thought-provoking conversations, follow other Independent readers and see their replies