Michael Gove to pledge 'Green Brexit' in first keynote environment speech
But the Environment Secretary has been warned by environmental campaigners not to 'water down' EU rules and regulations aimed at tackling air pollution and climate change
Ashley Cowburn
Political Correspondent
Friday 21 July 2017 00:04 Comments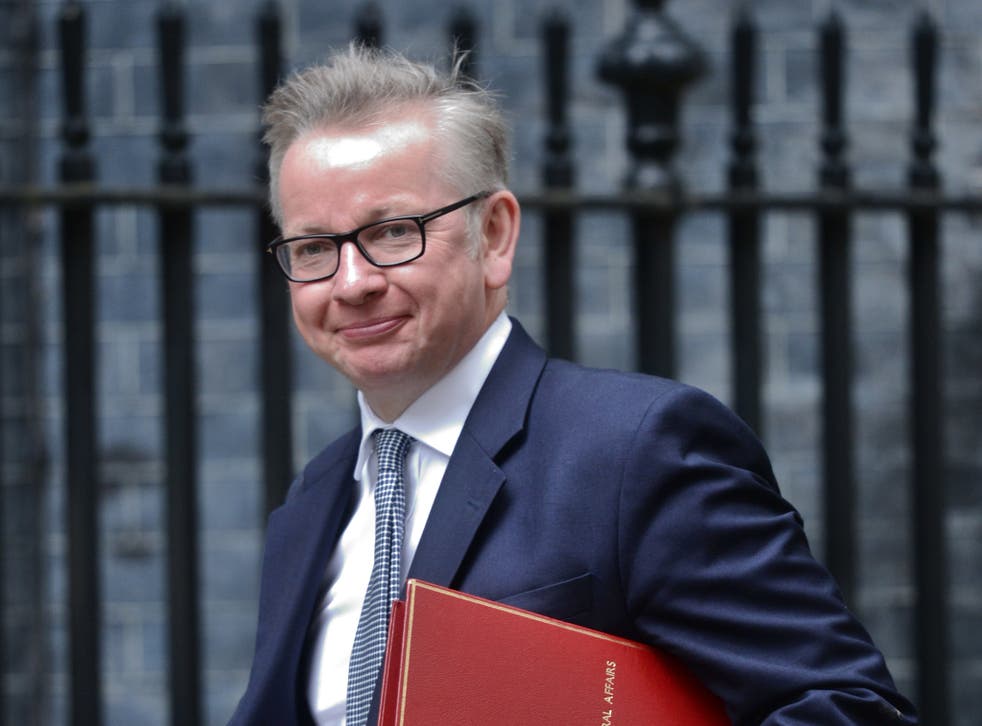 Michael Gove will pledge to deliver a "green Brexit", vowing to set global standards on policies from animal welfare to air quality, in his first keynote speech on the environment.
Mr Gove, who replaced Andrea Leadsom as Environment Secretary following the general election, will also claim that leaving the European Union presents a historic opportunity to reform farming, fisheries and land management.
But the Environment Secretary, a leading figure in the campaign to leave the European Union last year, has been warned by environmental campaigners not to "water down" EU rules and regulations aimed at tackling air pollution and climate change.
Without these regulations, Greenpeace told The Independent, "a dirty Brexit will be far more likely than a green one".
In a keynote speech at the WWF's Living Planet Centre, Mr Gove will say he is an "environmentalist first because I care about the fate of fellow animals".
"But I am also an environmentalist because of hard calculation as well as the promptings of the heart," he will add. "We need to maintain and enhance the natural world around us, or find ourselves facing disaster.
"Indeed, ultimately, the air we breathe, the water we drink, the food we eat and the energy which powers enterprise, are all threatened if we do not practise proper stewardship of the planet."
On delivering a "green Brexit", Mr Gove will add the decision to exit the EU will present "new opportunities, and challenges" for the British Government.
"And nowhere more so than in the area of environmental policy," he will say.
"We now have an historic opportunity to review our policies on agriculture, land use, biodiversity, woodlands, marine conservation, fisheries, pesticide licensing, chemical regulation, animal welfare, habitat management, waste, water purity, air quality and so much more."
Repeating the pre-referendum slogan, he will say that leaving the EU and the Commons Fisheries Policy will allow Britain to "take back control" of environmental policy.
Commenting on the speech, Rebecca Newsom, policy adviser at Greenpeace UK, said: "Since being appointed Environment Secretary, Michael Gove has made a number of promising statements about reforming farm subsidies, enhancing nature protections, and looking after our bees. The question is whether and how these words will turn into actual government policy.
But, she warned: "For decades, it's EU environmental law that has cleaned up our beaches, banned dangerous chemicals, and held Gove's own department to account for its failure to tackle illegal air pollution. Without these regulations and an authority to enforce them, a dirty Brexit will be far more likely than a green one.
"Michael Gove should use the Repeal Bill to enshrine policies, principles and real enforcement of rules to make sure Britain doesn't have weaker environmental standards than those enjoyed by our European neighbours. That's one concrete thing Gove can do to ensure we leave our environment in a better state for the next generation."
Friends of the Earth chief executive Craig Bennett added: "With all the evidence suggesting that leaving the EU will be a disaster for our environment, Michael Gove must deliver a package of strong environmental regulations if he wants to make a 'green Brexit' a reality.
"Current EU rules aimed at tackling air pollution and climate change and protecting our birds, bees and nature must not be watered down, and mechanisms must be put in place to enforce them post-Brexit."
"The British public are overwhelmingly in favour of keeping or strengthening EU rules that protect our natural environment – Mr Gove must not let them down," he added.
Register for free to continue reading
Registration is a free and easy way to support our truly independent journalism
By registering, you will also enjoy limited access to Premium articles, exclusive newsletters, commenting, and virtual events with our leading journalists
Already have an account? sign in
Join our new commenting forum
Join thought-provoking conversations, follow other Independent readers and see their replies