Michael Gove to tell judges they can ignore European Court of Human Rights rulings
Secretary of State for Justice will unveil British bill of rights to replace the Human Rights Act before Christmas
Charlie Cooper
Whitehall Correspondent
Sunday 08 November 2015 16:45 Comments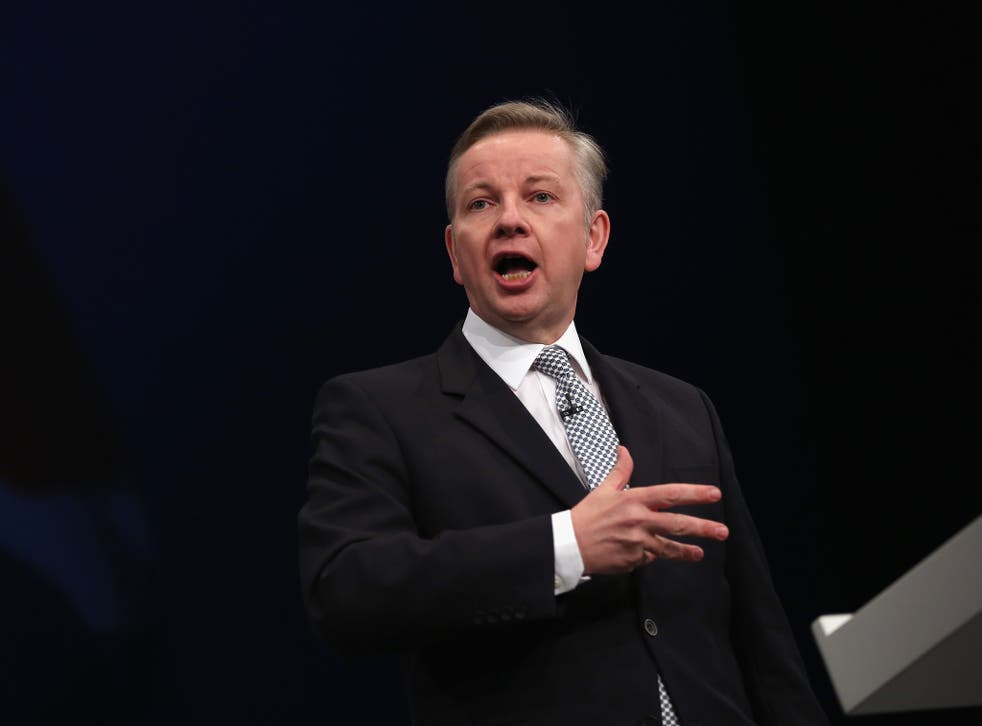 Judges will be told they can ignore some rulings from the European Court of Human Rights, and look to Australian or Canadian law instead, under plans to introduce a British bill of rights.
Michael Gove is set to unveil the Government's long-awaited replacement for the Human Rights Act before Christmas. Government sources suggest the proposals will include a weakening of European law, with domestic courts encouraged to turn to the common law, or even law in Commonwealth countries, in forming judgments.
The justice minister is reportedly also seeking a crackdown on the so-called "human rights industry", with measures intended to reduce compensation individuals can win from public bodies following human rights claims.
Soldiers will get greater protection against claims over their actions in overseas battlefields, while journalists would be protected by an explicit statement supporting "freedom of expression", reports suggest.
Human rights groups have called the Government's desire to scrap the 1998 Human Rights Axct "destructive". The Ministry of Justice has said the details, leaked over the weekend, were "speculation".
A poll commissioned by Amnesty International, meanwhile, has found that there is little public support for the Government's enthusiasm for ditching the Act.
The 10 most unequal developed countries

Show all 10
Just one in 10 said the plan should be in the Government's top three priorities, according to the ComRes survey, and two thirds said that governments should not be able to choose which rights they enforce and which they don't.
Kate Allen, director of Amnesty UK said there was "simply no appetite" for sweeping reform.
"The British people clearly want the Government to get on with their proper business of the day-to-day running of the country, and abandon these destructive plans," she said.
Draft proposals, which will be put out for a three month consultation within weeks, indicate that the UK will remain a signatory to the European Convention on Human Rights. However, domestic courts would not be "automatically bound" to follow European Court rulings and ministers are also considering ways of guaranteeing the UK parliament's sovereignty explicitly in law, the Sunday Times reported.
"We would make clear that the domestic courts are not automatically bound to follow Strasbourg and will be free to reference other sources of law such as common law and rulings from other Commonwealth countries when formulating judgments," a draft of the plan seen by the newspaper says.
A British bill of rights would also seek to limit pay outs to individuals seeking compensation, through European Court of Human Rights, cases from public bodies such as local councils or the NHS. Ministers have indicated there would not be an absolute cap.
A Ministry of Justice spokesperson said the reports were "speculation."
"We will publish our proposals in due course," the spokesperson said.
Register for free to continue reading
Registration is a free and easy way to support our truly independent journalism
By registering, you will also enjoy limited access to Premium articles, exclusive newsletters, commenting, and virtual events with our leading journalists
Already have an account? sign in
Join our new commenting forum
Join thought-provoking conversations, follow other Independent readers and see their replies