Millions of English people would vote for the SNP if it stood candidates down south, poll finds
The Scottish nationalists would poll far higher than the Liberal Democrats across the UK and roughly as well as Ukip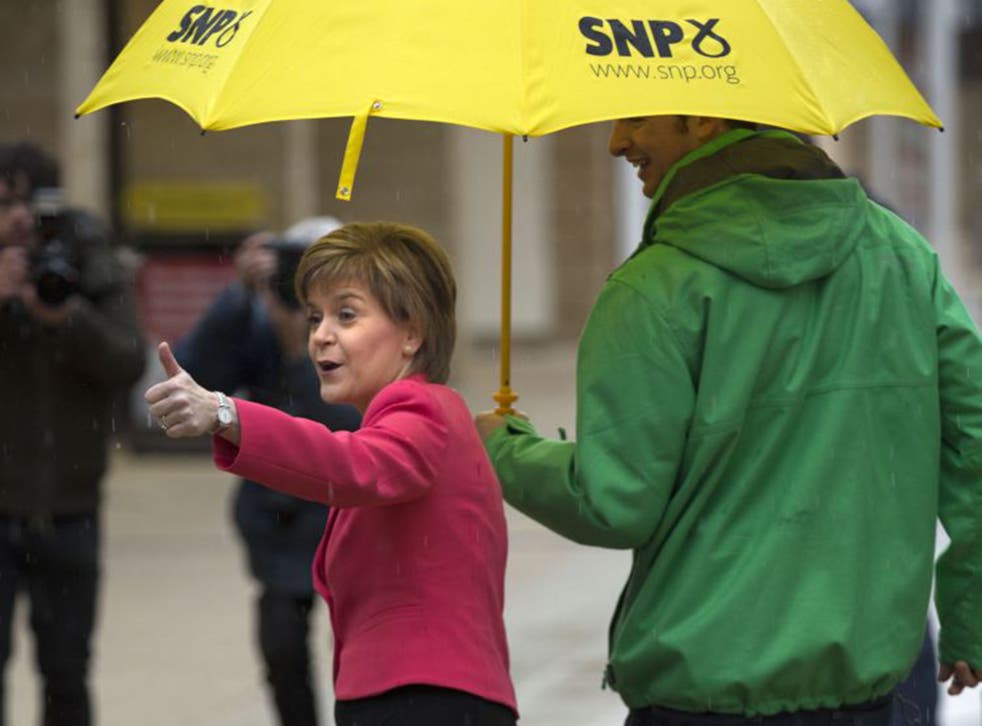 Millions of people across England and Wales would vote for the Scottish National Party if it stood candidates outside Scotland, a new survey has found.
The pollster YouGov asked voters across Britain to imagine that the SNP stood candidates across the UK and asked them who they would vote for.
The results of the experiment found that the SNP would be far more popular as the Liberal Democrats and poll roughly as well as Ukip if it stood as a UK-wide party.
The field at the UK election would have the SNP on 11% - well ahead of the Liberal Democrats on 7%, and just behind Ukip on 13%.
Large parts of Labour's support would flee to the SNP, leaving them on 29%, with the Conservatives in the lead on 33%. Other parties, largely the Green Party, would be on 5%.
The Scottish National Party, which campaigns for Scottish Independence and runs a majority government in the devolved Scottish Parliament, only stands candidates in Scotland.
SNP leader Nicola Sturgeon has ruled out standing candidates in England and Wales after an impressive performance in the televised leaders' debates led to thousands of English people to inquire whether they could vote for her.
General election 2015: The worst gaffes and controversies

Show all 36
"I've been overwhelmed by people in other parts of the UK saying that they wish they could vote SNP!" she wrote in her column for Glasgow's local Evening Times paper.
"Despite the encouragement from many, we will resist the temptation to stand candidates [in other parts of the UK]."
The pollster also asked voters whether they would vote for Plaid Cymru, the national party of Wales. Plaid scored 2% of the nationwide vote, gaining at least some votes in every region of the UK except Scotland.
Northern Ireland was not included in the survey as it is normally polled separately due to its dramatically different party system.
The UK electorate is roughly 46 million people in size; taking into account usual turnout and excluding Northern Ireland's population somewhere between two and three million people across England and Wales would vote for the SNP.
The SNP is on course to take nearly every seat in Scotland, with Labour, traditionally strong, facing a near-wipeout.
---
The Independent has got together with May2015.com to produce a poll of polls that produces the most up-to-date data in as close to real time as is possible.
Click the buttons below to explore how the main parties' fortunes have changed:
All data, polls and graphics are courtesy of May2015.com. Click through for daily analysis, in-depth features and all the data you need. (All historical data used is provided by UK Polling Report)
Register for free to continue reading
Registration is a free and easy way to support our truly independent journalism
By registering, you will also enjoy limited access to Premium articles, exclusive newsletters, commenting, and virtual events with our leading journalists
Already have an account? sign in
Register for free to continue reading
Registration is a free and easy way to support our truly independent journalism
By registering, you will also enjoy limited access to Premium articles, exclusive newsletters, commenting, and virtual events with our leading journalists
Already have an account? sign in
Join our new commenting forum
Join thought-provoking conversations, follow other Independent readers and see their replies