Ministers fear 'embarrassing flop' in election for police chiefs
Home Secretary demands more money from Treasury to attract better candidates
Nigel Morris
Saturday 07 July 2012 02:10 Comments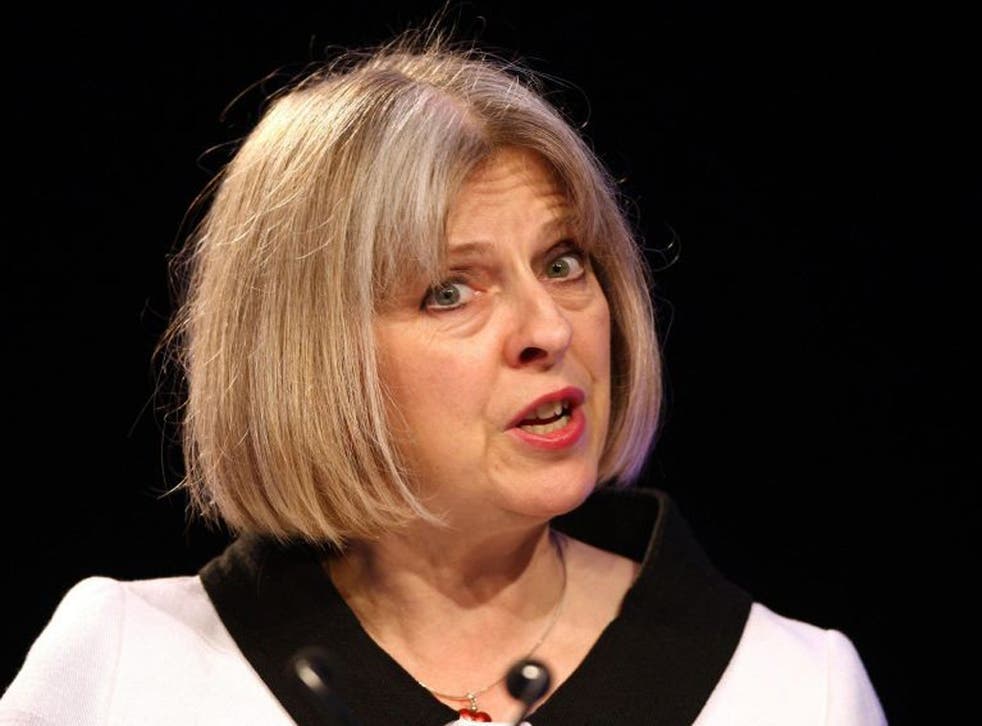 Plans for elected police commissioners were in "disarray" last night after it emerged that Theresa May had asked the Treasury for money to fund an advertising campaign to encourage stronger candidates to come forward.
The Home Secretary's move reflects growing alarm among ministers that the contests for 41 new local police chiefs will be an embarrassing flop with dismal turn-outs in November's elections.
Their hopes that a series of well-known non-political figures would bid for the posts have not materialised and the elections look set to be fought out between unremarkable party stalwarts, including former ministers and MPs.
Mrs May's move is a final attempt to raise the profile of the elections before nominations close in early October.
One Whitehall source admitted: "The policy is in disarray. There is a chance it will be a damp squib."
There is also dismay that Mrs May has refused to impose a limit on how much the political parties can spend in national campaigns promoting their slate of candidates.
Lynne Featherstone, the Liberal Democrat Equalities Minister at the Home Office, is understood to have complained that this would give Tory candidates an advantage over independents.
The Government has also decided not to give candidates a freepost allowance for campaign flyers, which could also put independents at a disadvantage. Fears about the attraction to the voters of having elected police chiefs have been heightened by the recent rejection of residents of nine cities of plans for elected mayors.
The new commissioners will have the power to set budgets and to hire and fire chief constables, but will not to intervene in operational matters.
They will step into the new posts – which carry a salary of between £65,000 and £100,000 – at a time of upheaval for the police service which faces cuts to staffing because of the Government's austerity drive.
Police authorities, which have had the powers to hold chief constables to account since 1964, are being scrapped. Simon Weston, the Falklands War hero, last week withdrew from the contest to become commissioner for South Wales, saying he had "become disillusioned by the fact it was getting too political and not serving the people".
Colonel Tim Collins, the Iraq war veteran, whose candidacy in Kent was trumpeted by Mrs May at the last Tory conference, has also pulled out.
Labour now has a complete slate of candidates for the 41 posts in England and Wales, including many prominent figures within the party.
They include the former Deputy Prime Minister Lord Prescott (Humberside), the former Welsh First Minister Alun Michael (South Wales) and the former chairman of the Parliamentary Labour Party Tony Lloyd (Greater Manchester).
The Conservatives have so far selected 16. Most are councillors or local activists, although the former Northern Ireland minister Michael Mates is standing for the party in Hampshire.
The Liberal Democrats are leaving to their local parties whether to put up candidates or support independents.
The candidates
Lord Prescott (Lab)
The former Deputy Prime Minister narrowly won the Labour nomination for Humberside. He was a Hull MP for 41 years
Craig Mackinlay (Con)
A councillor in Medway, he is standing in Kent. Previously the deputy leader of UKIP, he joined the Tories in 2005
Vera Baird (Lab)
The former Solicitor General lost her Redcar seat after a 22 per cent swing to the Liberal Democrats. She is standing in Northumbria
Michael Mates (Con)
The former minister who resigned from the Government over his links to the fugitive Asil Nadir is standing in Hampshire at the age of 78
Jane Kennedy (Lab)
She beat another former minister, Peter Kilfoyle, for the nomination for Merseyside
Register for free to continue reading
Registration is a free and easy way to support our truly independent journalism
By registering, you will also enjoy limited access to Premium articles, exclusive newsletters, commenting, and virtual events with our leading journalists
Already have an account? sign in
Join our new commenting forum
Join thought-provoking conversations, follow other Independent readers and see their replies