Momentum director and Corbyn ally wins control of key Labour committee in 'declaration of all-out war'
Christine Shawcroft has been elected as the new chair of a panel that investigates disciplinary matters
Benjamin Kentish
Political Correspondent
Tuesday 16 January 2018 15:35 Comments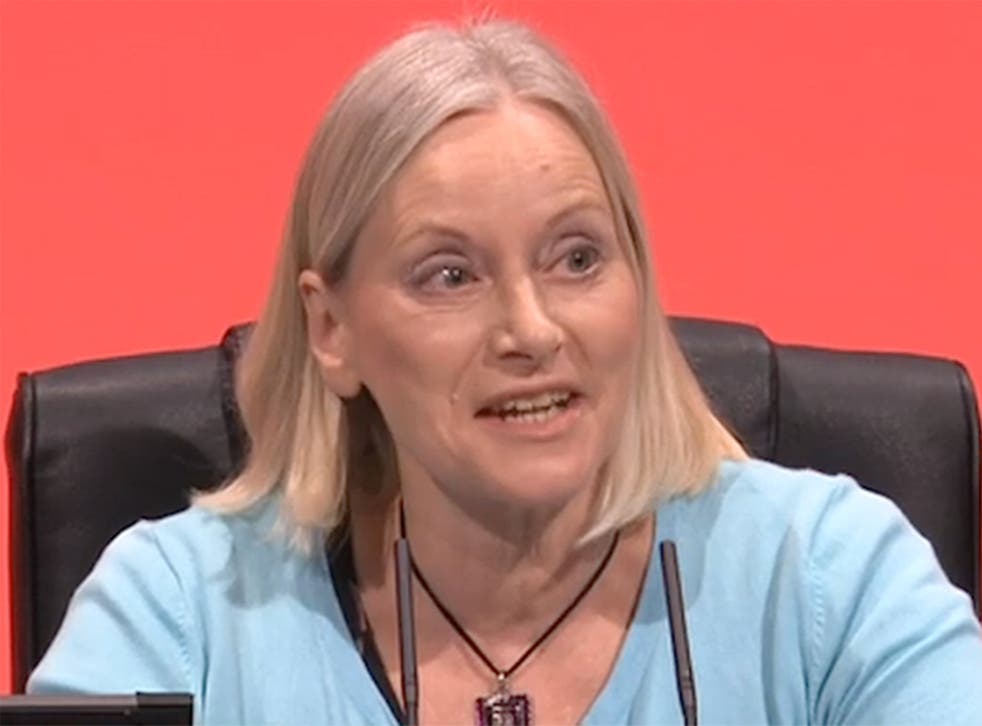 The long-standing chair of a key Labour disciplinary panel has been ousted and replaced by a director of Momentum in a move that gives allies of Jeremy Corbyn much greater control of internal party investigations.
Momentum-backed members of the party's National Executive Committee (NEC) used their new majority to remove Ann Black as chair of the Disputes Panel and replace her with Christine Shawcroft, a staunch ally of Mr Corbyn. Twenty-two NEC members, including several shadow cabinet ministers and representatives of the Unite and GMB trade unions, voted for Ms Shawcroft, while 15 voted to keep Ms Black.
It gives the left of the party control over thousands of investigations into issues including alleged antisemitism. Disputes Panel members also sit on a separate committee that investigates accusations of sexual harassment.
Opponents on the NEC described the development as "unprecedented" and said it amounted to "a declaration of all-out war".
The Independent reported on Monday that Ms Black's position was under threat as the left-wing bloc on the NEC planned to replace her with Ms Shawcroft. It comes after Momentum boosted its numbers on the executive committee by getting its candidates elected to all three of the newly-created positions representing party members.
Sources at the Disputes Panel meeting on Tuesday afternoon confirmed that Ms Black had indeed been ousted. Ms Shawcroft then assumed immediate control of what insiders said was an acrimonious meeting.
Ms Black is from the left wing of the Labour Party but fell out with the Momentum-backed bloc on the NEC over several issues, including the Dispute Panel's handling of a number of cases relating to antisemitism. Some allies of Mr Corbyn have described the investigations as a "purge" of left-wing members.
UK news in pictures

Show all 50
She also angered fellow left-wing NEC members by voting against them during discussions on which members should be allowed to vote in the party's 2016 leadership contest. Ms Black had the deciding vote in ruling that 130,000 members who had joined after a particular cut-off date should not automatically be entitled to vote.
Supporters, however, said Ms Black was staunchly neutral on disciplinary matters and had won the respect of people across the party.
Her successor, Ms Shawcraft, was suspended from the Labour Party in 2015 over her support for Lutfur Rahman, the disgraced former mayor of Tower Hamlets, when he was found guilty of electoral fraud.
Commenting on the decision to remove Ms Black, one NEC source told The Independent: "It's unprecedented for the left to put up a candidate against an experienced chair of the Disputes Panel, which is supposed to be a neutral body. They're politicising it in a way that will take us backwards in terms of party unity and people having faith in the NEC to rule fairly on cases.
"Ann was on their slate before and has been on their side for years, so it's a move towards more ideological purity in the sense they now don't feel they even need a broad spectrum of the left. It's just full Momentum now.
"It's a message that if you go against them, they will go against you. It's a very threatening move. It's them declaring all out war."
However, a Momentum source said: "It's not surprising that the unions, members of the shadow cabinet and three Momentum-backed NEC reps chose Christine Shawcroft over Ann Black – as many ordinary members are deeply frustrated with her.
"In 2016 Ann voted to exclude 130,000 new Labour members from the leadership election, forcing them to pay another £25 to participate. When you deny members the right to choose the leader of their own party, it does tend to create a certain amount of resentment."
Register for free to continue reading
Registration is a free and easy way to support our truly independent journalism
By registering, you will also enjoy limited access to Premium articles, exclusive newsletters, commenting, and virtual events with our leading journalists
Already have an account? sign in
Join our new commenting forum
Join thought-provoking conversations, follow other Independent readers and see their replies