Momentum: What happens to the Jeremy Corbyn-backing organisation after the general election?
The organisation, set up in the wake of Mr Corbyn's resounding victory in the 2015 leadership contest, and which now boasts over 24,000 members, will continue to support the Labour leader '100 per cent' should he decide to stay put following a defeat at the ballot box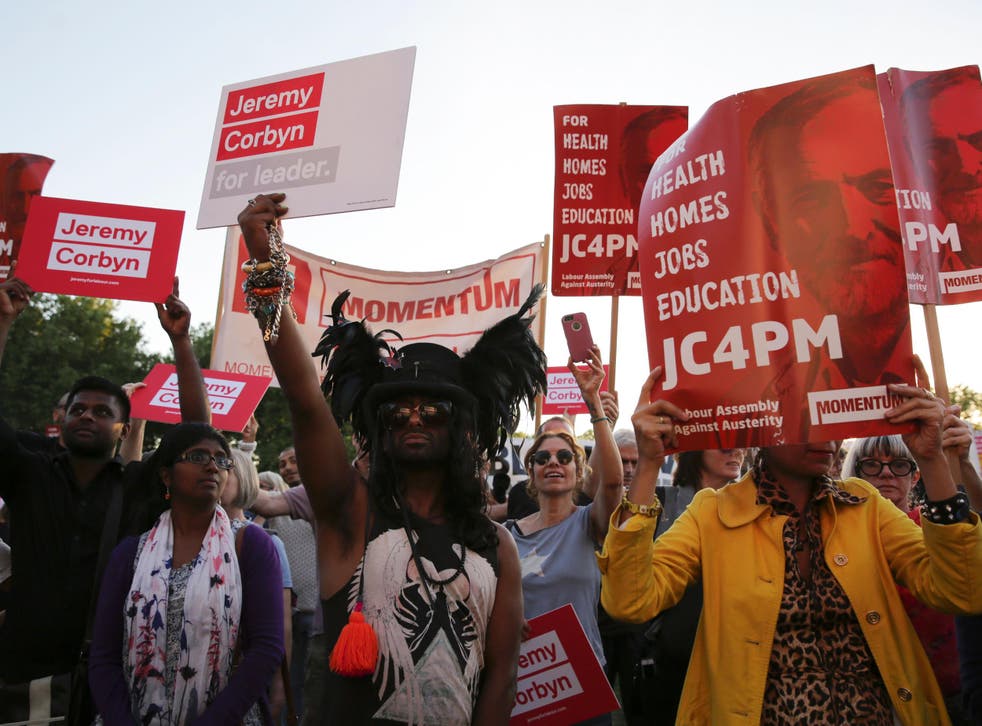 Momentum will continue to exist and advocate a left-wing agenda within the Labour party whether Jeremy Corbyn remains leader or not in the aftermath of the general election.
The organisation, set up in the wake of Mr Corbyn's resounding victory in the 2015 leadership contest, and which now boasts over 24,000 members, will also continue to support the Labour leader "100 per cent" should he decide to stay put following a defeat at the ballot box.
While Momentum is currently channelling all of its energy into the election, Adam Klug, its national organiser, told The Independent in a recent interview that while the organisation – recently endorsed by the radical left-wing intellectual Noam Chomsky – was born out of Mr Corbyn's victory 18 months ago, it "is a growing force that is here to stay".
He continued: "It's also about grassroots politics and a different way of doing politics, which Jeremy's authenticity, his integrity, his decency has inspired in so many ways. As I've always said: Momentum will continue for a long period to come, whether Jeremy is leader of the Labour party or not. But for as long as Jeremy is the leader of the Labour party then Momentum will 100 per cent support him."
However, Mr Klug remains adamant that Mr Corbyn will emerge victorious on June 9. He added: "Right now our efforts are focused on throwing everything we can into as many seats as possible to win the general election. You can see there is a lot of dissatisfaction about the status quo in British society and there's a lot of anger – we're effectively trying to tap into that and utilising the technology we've got.
"Beyond that I think it would be irresponsible to start speculating on the future when we're focused on winning [this election], we're not thinking about the next. There's nothing more key than the general election."
Jon Lansman, the organisation's founder and life-time left-winger, has previously told The Independent he would "understand" if there was a challenge to the Labour leadership if his old comrade failed to win an election. "We challenged Neil Kinnock after he lost the election," he said shortly after Labour's conference last year. "If we lose in 2020 and there had been a challenge to Jeremy and there was a challenge to Jeremy, I'd understand, of course. That's a completely different circumstance."
But it's clear the organisation remains unwavering in its support for Mr Corbyn and will continue to support the Labour leader even if he refuses to step down in the event of electoral defeat – as he has led many to believe. "We don't how things will pan out post this," Mr Klug added. "But one thing I would point out is Momentum would never not back Jeremy Corbyn if Jeremy Corbyn was a candidate in that [leadership] election. But we don't know how things will pan out."
"There is no need to talk about Jeremy stepping down at all at this stage. We're in a general election, he was elected with a huge mandate in September 2015, re-elected with an even bigger mandate in September 2016, and that whole project is just beginning. Theresa May has, for opportunistic and dishonest reasons, chosen to call this snap election but our project is still really developing."
Before the election was called by the Prime Minister two months ago, Momentum was advocating a rule change within the Labour party – dubbed the "McDonnell amendment" by its critics. The current rules mean that a leadership hopeful would need nominations from 15 per cent of Labour MPs and MEPs. The change, advocated by the Labour leader's supporters within the party, would lower this level to 5 per cent. Without this amendment, it is unlikely that any of Mr Corbyn's allies would secure enough nominations to run in a leadership contest.
Mr Klug said: "Clearly if the membership overwhelmingly support a particular platform, as has been demonstrated by the two elections of Jeremy Corbyn, we say it's completely anti-democratic that the parliamentary party will be able to block members from having a say over who the leader is."
He added: "We were campaigning on the 5 per cent amendment but that's obviously all gone out of the window… because all our resources are going towards ensuring Labour win as many seats as we can across the country."
The organisation's electoral efforts have included launching a carpool website and app used by the Bernie Sanders campaign in order to get thousands of activists to swing seats across the country. "My nearest marginal" app allows any activist to input their postcode, find their nearest marginal seat and then connect with others in their local area to organise a carpool to travel to constituencies and join Labour's canvassing sessions.
Momentum claims neither of these technologies have been used in a British general election before.
The organisation's social media reach has been extraordinary. Just last week their Facebook page reached 23.7 million views and videos were watched by 12.7 million unique users, according to data provided by Momentum. A video clip of Ms May refusing to debate the Labour leader had 4.3 million views in just three days. In total Momentum has spent less than £2,000 advertising on the social media platform.
It has also drafted in a senior figure from Sanders' campaign for the Democratic candidacy during last year's presidential battle in the United States. Erika Uyterhoeven, formerly a national director for outer-state organising, told The Independent she hoped to bring her expertise to Momentum.
UK General Election 2017

Show all 47
"What's really exciting about working with Momentum is I saw what it was like a year ago with Bernie and now we've really like moved forward – things like this carpool app. I told everyone on day one I wish we had that on the Bernie campaign," she said.
Uyterhoeven was also optimistic about Mr Corbyn's chance of victory, adding: "Bernie wasn't even supposed to get past three or four states – he was the unelectable candidate and he won something like 22 states in the end. Jeremy was never supposed to be leader of the Labour party, now here he is today. To me, right now, we're at such a pivotal point in history, anything is possible."
Mr Klug added: "We've seen time and time again how polls and predictions are can be misleading or do not gauge other factors. Obviously Labour's position doesn't look good if you look at the current polling – although it is improving – but I'm confident we can surprise people.
"We've got half a million people in the Labour party, so if we can get those people active and get more people out on the doorstep with more confidence I think we can surprise a lot of people. I'm confident."
Register for free to continue reading
Registration is a free and easy way to support our truly independent journalism
By registering, you will also enjoy limited access to Premium articles, exclusive newsletters, commenting, and virtual events with our leading journalists
Already have an account? sign in
Register for free to continue reading
Registration is a free and easy way to support our truly independent journalism
By registering, you will also enjoy limited access to Premium articles, exclusive newsletters, commenting, and virtual events with our leading journalists
Already have an account? sign in
Join our new commenting forum
Join thought-provoking conversations, follow other Independent readers and see their replies