MPs vote against protecting the EU right to live and work in the UK
'The status of millions of our fellow workers, friends and neighbours is uncertain. That is simply not good enough,' says SNP Justice and Home Affairs spokesperson Joanna Cherry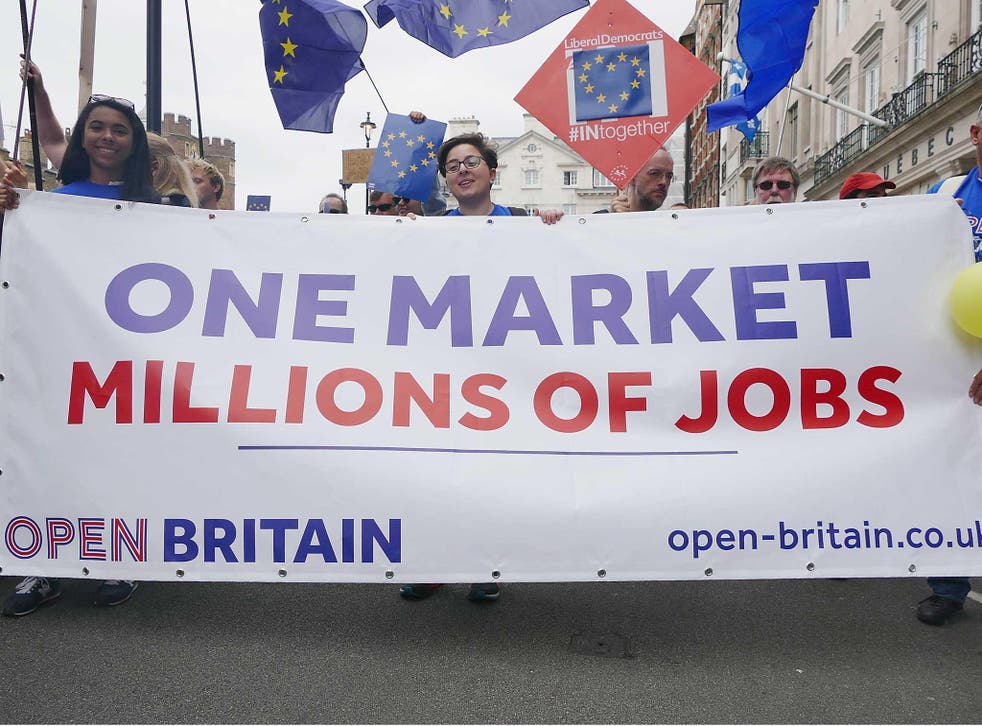 The House of Commons has voted down a motion to protect the rights of EU nationals to live and work in the UK after Brexit.
MPs voted 293 to 250 against the non-binding early day motion put forward by the Scottish National Party (SNP) Justice and Home Affairs spokesperson Joanna Cherry.
Ms Cherry's motion read as follows: "That this House recognises the contribution that nationals from other countries in the EU have made to the UK; and calls on the Government to ensure that all nationals from other countries in the EU who have made the UK their home retain their current rights, including the rights to live and work in the UK, should the UK exit the EU."
Theresa May hints that Brexit negotiations will go past 2019
Ms Cherry told the Commons: "It is nearly four months since the EU referendum, and the long-term status of non-UK EU nationals living in the United Kingdom is still unclear, just as the Government are still without a plan or a negotiating strategy for the Brexit that they accidentally delivered.
"The status of millions of our fellow workers, friends and neighbours is uncertain. That is simply not good enough.
"In the meantime, in England and Wales hate crime has soared and xenophobic rhetoric is common in the mainstream media and, sadly, sometimes in the mouths of Ministers."
Minister for Immigration Robert Goodwill responded to the SNP spokeswoman by stating the government aspires to protect the interests of EU citizens living in the UK.
He told the House: "My job this afternoon is to reassure the House of our aspirations to protect the interests of EU citizens living in the UK and to counter some of the scaremongering that we have just heard."
Mr Goodwill criticised Ms Cherry's motion for stating "should the UK exit the EU" instead of "when the UK exit the UK". He reiterated the Prime Minister's pledge "that Brexit means Brexit".
Brexit Concerns

Show all 26
Following the Brexit vote, there was a surge in UK citizens seeking applying for citizenship in EU member states such as Italy, Sweden, Denmark and Ireland.
Here is the list of MPs who voted against the motion:
Adams, Nigel
Afriyie, Adam
Aldous, Peter
Allan, Lucy
Allen, Heidi
Amess, Sir David
Andrew, Stuart
Ansell, Caroline
Argar, Edward
Atkins, Victoria
Baker, Steve
Baldwin, Harriett
Barclay, Stephen
Baron, John
Barwell, Gavin
Bebb, Guto
Bellingham, Sir Henry
Benyon, Richard
Beresford, Sir Paul
Berry, Jake
Berry, James
Bingham, Andrew
Blackman, Bob
Blackwood, Nicola
Boles, Nick
Bone, Peter
Borwick, Victoria
Bottomley, Sir Peter
Bradley, Karen
Brady, Graham
Brazier, Julian
Bridgen, Andrew
Brine, Steve
Brokenshire, James
Bruce, Fiona
Buckland, Robert
Burns, Conor
Burns, Sir Simon
Burrowes, Mr David
Carmichael, Neil
Cartlidge, James
Cash, Sir William
Caulfield, Maria
Chalk, Alex
Chishti, Rehman
Chope, Christopher
Churchill, Jo
Cleverly, James
Clifton-Brown, Geoffrey
Coffey, Dr Thérèse
Collins, Damian
Colvile, Oliver
Cox, Geoffrey
Crabb, Stephen
Crouch, Tracey
Davies, Chris
Davies, David T. C.
Davies, Glyn
Davies, Dr James
Davies, Mims
Davies, Philip
Davis, David
Dinenage, Caroline
Djanogly, Jonathan
Donaldson, Sir Jeffrey
Donelan, Michelle
Double, Steve
Dowden, Oliver
Doyle-Price, Jackie
Drax, Richard
Drummond, Flick
Duddridge, James
Duncan Smith, Iain
Dunne, Philip
Ellis, Michael
Ellison, Jane
Ellwood, Tobias
Elphicke, Charlie
Evans, Graham
Evans, Nigel
Evennett, David
Fabricant, Michael
Fallon, Sir Michael
Fernandes, Suella
Field, Mark
Foster, Kevin
Fox, Dr Liam
Francois, Mark
Frazer, Lucy
Freeman, George
Freer, Mike
Fuller, Richard
Fysh, Marcus
Gale, Sir Roger
Garnier, Sir Edward
Garnier, Mark
Gauke, David
Ghani, Nusrat
Gibb, Nick
Gillan, Cheryl
Glen, John
Goodwill, Robert
Gove, Michael
Graham, Richard
Grant, Helen
Grayling, Chris
Green, Chris
Green, Damian
Grieve, Dominic
Griffiths, Andrew
Gummer, Ben
Gyimah, Sam
Halfon, Robert
Hall, Luke
Hammond, Philip
Hammond, Stephen
Hancock, Matt
Hands, Greg
Harper, Mark
Harris, Rebecca
Hart, Simon
Haselhurst, Sir Alan
Heald, Sir Oliver
Heappey, James
Heaton-Jones, Peter
Henderson, Gordon
Herbert, Nick
Hoare, Simon
Hollingbery, George
Hollinrake, Kevin
Hollobone, Philip
Hopkins, Kris
Howarth, Sir Gerald
Howell, John
Howlett, Ben
Huddleston, Nigel
Hunt, Jeremy
Jackson, Stewart
James, Margot
Javid, Sajid
Jayawardena, Ranil
Jenkin, Bernard
Jenkyns, Andrea
Jenrick, Robert
Johnson, Boris
Johnson, Gareth
Johnson, Joseph
Jones, Andrew
Jones, David
Jones, Marcus
Kennedy, Seema
Kirby, Simon
Knight, Sir Greg
Knight, Julian
Kwarteng, Kwasi
Lancaster, Mark
Latham, Pauline
Leadsom, Andrea
Lee, Dr Phillip
Lefroy, Jeremy
Leigh, Sir Edward
Leslie, Charlotte
Letwin, Sir Oliver
Lewis, Brandon
Lewis, Dr Julian
Lidington, David
Lilley, Peter
Lopresti, Jack
Lord, Jonathan
Loughton, Tim
Mackinlay, Craig
Mackintosh, David
Mak, Alan
Mann, Scott
May, Theresa
Maynard, Paul
McCartney, Karl
McLoughlin, Sir Patrick
McPartland, Stephen
Menzies, Mark
Mercer, Johnny
Merriman, Huw
Metcalfe, Stephen
Miller, Maria
Milling, Amanda
Mills, Nigel
Milton, Anne
Mitchell, Andrew
Mordaunt, Penny
Morris, Anne Marie
Morris, David
Morris, James
Morton, Wendy
Mowat, David
Mundell, David
Murray, Sheryll
Murrison, Dr Andrew
Neill, Robert
Newton, Sarah
Nokes, Caroline
Norman, Jesse
Nuttall, David
Offord, Dr Matthew
Opperman, Guy
Paisley, Ian
Parish, Neil
Paterson, Owen
Pawsey, Mark
Penning, Mike
Penrose, John
Percy, Andrew
Perry, Claire
Philp, Chris
Pickles, Sir Eric
Poulter, Dr Daniel
Pow, Rebecca
Prentis, Victoria
Prisk, Mark
Pritchard, Mark
Pursglove, Tom
Quin, Jeremy
Quince, Will
Redwood, John
Rees-Mogg, Jacob
Robertson, Laurence
Robinson, Gavin
Robinson, Mary
Rosindell, Andrew
Rudd, Amber
Rutley, David
Sandbach, Antoinette
Scully, Paul
Selous, Andrew
Shannon, Jim
Shapps, Grant
Sharma, Alok
Shelbrooke, Alec
Simpson, Keith
Skidmore, Chris
Smith, Henry
Smith, Julian
Soames, Sir Nicholas
Solloway, Amanda
Spelman, Dame Caroline
Spencer, Mark
Stephenson, Andrew
Stevenson, John
Stewart, Bob
Stewart, Iain
Stewart, Rory
Streeter, Mr Gary
Stride, Mel
Stuart, Graham
Sturdy, Julian
Sunak, Rishi
Swayne, Sir Desmond
Swire, Sir Hugo
Syms, Robert
Thomas, Derek
Throup, Maggie
Timpson, Edward
Tolhurst, Kelly
Tomlinson, Justin
Tomlinson, Michael
Tracey, Craig
Tredinnick, David
Trevelyan, Anne-Marie
Truss, Elizabeth
Turner, Andrew
Tyrie, Andrew
Vaizey, Edward
Vara, Shailesh
Vickers, Martin
Villiers, Theresa
Walker, Charles
Walker, Robin
Wallace, Ben
Warburton, David
Warman, Matt
Wharton, James
Whately, Helen
Wheeler, Heather
White, Chris
Whittaker, Craig
Whittingdale, John
Wiggin, Bill
Williams, Craig
Williamson, Gavin
Wilson, Rob
Wilson, Sammy
Wood, Mike
Wragg, William
Wright, Jeremy
Register for free to continue reading
Registration is a free and easy way to support our truly independent journalism
By registering, you will also enjoy limited access to Premium articles, exclusive newsletters, commenting, and virtual events with our leading journalists
Already have an account? sign in
Register for free to continue reading
Registration is a free and easy way to support our truly independent journalism
By registering, you will also enjoy limited access to Premium articles, exclusive newsletters, commenting, and virtual events with our leading journalists
Already have an account? sign in
Join our new commenting forum
Join thought-provoking conversations, follow other Independent readers and see their replies