Labour MPs brand David Davis 'sexist' and 'disgusting' following leaked texts about Diane Abbott
'I'm not blind' jibe made in a series of texts following claims he tried to kiss Ms Abbott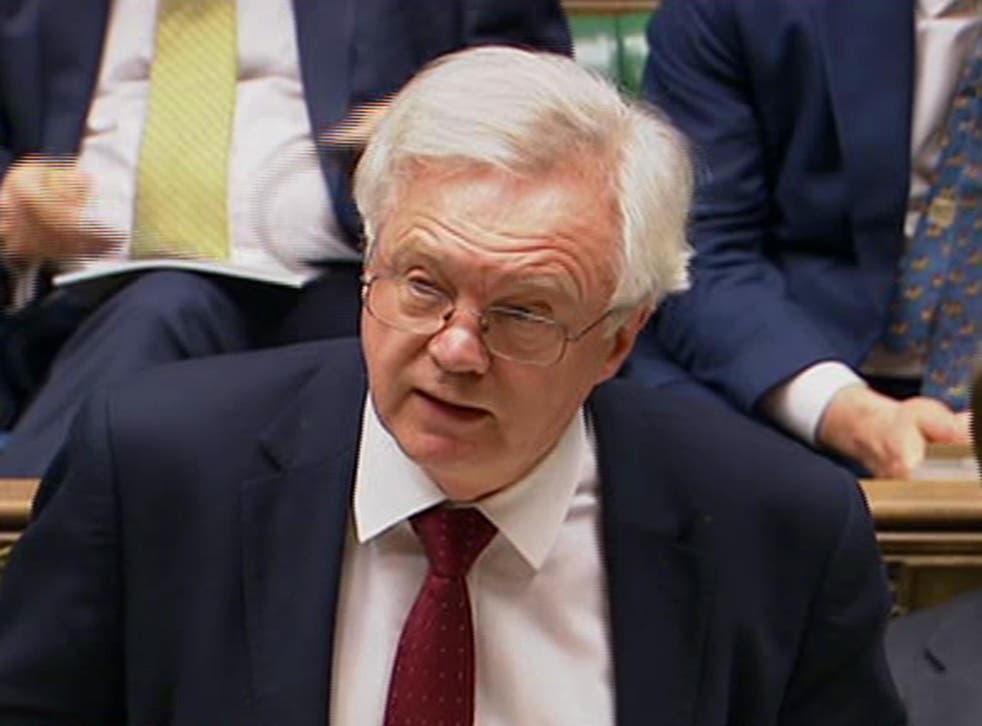 Labour MPs have branded David Davis "disgusting" and a "misogynist" over remarks he made about Diane Abbott implying she wasn't attractive enough to kiss.
Brexit Secretary Mr Davis sent what he believed was a private text saying, "I am not blind," referring to claims he tried to embrace Shadow Home Secretary Ms Abbott after she reluctantly voted with the Government to pass the Brexit Bill.
Dawn Butler, Labour MP for Brent Central, expressed her feelings on Twitter, saying: "Everything about this upsets me. Being a black woman in spotlight is (very) hard. Feminists speak up. David Davis is a disgusting man."
Shadow Attorney General Shami Chakramabi accused Mr Davis of being "patronising" while senior Labour MP Chukku Umunna said the remarks were "sexist" and "appalling".
Mr Davis's texts, sent to an unnamed friend said to be a Tory politician, were leaked to the Mail on Sunday.
Ms Abbott, who became the UK's first black female MP in the 1980s, told Mr Davis to "fuck off" following the Commons vote last week after he was reported to have made a light-hearted attempt to embrace her.
In the text exchange, his friend said: "Cannot believe you made an attempt to give DA a hug!" accompanied by a frowning face emoji.
Mr Davis replies: "Didn't, but the myth grows. I whispered in her ear, 'Thanks for your vote', hence the 'F off'. I am not blind".
His friends replied: "Ha! Ha! Thanks God you aren't blind. Great week for you and Brexit!" accompanied by a kiss emoji.
Mr Davis replied: "Actually it would make a good Optical Express advert …Yes, a reasonable success."
Mr Davis appears to have confused an advertising campaign in his last text, meaning to have referred to Specsavers the opticians whose adverts about mistaken identity carry the slogan "Should have gone to Specsavers."
A spokesman for Mr Davis said: "This was a self- evidently jocular and private exchange with a friend.
"The Secretary of State is very sorry for any offence caused to Miss Abbott, someone he has known and respected for many years."
But his apology was not enough to prevent Labour MPs from lining up to condemn his remarks today.
Appearing on ITV's Preston on Sunday, Yvette Cooper said: ""I am sick of the vile, sexist and racist things we've seen thrown at Diane.
"David Davis and others need to have a bit of responsibility."
Mr Umunna told Sky's Sophy Ridge: "I think it's sexist, I think it's misogynistic ... It's appalling.
"David Davis, he is a member of the Cabinet. What does that say about that party to the country, your viewers, if he is coming out with that sort of thing about a very respected long-serving member of the House of Commons?"
Sharon Hodgson, Labour MP for Sunderland West, called his comments "a total and utter disgrace" while West Ham MP Lyn Brown branded him "a thoroughly unpleasant man".
Jess Phillips, a Labour MP known for her forthright way with words, said on Twitter: "Intimation is that if he found her attractive he would have tried to kiss her, so that's OK then, Vile sexist man".
And she added: "Love the excuses of male banter, might wanna get new mates who don't screenshot your texts and send them to the paper".
Referring to the pivotal role Mr Davis will play in the forthcoming negotiations as the UK exits the EU, Ms Phillips said: "I'm sure we all feel really sure that David Davis will be thinking about women's rights in negotiations."
Shadow Foreign Secretary Emily Thornberry joined in the Twitter condemnation, comparing his behaviour to that of President Donald Trump, who said he wouldn't have assaulted some of the women who made allegations against him because they weren't attractive enough.
Stella Creasy, Labour MP for Walthamstow, branded the tweets "sexual harassment" on Twitter.
Conservative MPs have so far remained tight-lipped on the matter, with none breaking ranks to condemn Mr Davis publicly.
Appearing on Preston on Sunday, Commons Leader David Liddington said: "He is embarrassed by (the remarks) and has given an apology. I hope Dianne Abbott accepts that apology.
"David appears to accept he has made a misjudgement. We move on."
A local Conservative official was suspended from his party last week after retweeting an image that depicted Ms Abbott as an ape wearing lipstick who should be in a zoo.
UK news in pictures

Show all 50
The Hackney MP is no stranger to controversy, and was accused of racism in 2012 when she said on Twitter: "White people love playing 'divide and rule'. We should not play their game #tactics of colonialism".
Ms Abbott, who received criticism when she failed to vote following the second reading of the bill to trigger Article 50, has so far declined to comment on Mr Davis' texts.
Join our new commenting forum
Join thought-provoking conversations, follow other Independent readers and see their replies