MSPs reject controversial proposals to raise income tax rate in Scotland
Deputy First Minister John Swinney says hike proposed by Labour and Lib Dems would 'hit taxpayers least able to pay'
Chris Green
Scotland Editor
Wednesday 03 February 2016 19:47 Comments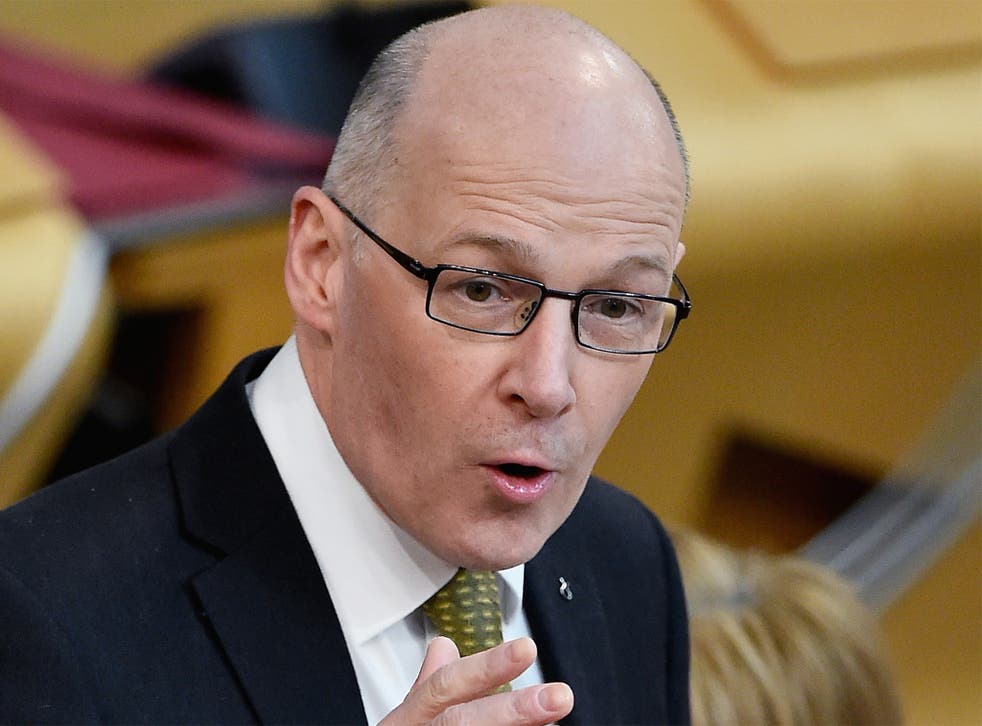 Controversial proposals to raise the Scottish rate of income tax have been rejected by MSPs amid claims that the policy would "punish" the nation's lowest paid workers.
Dismissing calls from Labour and the Liberal Democrats to increase income tax in Scotland to 1p above the rate in the rest of the UK, Deputy First Minister John Swinney said any rise would "hit those taxpayers least able to pay".
But during heated exchanges at Holyrood, Labour accused the SNP Government of creating "austerity on stilts" by passing Westminster cuts onto councils rather than taking action – adding that the "big losers" of the Budget would be schools and local public services.
Labour said Scottish councils were facing cuts of £350 million which could only be stopped by using Holyrood's new powers to increase tax. But the party's amendment to the Budget calling for the Scottish rate of income tax to be increased to 11p was rejected by MSPs.
Describing the decision as "bitterly disappointing", Labour's public services spokesperson Jackie Baillie said: "Nicola Sturgeon promised that more powers meant we could be different from the Tories. Today she voted not to use the powers alongside the Tories. It is our children's schools that will pay the price in cuts the SNP Government don't need to make."
UK news in pictures

Show all 50
Labour said its proposed tax rise would raise almost £500m and would be balanced by a £100 rebate for low earners, but Mr Swinney dismissed it as a "back of the fag packet" policy. "I want to say to the teachers and the public service workers who have had to endure pay constraints because of the austerity programme of the UK government that I value the sacrifice they have made, and the last thing I am going to do is put up their taxes," he added.
Scotland's 32 local authorities have been given until next week to sign up to Mr Swinney's financial package, which includes a continuation of the council tax freeze and will result in a 2 per cent fall in their overall income. Council leaders have described the settlement as "totally unacceptable" and members of the Unite and GMB Scotland unions staged a protest against the cuts outside the Scottish Parliament.
However, Mr Swinney said it was "frankly over the top" to suggest that the reduction in councils' budgets would severely impact local services, describing his proposal as "very credible". Ms Sturgeon, the First Minister, has also called on councils to "do the right thing" and accept the deal before the deadline.
Register for free to continue reading
Registration is a free and easy way to support our truly independent journalism
By registering, you will also enjoy limited access to Premium articles, exclusive newsletters, commenting, and virtual events with our leading journalists
Already have an account? sign in
Join our new commenting forum
Join thought-provoking conversations, follow other Independent readers and see their replies