Muslim Labour MP Naz Shah to invite Donald Trump on a tour of Bradford town centre
Naz Shah says she'd probably have a laugh with him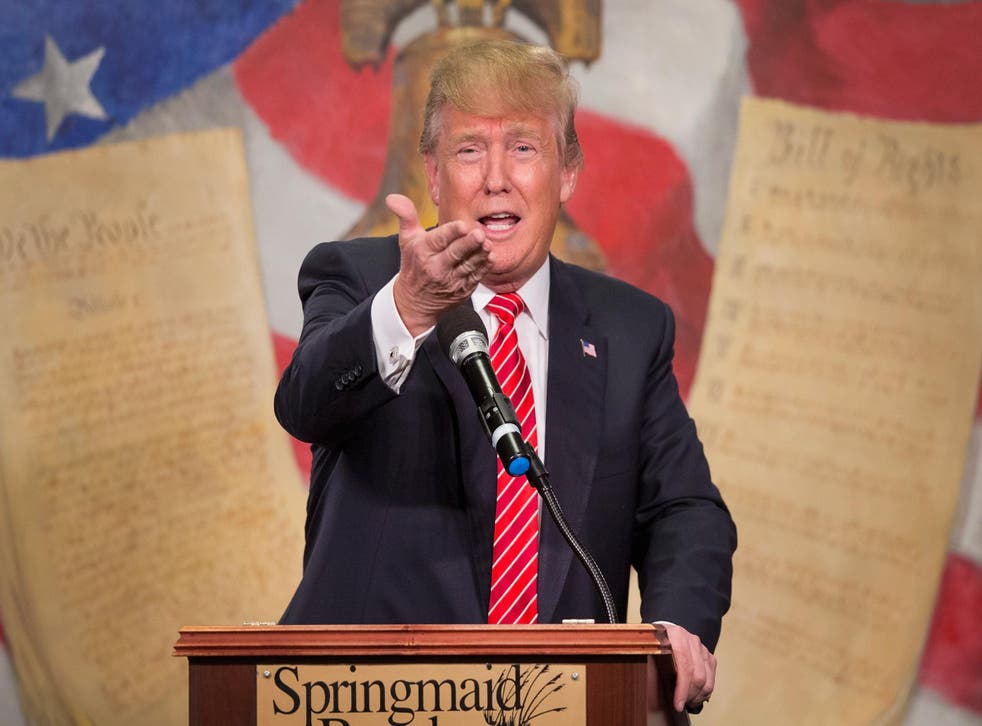 A Muslim MP will invite Donald Trump on a tour of her constituency as MPs prepare to debate a petition on whether to ban the US presidential candidate from entering the UK later today.
Speaking to The Independent, Naz Shah, who won her Bradford West seat at the 2015 general election, said she is going to provide the billionaire New York property mogul with the offer of accompanying her on a tour of Bradford's town centre.
"Do I want to ban him? No I don't want to ban him," she said. "I'm going to give him an open invitation on the record to invite him to Bradford West…if I try to ban him then I am no better than him trying to ban me from entering America. Two wrongs don't make a right."
Asked whether she thought she would get along with Mr Trump, Shah responded: "Yeah. I think I'd have a proper laugh with him. I think I'd probably crack a few jokes about what Trump means to the British people. I think I'd challenge him.
Shah hit the headlines when she became Labour's parliamentary candidate for Bradford West at the general election. In an emotional open letter, the British Pakistani MP spoke about her mum going to jail for murder, being a victim of domestic violence and have been forced to marriage aged 15.
The petition to ban Mr Trump, launched after the Republican provoked widespread anger when he demanded a block on Muslims entering the US, has over half a million signatures from members of the public. Mr Trump added, at the time, that parts of London were "so radicalised" that police were "afraid for their own lives".
With over 570,000 signatures the online petition has far surpassed the 100,000 required to trigger a debate in Parliament. After passing the half a million mark, the government released a statement that did not go as far as to say that he would be stopped from entering the UK, but did say Theresa May found Trump's remarks in relation to Muslims "divisive, unhelpful and wrong".
Other incendiary remarks from the Republican presidential hopeful and former star of the US Apprentice include comparing Mexicans to "rabid dogs" and calling for a database of all Muslims in the country to be set up, in order to track their movements. David Cameron, the prime minister, has branded Mr Trump's comments "divisive, stupid and wrong" but rejected calls for him to be barred from visiting the UK.
Another Muslim MP Tulip Siddiq, however, has pledged to tear Donald Trump's reputations to shreds this evening during a Commons debate on banning the US presidential candidate from entering the UK.
Friends of Tulip Siddiq told The Telegraph the Labour MP will be "tearing" Mr Trump to "shreds" during today's debate. The Labour MP for Hampstead and Kilburn said: "The law needs to be applied to everyone equally and the Home Office has previous in banning hate preachers engaging in rhetoric similar to that of Trump.
"To argue there is no precedent for banning him does not stand up to decisions taken by this Home Secretary, or indeed previous Labour Home Secretaries."
Donald Trump's most controversial quotes

Show all 14
She added: "The real question is 'Why should we make an exception for billionaire politicians?'. We should not."
In theory Theresa May, the home secretary, has the power to prevent people from entering the UK because of the things they have said. The Home Office adds that Mrs May does not use these powers lightly, only "if she considers their presence in the UK to be non-conducive to the public good" or if they are people who "seek to harm our society and who do not share our basic values".
In 2009 Geert Wilders, the right-wing Dutch politician accused of Islamophobia and who called for the Qur'an to be banned after likening it to Adolf Hitler's Mein Kampf, was refused entry into the UK after arriving at Heathrow airport. He received a letter from the Home Office, at the time, refusing him entry because his opinions "threaten community harmony and therefore public safety".
Labour leader Jeremy Corbyn is not in favour of a ban, adding he wanted to take Mr Trump to a mosque. The Islington North MP told BBC One's Andrew Marr show on Sunday: "I think Donald Trump has some weird and frankly off-the-wall views.
Register for free to continue reading
Registration is a free and easy way to support our truly independent journalism
By registering, you will also enjoy limited access to Premium articles, exclusive newsletters, commenting, and virtual events with our leading journalists
Already have an account? sign in
Register for free to continue reading
Registration is a free and easy way to support our truly independent journalism
By registering, you will also enjoy limited access to Premium articles, exclusive newsletters, commenting, and virtual events with our leading journalists
Already have an account? sign in
Join our new commenting forum
Join thought-provoking conversations, follow other Independent readers and see their replies