Tory MP Nadine Dorries deletes misleading tweet about Muslims claiming benefits for multiple wives
Conservative Party urged to take action over tweet, which was deleted after 11 minutes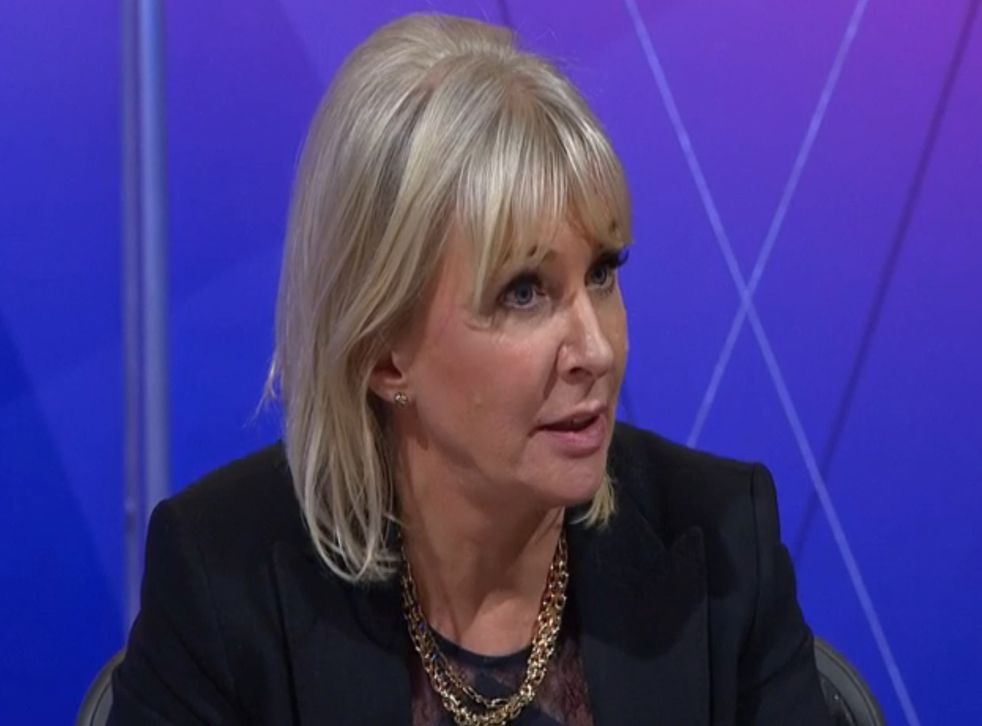 Tory MP Nadine Dorries has been accused of "callousness" after posting a link online to a 10-year-old story about Muslims claiming benefits for multiple wives.
The MP for Mid Bedfordshire shared a post on Twitter from a supporter of the far-right anti-Islam party, For Britain, which suggested Muslim men in polygamous marriages can receive state handouts for each of their wives.
Ms Dorries posted the tweet - which included a link to a story from 2008 in the Daily Express, with the headline 'Muslims can claim benefits for several wives, say Ministers'.
She accompanied it with the comment: "Ministers, are you having a laugh?", before deleting it 11 minutes later.
Despite being accurate at the time of publication in 2008, the story no longer applies under the current benefits system.
Ten years ago, a husband and a wife could claim out-of-work benefits as a couple, while additional spouses would receive a separate amount which was less than the single-person rate.
Under the existing universal credit system, polygamous relationships are not recognised and any additional partners each have to claim as a single person.
Polygamous marriages are not common practice in the UK and it is currently illegal to marry more than one person.
It is, however, accepted if the marriages have taken place in a country where the practice is legal. Estimates suggest there are fewer than 1,000 polygamous marriages in the UK.
In reference to Ms Dorries' tweet, a Muslim Council of Britain (MCB) spokesperson said it provided further evidence for the need to investigate concerns about Islamophobia within the Tory party.
"Once again Ms Dorries appears to demonstrate a callousness when it comes to discussing Muslims. She is quite ready to play into far-right tropes about Muslims, as is evident with a number of complaints about Ms Dorries lodged with the Conservative Party," a spokesperson told The Independent.
"Thus far there has been no action. It demonstrates once again the pressing need for the Conservative Party to deal with the mounting concerns of Islamophobia among its ranks."
It comes after Baroness Warsi, the former co-chair of the party, said the issue of Islamophobia was "widespread" within the Conservative Party.
The Independent has previously revealed the MCB had demanded an inquiry into Islamophobia within the party - a call that was backed by groups representing 350 mosques and Muslim organisations – but which was ultimately ignored.
The Conservatives have also faced criticism from both the MCB and the Board of Deputies of British Jews after backing Hungary's authoritarian, far-right government under Viktor Orban in a crunch vote in the European parliament.
Mr Orban's government has been accused of antisemitism and Islamophobia, with the leader previously referring to "Muslim invaders" and backing an antisemitic campaign against Jewish businessman George Soros.
UK news in pictures

Show all 50
Ms Dorries has a long history of controversial remarks. She recently defended a Boris Johnson's article that compared women in burqas to "letterboxes", saying he had "not gone far enough".
She was also condemned after she suggested that a British woman of colour should not criticise the royal wedding and told her to "appreciate the country you benefit from".
Ms Dorries was also widely criticised for telling the Muslim Mayor of London Sadiq Khan to "to act on sex abusing grooming gangs" in Rotherham.
Both Ms Dorries and the Conservative Party have been contacted for comment.
Register for free to continue reading
Registration is a free and easy way to support our truly independent journalism
By registering, you will also enjoy limited access to Premium articles, exclusive newsletters, commenting, and virtual events with our leading journalists
Already have an account? sign in
Register for free to continue reading
Registration is a free and easy way to support our truly independent journalism
By registering, you will also enjoy limited access to Premium articles, exclusive newsletters, commenting, and virtual events with our leading journalists
Already have an account? sign in
Join our new commenting forum
Join thought-provoking conversations, follow other Independent readers and see their replies