Narendra Modi visit: More than 200 writers sign petition urging David Cameron to discuss freedom of speech with Indian PM
The letter has been signed by members and supporters of free speech group PEN International including Ian McEwan, Salman Rushdie and Val McDermid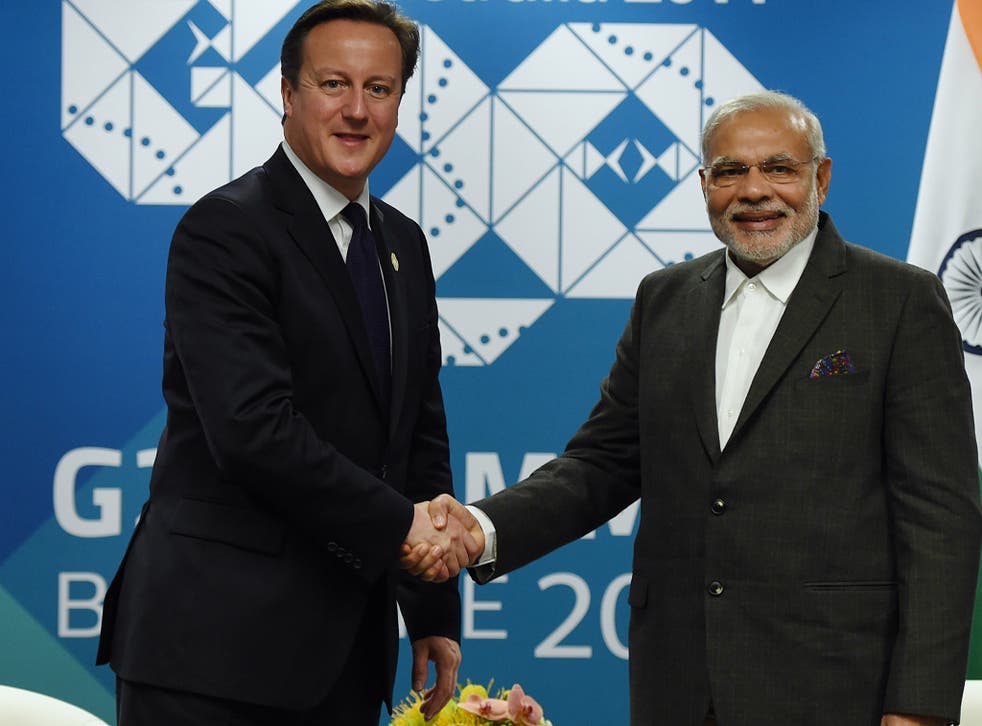 More than 200 writers have written an open letter to the Prime Minister to raise concerns about freedom of expression in India during his talks with Prime Minister Narendra Modi.
The letter, signed by members and supporters of free speech group PEN International including Ian McEwan, Salman Rushdie and Val McDermid, calls on Mr Cameron to "urge him to provide better protection for writers, artists and other critical voices and ensure that freedom of speech is safeguarded", warning that "without these protections a democratic, peaceful society is not possible".
The writers voiced concern over what they said were threats to freedom of expression in India, highlighting the cases of three public intellectuals murdered by unknown assailants in the last two years, the murders of at least 37 journalists since 1992, and the threats that writers and others continue to receive.
Prime Minister David Cameron has welcomed the "historic opportunity" for the UK and India to help each other prosper as Narendra Modi becomes the first Indian Prime Minister to visit in almost a decade.
Mr Cameron is due to meet with Mr Modi for comprehensive talks in London and later at Chequers, with the Indian PM also due to meet with the Queen at Buckingham Palace during his visit.
Britain is already the largest investor in India among G20 countries while India invests more in the UK than it does in the rest of the EU combined.
The visit of Mr Modi will see the two countries try to develop their relationship even further with billions of pounds worth of commercial deals due to be signed over the coming days.
Indian elections - victory for Narendra Modi

Show all 12
Ahead of the visit, Mr Cameron said: "This isn't just a historic visit; it's a historic opportunity.
"It's an opportunity for two countries, tied by history, people and values, to work together to overcome the biggest challenges of our age.
"Prime Minister Modi and I intend to grab that opportunity with both hands. Because in doing so, we can make two of the greatest countries in the world even greater."
Expected deals to be announced include plans for the UK to become a centre of offshore Rupee bonds and the development of a partnership to develop three 'smart cities' in India.
Mr Modi's visit will also include an address to the British Parliament - despite the fact Parliament is not in session - and a visit to the Jaguar Land Rover factory in Solihull.
Writing on Facebook ahead of the trip, Mr Modi said the aim is "strengthening cooperation with a traditional friend".
The visit will also build on the "strong ties" between the two countries on the issues of defence and security.
"I am confident my UK visit will deepen our ties and we will cooperate extensively in a range of areas of shared interests," Mr Modi wrote.
Mr Modi is also set to address members of Britain's Indian community at Wembley Stadium on November 13.
A roundtable discussion with business chiefs in London is also scheduled.
The CBI has welcomed the visit of Mr Modi.
Simon Moore, CBI international director, said: "The Indian Prime Minister's business-friendly approach has won many plaudits among industry leaders here, and we look forward to building on our already solid historic trade links to create prosperity in both countries."
Mr Modi is due to travel to Turkey for the G20 Summit on November 14.
PA
Register for free to continue reading
Registration is a free and easy way to support our truly independent journalism
By registering, you will also enjoy limited access to Premium articles, exclusive newsletters, commenting, and virtual events with our leading journalists
Already have an account? sign in
Join our new commenting forum
Join thought-provoking conversations, follow other Independent readers and see their replies