Naz Shah to be investigated by Labour's National Executive Committee following suspension over anti-Semitism row
Bradford West MP will be banned from playing any role in party activity and the whip will be removed during her suspension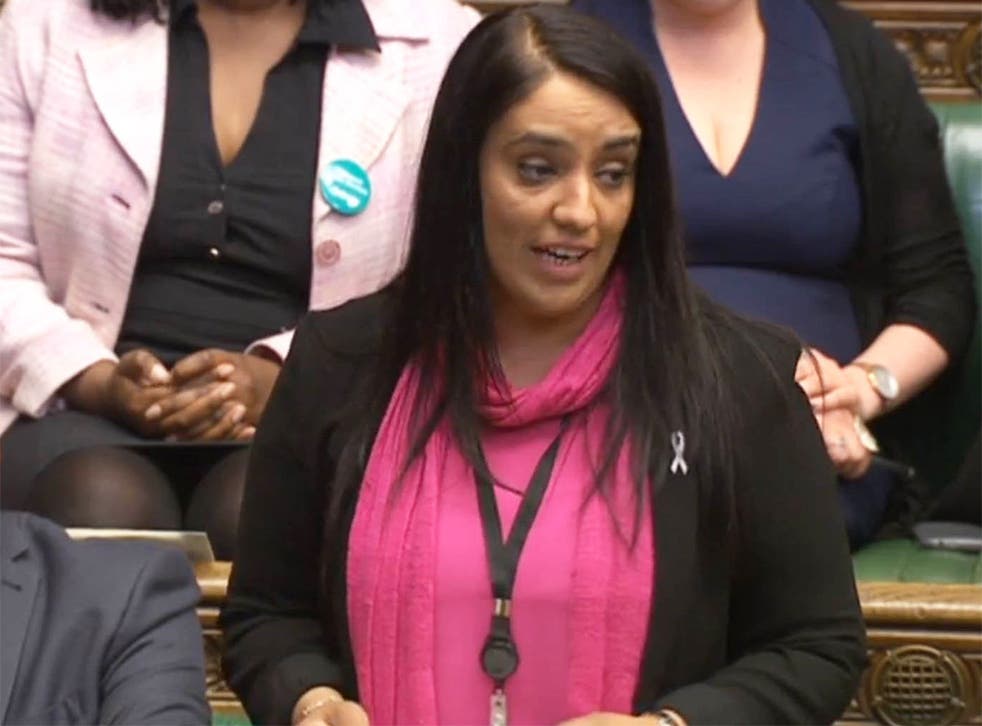 Jeremy Corbyn has been forced to back down and suspend one of only nine Labour Muslim MPs as the row over anti-Semitism threatened to engulf the party.
The Labour leader's aides spent most of the day trying to defend Naz Shah arguing that the Bradford West MP had "shocked herself" over comments posted on Facebook before she was elected.
Mr Corbyn himself said that while the comments were "offensive and unacceptable", he accepted that she no longer held those views and intended to let her off with a reprimand.
But after sustained pressure from senior figures in the shadow Cabinet, Ms Shah was called in to see Mr Corbyn and the party announced she had been suspended "by mutual agreement".
The claims against her will now be investigated by Labour's National Executive Committee during which time she will be banned from playing any role in party activity and the whip will be removed.
The announcement came just an hour after Ms Shah made the latest in a series of apologies over the posts - telling the House of Commons she "profoundly" regretted her behaviour and insisting she had since learned her lesson.
But the shadow Energy Secretary, Lisa Nandy, who is close to Mr Corbyn, was among senior Labour figures saying the party faced "real problems" if it was seen not to apply the same standards to MPs as to other activists.
"We have a policy in the Labour party that people who make anti-Semitic remarks are suspended and an investigation carried out," she said.
Ms Nandy said she had made her view clear to the Labour leader's office.
David Cameron also piled on the pressure at Prime Minister's Questions saying it was "quite extraordinary" Ms Shah had been allowed to remain in the party.
The row started after a 2014 Facebook post came to light in which Ms Shah, she shared a graphic of Israel's outline superimposed onto a map of the US under the headline "Solution for Israel-Palestine Conflict - Relocate Israel into United States", with the comment: "Problem solved".
The Guido Fawkes website - which published the post - also pointed to another made before Ms Shah was an MP, which used the hashtag £IsraelApartheid above a quote saying: "Never forget that everything Hitler did in Germany was legal".
In a statement to the House of Commons, Ms Shah apologised saying she accepted and understood that "the words I used caused upset and hurt to the Jewish community and I deeply regret that".
"Anti-Semitism is racism, full stop. As an MP I will do everything in my power to build relations between Muslims, Jews and people of different faiths and none," she said.
In a sign of the deep division with the party on the issue Ken Livingstone, the former London Mayor who is a close ally of Mr Corbyn, said Ms Shah remarks were not anti-Semitic and the suspension was unnecessary.
"What we have at the moment is a lot of people making a big issue about anti-Semitism in the Labour Party. In 47 years I have never heard anyone say anything anti-Semitic," he said.
"We expelled a couple of people from the Labour Party early on for saying things that could clearly be interpreted as anti-Semitic.
"This is not that; this is an over-the-top comment about the horrendous conflict between the Israelis and the Palestinians."
David Cameron talks about Antisemitism in PMQs
But at Prime Minister's Questions David Cameron tore into Mr Corbyn for his response to the crisis
"Anti-Semitism is effectively racism and we should call it out and fight it wherever we see it," he said.
"Perhaps if he (Mr Corbyn) could deal with the anti-Semites in their own party we'd be prepared to listen to them a bit more."
Register for free to continue reading
Registration is a free and easy way to support our truly independent journalism
By registering, you will also enjoy limited access to Premium articles, exclusive newsletters, commenting, and virtual events with our leading journalists
Already have an account? sign in