New Labour, new danger: Tony Blair leads party grandees in attack on Ed Miliband
Peter Mandelson and Alan Milburn join call for party to leave 'comfort zone'
Andrew Grice
Friday 12 April 2013 01:13 Comments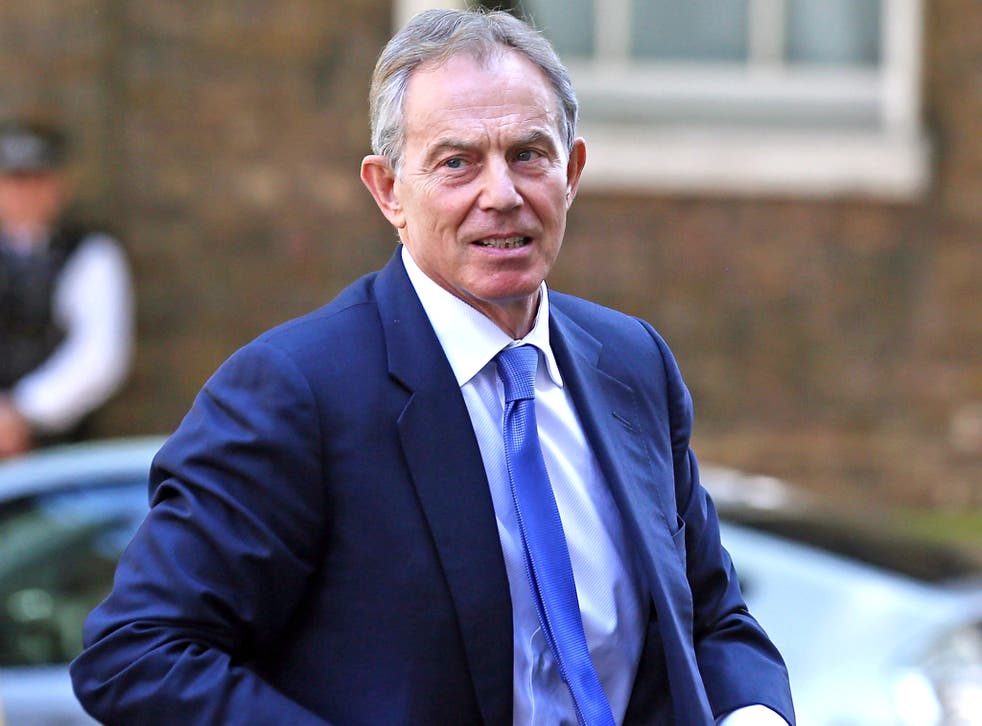 Tony Blair issued a stark warning yesterday that Labour is in danger of being seen as a party of protest as he urged Ed Miliband not to allow it to slip back into its "comfort zone".
In his most significant intervention in domestic politics since stepping down as Prime Minister in 2007, Mr Blair said Labour should not "tack right on immigration and Europe, and tack left on tax and spending". Questioning Mr Miliband's strategy to shift the political centre ground to the left, he said Labour must keep out of its "comfort zone but on a centre ground that is ultimately both more satisfying and more productive for party and country".
Mr Miliband came under further pressure as other Blairites including Lord Mandelson and Alan Milburn weighed in behind his call, with the latter telling The Independent that voters "want to know what Labour is for".
The Labour leader retaliated last night insisting he was "moving on" from Blair's administration and intended to lead "in his own way".
Mr Blair did not mention Mr Miliband by name in his article for the centenary edition of the New Statesman magazine. But his tough message to the Labour leader was clear.
He wrote: "The Labour Party is back as the party opposing 'Tory cuts', highlighting the cruel consequences of the Conservative policies on welfare and representing the disadvantaged and vulnerable."
Mr Blair warned that for Labour, this scenario is more menacing than it seems. He said the party must resist the temptation to "settle back into its old territory of defending the status quo, allying itself, even anchoring itself, to the interests that will passionately and often justly oppose what the Government is doing". The former Prime Minister added: "The guiding principle should be that we are the seekers after answers, not the repository for people's anger. In the first case, we have to be dispassionate even when the issues arouse great passion. In the second case, we are simple fellow-travellers in sympathy; we are not leaders. And in these times, above all, people want leadership."
Lord Mandelson, a former cabinet minister, told The Independent: "Tony is saying what he has always thought – that the old dividing lines between the uncaring Conservative cuts and Labour spending has got to be redrawn for new times.
"I suspect the two Eds realise this. Their call for One Nation is the right starting point, but there are major structural challenges and choices facing Britain and Labour must consider the difficult changes and reforms needed to address them."
Alan Milburn said: "The closer the election comes, people will stop asking Labour what it is against. They will want to know what Labour is for and what, if elected, it would do. Tony Blair is right to argue that the sooner that process begins in earnest, the better."
Writing on The Independent website, Lance Price, Labour's former communications director, said: "With the death of Margaret Thatcher there has been much talk of conviction politicians, those capable of changing the weather. Ed Miliband aspires to be one. But he can't afford to follow Thatcher's example by becoming a radical only once in office. Labour will sleepwalk to defeat if it doesn't set out its new vision now."
But Frank Field, who was a welfare reform minister under Mr Blair, backed Mr Miliband, saying he was right to "move on" from New Labour and the free market economics of the Thatcher era.
Unusually, Mr Miliband authorised a strong statement hitting back at Mr Blair – and recalling the mistakes of his government on immigration. Last night he told The Times: "I take Tony Blair very seriously, but I think what Labour is doing under my leadership is moving on and moving forward."
A Labour spokesman said: "As he was the first to recognise, politics always has to move on to cope with new challenges… For example, on immigration, Labour is learning lessons about the mistakes in office and crafting an immigration policy that will make Britain's diversity work for all not just a few. It is by challenging old ways of doing things… that One Nation Labour will win back people's trust."
Register for free to continue reading
Registration is a free and easy way to support our truly independent journalism
By registering, you will also enjoy limited access to Premium articles, exclusive newsletters, commenting, and virtual events with our leading journalists
Already have an account? sign in
Join our new commenting forum
Join thought-provoking conversations, follow other Independent readers and see their replies