NHS spending per person will be cut next year, ministers confirm
The funding constraints come despite the unfolding 'humanitarian crisis' in the health service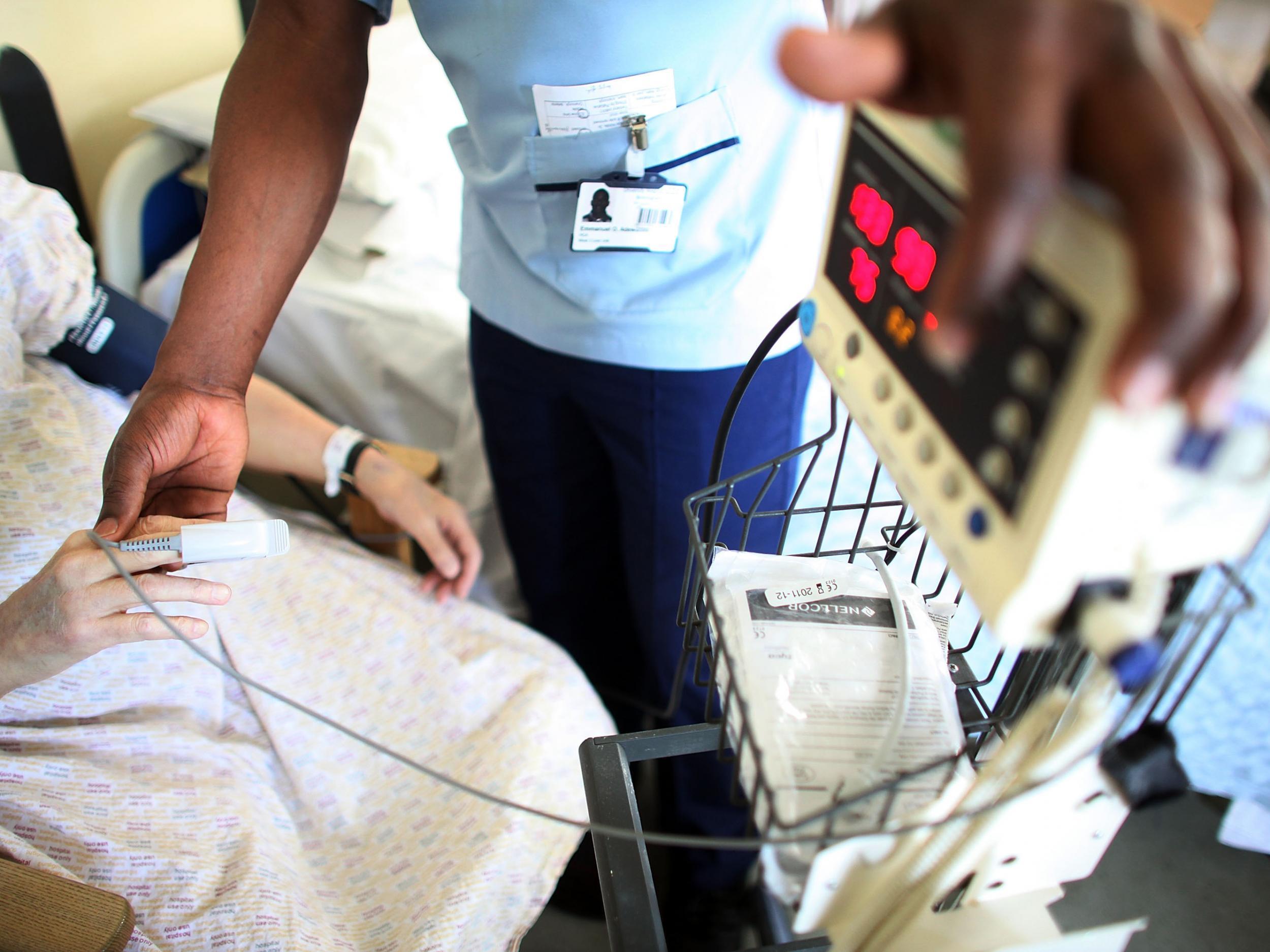 The Government will cut the National Health Service's budget per person in real terms next year, ministers have admitted in official figures for the first time.
Numbers released by ministers show NHS England will face a sharp reduction of 0.6 per cent in real terms of per head in the financial year 2018-19.
The numbers corroborate claims by NHS chief Simon Stevens earlier this month that "in 2018-19, real-terms NHS spending per person in England is going to go down".
The figures also fly in the face of the Government's public insistence that it is investing more in the health service, with Jeremy Hunt and Theresa May repeating the mantra of an extra £10bn for the NHS.
That claim was debunked by the cross-party Health Committee in the summer, whose chair, Tory MP Sarah Wollaston, said the number was both "incorrect" and "risks giving a false impression that the NHS is awash with cash".
The Liberal Democrats said the figures show Tory claims of investment were "disingenuous" while Labour said the Government should use the March budget to close the black hole opening up in the health service's finances.
Corbyn: Theresa May is in denial over the NHS crisis
In a written statement to the House of Commons health minister Philip Dunne said NHS England's per capita real terms budget would increase by 3.2 per cent in 2016-17 financial year.
However growth would fall sharply next year, down to just a 0.9 per cent increase in 2017. It would then go negative by 2018-19 with a 0.6 per cent fall in real spending per head in that financial year.
Growth would remain very low in 2019-20 at 0.2 per cent and 0.9 per cent in the years following. The wider health budget outside the NHS is facing even more sustained cuts, with two years of shrinking resource per head and a maximum growth rate of 0.4 per cent after this year. This includes staff training and public health.
The figures were revealed after a written question to the minister by Labour MP Luciana Berger.
Tim Farron, Lib Dem leader, told The Independent: "These Government figures expose just how disingenuous they have been with their claims that they're investing more in the NHS.
May refuses to rule out private US firms taking over NHS services
"It is unbelievable that they keep asking health and care services to provide more services, for more people, with less and less resource. These vital services are already stretched to breaking point.
"We need a long-term funding settlement for health and care. Figures like this show just how essential this initiative is."
Jon Ashworth, Labour's shadow Health Secretary, said social care cuts were compounding the health service's woes.
"Ministers have now finally admitted what I've been warning for some time – that head for head, NHS spending will actually be cut next year," he said.
"Alongside cuts to social care this will simply compound the crisis the NHS is already facing. Theresa May needs to use the Budget this March to give the NHS and social care the funding our constituents expect."
NHS trusts are reporting record deficits across the country as funding continues to tighten and fails to keep up with demand or inflation. The British Red Cross declared the system was facing a "humanitarian crisis" at the start of the year and said more investment was needed – but ministers have so far refused to release extra cash.
This week the National Audit Office warned that overstretched A&Es were also having a knock-on effect on other parts of the health service such as ambulances, which they said were increasingly missing targets.
The latest numbers of a per capita real terms cut relate only to England, because the health service is devolved to the Welsh, Scottish and Northern Irish governments – with Westminster's controlling England's system.
Anita Charlesworth, director of economics at the Health Foundation, a charity which scrutinises health policy, said the numbers actually downplayed the even bigger challenge the health service was facing.
"Obviously we've got an increasing population but the thing with the per capita as well is we've also got an ageing population," she told The Independent.
Health news in pictures
Show all 40
"The pressures are bigger than even the per capita shows because as the population ages, healthcare costs are not consistent throughout our lifetime and they're not consistent as we get older."
She warned that it was likely that "very low funding growth may continue beyond this decade" and said Government commitments to improving areas like mental health, primary care, and utilising new life-saving drugs were in jeopardy with the current level of funding.
A Department of Health spokesperson said: "We are committed to the NHS and investing £10bn extra a year by 2020 with the budget increasing in real terms every year – funding per person will rise 4.7 per cent in real terms over the course of this Parliament. We frontloaded this money, rather than introducing it evenly, to kick-start the NHS's plan to transform services for the future.
"We have introduced tough new financial controls to cut down on waste in the NHS – including clamping down on rip-off staffing agencies and expensive management consultants so every penny possible can be spent on patient care."
Join our commenting forum
Join thought-provoking conversations, follow other Independent readers and see their replies