NHS hospitals send overseas for nurses before winter crisis
Spanish and Portuguese professionals invited to fill 20,000 vacancies as Health Secretary is tackled on staffing levels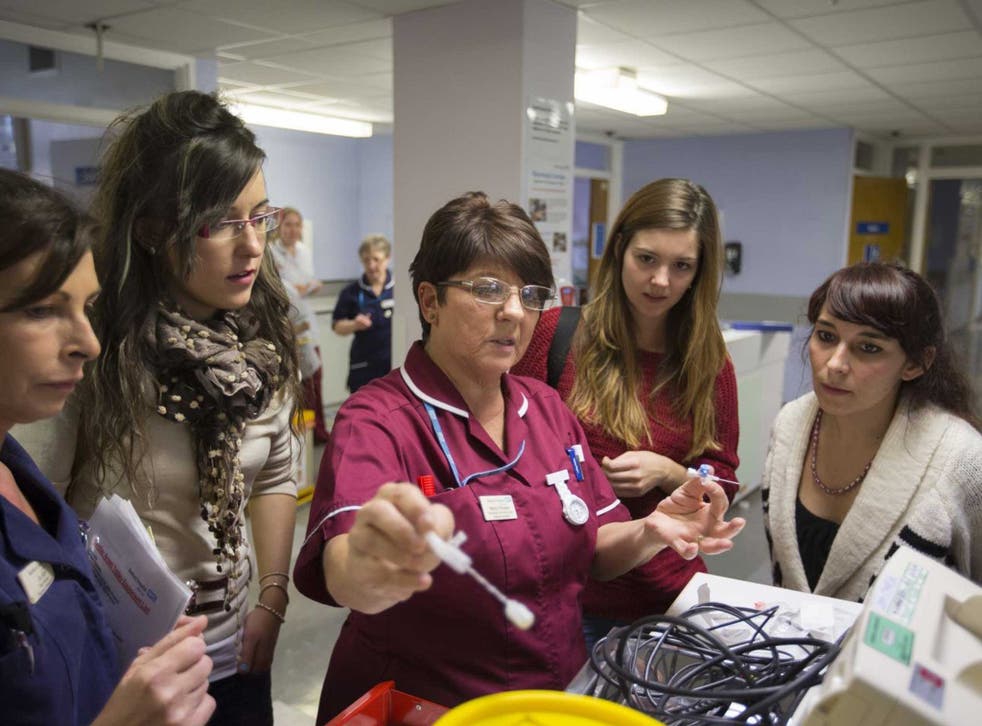 Hundreds of Spanish nurses will start work across Britain this week, having been fast-tracked to work at NHS hospitals in what the Royal College of Nursing is describing as a "crisis in workforce supply".
NHS Trusts are desperately trying filling nursing posts before the impending "winter crisis". Forty trusts have already recruited from overseas in recent months, resulting in more than 1,360 nurses coming to work in England. A further 41 hospital trusts will follow suit. Spain and Portugal are the most popular sources. As more than 10,000 nurses fight for only 460 jobs in Spain because of its economic recession, NHS bosses are welcomed with open arms.
The Government is coming under mounting pressure to fill some of the 20,000 unfilled posts that the RCN says remain vacant. Health Secretary Jeremy Hunt, announcing acceptance of almost all recommendations made in the Francis report into failings at the Mid Staffordshire Trust, said last week that hospitals will have to publish staffing levels from 2014.Mr Hunt has also promised the NHS will recruit an extra 3,700 nurses by March 2014.
The political row over frontline staff intensified yesterday, after Mr Hunt seemed to be caught out on Thursday's BBC Question Time. Labour MP Sadiq Khan cited official NHS Health and Social Care Information Centre (HSCIC) statistics that there are 6,642 fewer nurses in hospitals today than in May 2010, when the coalition came to power.
Mr Hunt replied: "I am worried about the nurses going down. They haven't gone down in hospitals; actually they have gone up but they have gone down in the community."
A spokeswoman for the HSCIC said Mr Hunt was wrong. "The drop of 6,642 nurses relates to figures concerning nurses in hospitals, not those in at GP surgeries or elsewhere in the community," she said.
Public spending cuts combined with nursing training places falling from almost 21,000 in 2009 to fewer than 18,000 this academic year means there is a significant shortfall in hospitals. Spanish nurses are boosting figures before the Francis recommendations take effect. At the Diana, Princess of Wales Hospital in Grimsby, 22 Spanish nurses will begin work in the NHS tomorrow.
Aldo Alia Casado, 26, has no regrets about swapping the mountainous village of Collado Villalba, near Madrid, for Grimsby. He said: "My first impressions of the UK were 'Where is the sun?', as we arrived in the middle of a storm. Then we found something rare: it is quiet and calm everywhere, very different from Spain where people don't talk, they scream!"
Asked how long he will stay, Mr Casado said: "Everybody asks me the same question, and it's easy to answer now that Grimsby hospital has opened a door for me to progress my life. I have to give back this favour.This is now my home. There are some brilliant professionals here and I would like to be at the height of them."
The Northern Lincolnshire and Goole NHS Foundation Trust has begun a second recruitment drive in Spain to hire 30 more overseas staff.
The Independent on Sunday spent last Thursday with half of the 44 Spanish nurses who are about to start their new lives on the wards at Bedford hospital. A nurse matron, ward sister and human resources executive travelled to Madrid in October to recruit them. The qualified nurses sat English and numerical tests and had an interview in English before they were chosen.
Raquel Irurzun, 23, from Pamplona in north-west Spain, graduated in 2010 and had been working as an A&E nurse. Speaking during her clinical induction, she said: "The nurse's role in England is much more focused on overall social care compared with Spain, and it sounds like staff here stay in the same unit for a long time, which is a good thing. We get moved around wards quite a lot in Spain. I don't know if I will return home some day or not. I don't mind."
Rafa Caldas, 22, studied in his home city, Madrid, completing his master's in emergency medical transportation this year following a four-year nursing degree. "This is my first real opportunity to work in a permanent role," he said. "There is a lot of extra paperwork here, compared with Spain, where you used to have an assistant to do that kind of thing for you."
Given Bedford's ethnic diversity – the county town of 80,000 has a high percentage of Italians, Polish and Indians and some 100 languages are spoken – both nurses believe language and communication will be one of the biggest challenges.
"There are many patients here from India, Pakistan. You have so many accents," said Rafa, whose friend had made the jump from Spain to Blackpool six months ago and given him a positive impression of life in the NHS. "But I'm looking forward to starting work."
The Bedford group ranges in age from new graduates in their early twenties to experienced staff in their fifties. All have been taken on at band five level with a salary from £21,388 to £27,901. Like their compatriots around the country, they have been placed in shared accommodation by the hospital and praised the trust for making them feel so welcome.
Nottingham University Hospitals Trust has to fill a vacancy gap for 200 nurses and has already recruited more than 30 people from Portugal. Managers will return to Lisbon before Christmas to recruit more staff. Another 20 experienced Spanish nurses will begin work at Worcestershire Acute Hospital Trust this month. Penny Venables, CEO of the trust, which still has about 50 nursing vacancies, said: "There is a lot of interest from Spain and Greece and countries where there are economic challenges. It is something that every trust is doing and we would not rule out doing it again."
Ward managers are delighted, with some privately saying their workforce has doubled overnight. With training numbers cut, budgets frozen – it costs on average £70,000 to educate and train a qualified nurse in England – and the winter coming, the Spanish nurses represent a quick fix. One NHS employee said: "If you need a lot of nurses quickly, then the best thing to do is jump on a plane and bring them back from an EU country. They're happy and the hospitals are happy."
Howard Catton, RCN director of policy, said: "When employers are getting on planes to recruit nurses, you know you have a crisis in workforce supply. That is happening right here, right now."
Shadow Health Secretary Andy Burnham believes the number of nurses has reached "dangerously low levels". He said: "David Cameron has left the NHS facing an A&E crisis with thousands fewer nurses and 750 nursing jobs lost last month alone. Too many hospitals in England do not have safe staffing levels.
"The Prime Minister is cutting trainee nurse posts while wasting money on overseas recruitment. It is more proof that you can't trust the Tories with the NHS."
A spokesperson for the Department of Health said there is "no way of knowing" how many of the 3,700 extra nurses promised by Mr Hunt will come from abroad, although with NHS recruitment fairs taking place in Madrid and Lisbon in January, it will be a large proportion.
Numbers game
The political battle over nursing numbers is set to continue till 2015's general election, and getting accurate figures on current staff levels is difficult.
What is clear is that nursing is now the most popular course of study in the UK. Last year, universities accepted 23,836 students from 212,572 applicants, according to application service Ucas. The latter figure rose to 224,526 this year, with the number of people getting places not yet released. At the University of Northampton, 242 people secured a nursing place in September from 2,435 applicants, making it harder to get into than Oxford or Cambridge.
Training places have also fallen. In 2009/10, 20,829 nursing student places were commissioned in England; for 2013/14 it is 17,796, according to the Royal College of Nursing. The RCN says there are 20,000 nursing posts unfilled and is calling for a 10 per cent increase in the number of education places.
According to the most recent official Health and Social Care Information Centre statistics, there were 281,431 full-time equivalent nurses working in NHS England hospitals in May 2010. Most recent figures – for August this year – show that number has fallen to 274,789.
Paul Gallagher
Join our new commenting forum
Join thought-provoking conversations, follow other Independent readers and see their replies