NHS hospitals need £500m bailout to cope with coming winter crisis with thousands of patients at risk, says Labour
Labour warns 10,000 patients could be waiting too long in A&E departments every day without urgent investment
Lizzy Buchan
Political Correspondent
Tuesday 26 September 2017 00:25 Comments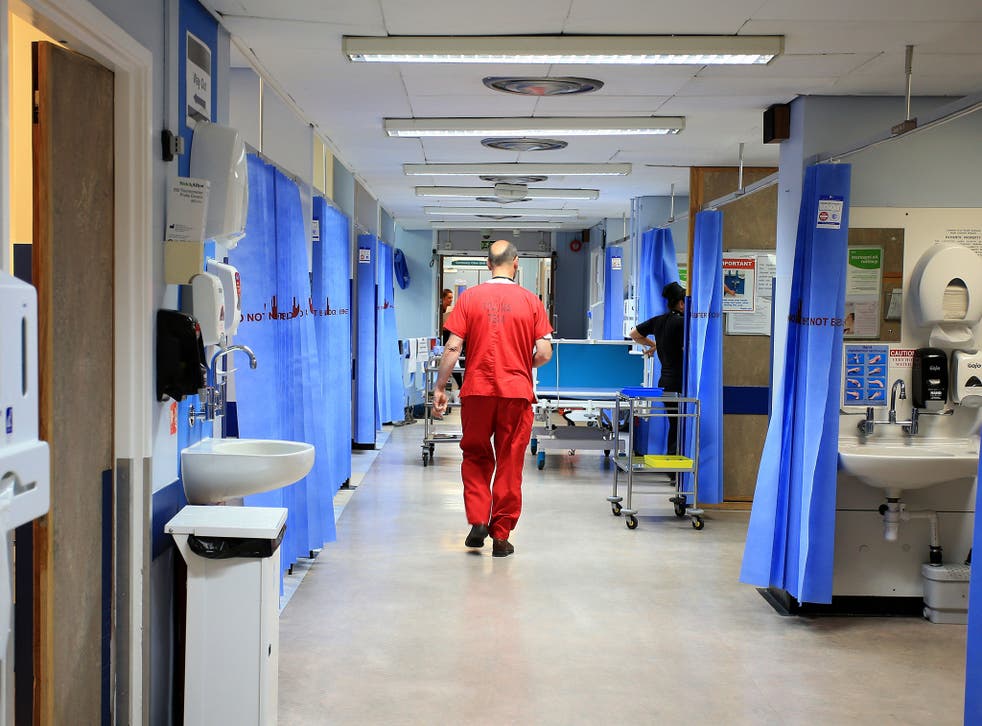 Hospitals must be given a £500m bailout to cope with the coming winter crisis or face putting thousands of patients at risk, Labour has said.
New analysis shows 10,000 people will be stuck for too long in A&E waiting rooms every day if the situation continues unchecked against a backdrop of growing waiting lists and cancelled operations.
Shadow Health Secretary Jonathan Ashworth accused Theresa May of "burying her head in the sand" over the unprecedented demand on the health service after patients faced the worst winter on record last year.
Doctors' leaders warned that the overstretched NHS was facing a strain on services in the summer months normally reserved for winter, when poor weather and seasonal flu heap pressure on hospitals and GPs.
Mr Ashworth will use a speech to the Labour party conference on Tuesday to urge the Government to pour £500m into beleaguered hospitals to help boost capacity, increase numbers of doctors and nurses, and take the strain off social care services.
He was expected to say: "Last winter, Theresa May stuck her head in the sand and refused to give the NHS the money it needed to keep services running properly.
"This decision pushed NHS staff beyond their limits and caused misery for patients in every part of the country. It can't be allowed to happen again.
"Labour is calling for a comprehensive package of emergency support, including a new £500m winter bailout fund, to urgently be put in place so that patients don't suffer the same pain as last year all over again.
"It is not acceptable for the Government to stumble into another NHS winter crisis – they've been well warned and need to take action now."
January was the worst month on record for A&E departments, as NHS England statistics revealed nearly 80,000 ill patients waited more than the Government's four-hour target for treatment. If the pattern continues, waiting lists could soar to 4.3 million this winter, with 10,000 people waiting too long for emergency care every day, according to analysis of official statistics by Labour.
Dr Chaand Nagpaul, council chair of the British Medical Association, said the NHS was "at breaking point" as demand had far outstripped investment. He said: "Last year NHS staff and patients endured the worst winter on record and right now we are sleepwalking into yet another crisis that has the potential to be worse than the last.
"We've yet to hear of any concrete plans from the government on exactly how they plan to stop a repeat of last year and any new injection of cash and resources will of course help ease pressure during the winter.
"Pressures that were previously only seen in winter are now stark year-round, with targets routinely missed, a lack of hospital beds and services, A&E departments struggling because of an overstretched system, and GPs increasingly unable to provide the high-quality, timely care they want to deliver for their patients."
UK news in pictures

Show all 50
Emergency departments are facing soaring demand, with more than 23.4 million patients coming through A&E in England in 2016/17 – an increase of 2.8 million people since 2010.
A Department of Health spokesperson said: "The NHS planned for winter earlier this year than ever before and has robust plans in place, supported by an extra £100m for A&E departments and £2bn funding for the social care system to help improve discharging and free up beds in hospitals.
"Since 2010, hardworking NHS staff are treating 1,800 more patients within four hours each day and are seeing 2.8 million more people each year."
Register for free to continue reading
Registration is a free and easy way to support our truly independent journalism
By registering, you will also enjoy limited access to Premium articles, exclusive newsletters, commenting, and virtual events with our leading journalists
Already have an account? sign in
Join our new commenting forum
Join thought-provoking conversations, follow other Independent readers and see their replies