NHS junior doctor strike could be called off under last-minute deal, BMA and Jeremy Hunt confirm
The BMA's junior doctor committee is examining a proposal to suspend Tuesday's strike action and will issue a statement this evening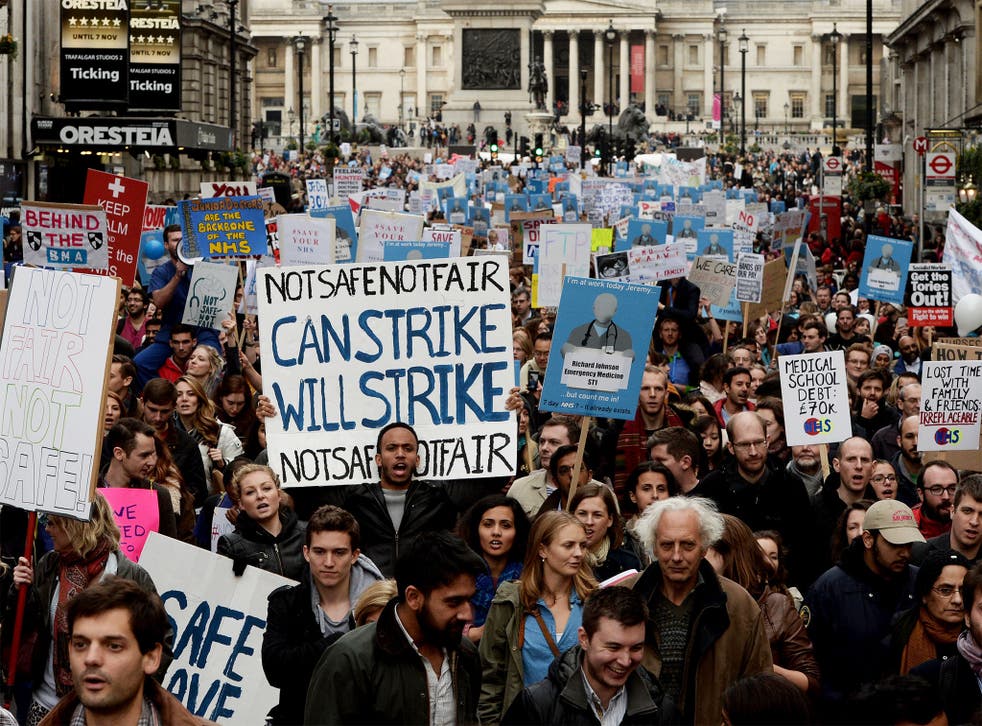 A potential last-minute deal between the British Medical Association and ministers could avert a strike by NHS junior doctors, it has emerged.
Health Secretary Jeremy Hunt told MPs that Acas negotiations had yielded a possible agreement "early this afternoon" and that the BMA's leadership was examining the idea.
Under the plan, the planned strike would be called off for a time-limited period in exchange for the Government agreeing not to proceed unilaterally with the implementation of a new contract.
The BMA confirmed that its junior doctor committee was examining a potential deal and said it would be issuing a statement "this evening".
"I am pleased to report to the House that after working through the weekend discussions led to a potential agreement early this afternoon between the BMA leadership and the government," Mr Hunt told the House of Commons in a statement.
"This agreement would allow a time-limited period during which negotiations could take place and during which the BMA would agree to suspend strike action and the Government agrees not proceed unilaterally about implementing a new contract.
"This agreement is now sitting with the BMA junior doctors negotiating committee who will decide later today if they are able to support it."
The strike is due to start at midnight tonight unless the deal is agreed. Junior doctors across England are set to walk out for 24 hours in protest against the unilateral changes to their contract by the Government.
The changes would see pay reduce for doctors who work the longest hours and the British Medical Association says the changes will endanger patients.
Strike action was voted for by 98 per cent of BMA junior doctors in England who took part in a ballot for industrial action. Two further days of strike action are planned as part of a rolling programme after tomorrow.
The Government says the changes are necessary for a so-called "seven-day NHS" which ministers say would improve care on weekends.
Both sides have accused each other of refusing to come to the table during the row.
The Government claims that the strike would endanger patient safety but the BMA and academic evidence suggests that previous strikes in other countries have not increased mortality.
Register for free to continue reading
Registration is a free and easy way to support our truly independent journalism
By registering, you will also enjoy limited access to Premium articles, exclusive newsletters, commenting, and virtual events with our leading journalists
Already have an account? sign in
Register for free to continue reading
Registration is a free and easy way to support our truly independent journalism
By registering, you will also enjoy limited access to Premium articles, exclusive newsletters, commenting, and virtual events with our leading journalists
Already have an account? sign in
Join our new commenting forum
Join thought-provoking conversations, follow other Independent readers and see their replies