Nick Clegg challenges Tories on income tax breaks for poor
Mark Leftly
Sunday 17 November 2013 01:00 Comments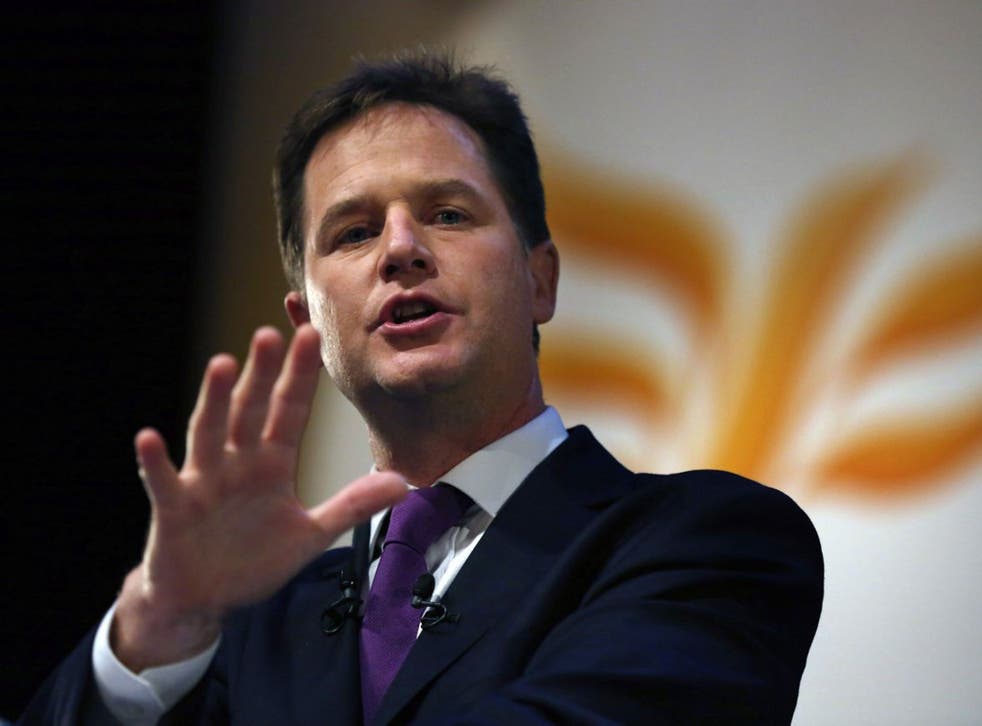 Nick Clegg has called for fresh income tax breaks for the UK's lowest-paid workers as he tries to distance the Liberal Democrats from their Conservative coalition partners before the 2015 general election. Tory officials, however, last night immediately seized on the plan to raise the point at which people pay income tax by 5 per cent, to £10,500, as being uncosted, potentially "ruining the economic plan".
Raising the personal allowance from £6,475 to £10,000 was a key Lib Dem manifesto pledge in 2010 and has taken 2.7 million people out of income tax entirely since the policy was adopted. The Deputy Prime Minister wants the 2014 Budget to raise the tax threshold to £10,500, in what he describes as a "workers' bonus".
Mr Clegg believes this will take an additional 500,000 workers out of income tax. Senior Lib Dems hope this will define the party as one willing to reward those who have suffered through years of austerity, against a Tory party obsessed by cost-cutting.
The Lib Dems have become increasingly frustrated that the Conservatives have taken credit for raising the personal allowance, even though David Cameron initially questioned the proposal.
A source close to the Deputy Prime Minister said: "Basically, the economy is returning to health, but people are still feeling the pinch. The Tories are continually boasting about this policy; it's even on the front page of their website.
"The Tories once said that this policy wasn't affordable, but now they like to claim credit for it. Will they now join the Lib Dems in going further and faster?"
Register for free to continue reading
Registration is a free and easy way to support our truly independent journalism
By registering, you will also enjoy limited access to Premium articles, exclusive newsletters, commenting, and virtual events with our leading journalists
Already have an account? sign in
Join our new commenting forum
Join thought-provoking conversations, follow other Independent readers and see their replies