Nick Clegg vows to veto any Tory Eurosceptic as EU Commissioner
Cameron will be forced to rule out his top choices to take over from Baroness Ashton in Brussels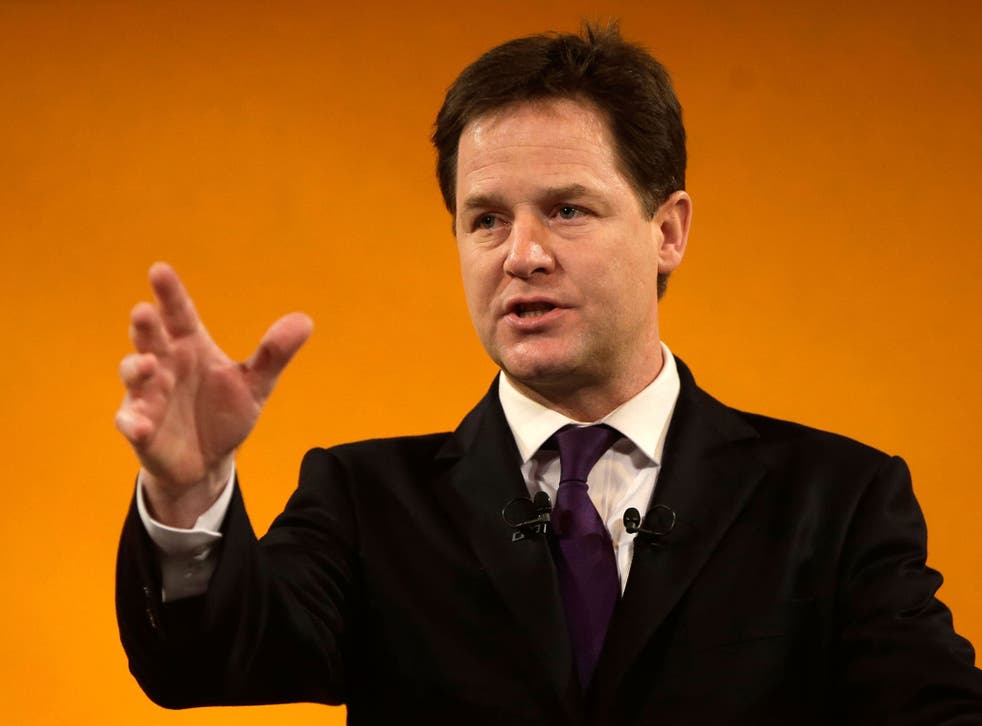 Deputy Prime Minister Nick Clegg will veto any attempt by the Conservatives to appoint a Eurosceptic candidate to become Britain's next EU Commissioner, The Independent has learnt.
As Prime Minister, David Cameron has to nominate a successor to replace Baroness Ashton, who will step down as Britain's representative on the European Commission later this year.
But the Liberal Democrat leader has made it clear that many of the candidates favoured by the right wing of the Conservative Party who want to see "one of their own" in Brussels would be unacceptable to him and he would veto them.
They include the Environment Secretary, Owen Paterson, who has been tipped for the post, and the former Defence Secretary, Liam Fox, who is keen to return to frontline politics after successfully winning his libel battle over the Adam Werritty affair. Peter Lilley, another favoured candidate among Tory backbenchers, is also thought to be unacceptable.
However, Liberal Democrat sources suggested the party might be content to see Mr Cameron appoint the former Chief Whip, Andrew Mitchell, to the job, or the current Leader of Commons, Andrew Lansley. "We need someone in Brussels who is not going to shout from the side lines but is going to actively engage and work hard," said a Liberal Democrat source.
"We don't think it would be in Britain's interest to use the job as a bully pulpit to attack Brussels rather than working constructively to protect our interests."
The decision on who to appoint to Brussels is one of the biggest political headaches that Mr Cameron has to confront this year.
Tory strategists are concerned that if they appoint a current MP, that could possibly trigger an embarrassing by-election where Ukip might perform strongly ahead of the General Election next May.
Mr Cameron's aides are understood to have investigated whether they could hold off calling the by-election by arguing that it was so close to the national polls that it was unnecessary. However, they are thought to have concluded that it was a "grey area" which could be challenged by Labour.
Most of the muted candidates outside the Commons would not command the support of Mr Cameron's restive backbenchers. Potential nominees such as the Trade Minister, Lord Livingston, and John Cridland, head of the CBI, are considered too pro-EU.
A senior Tory backbencher said: "If we don't get an MP like Paterson or Fox or Lilley, the alternative is some corporate businessman who will go native the second they arrive in Brussels. We need someone with a bit of spine."
One area where Mr Cameron and Mr Clegg are in agreement is on the need for Britain to secure one of the trade and business briefs in the new Commission. In particular they have their eye on the Internal Market and Services portfolio which is currently held by the French representative, Michel Barnier.
The City of London has been deeply angered by the way Mr Barnier has used the job to advance what they see as a anti City of London agenda.
They believe that holding a business brief will be important in any future treaty negotiations as well as being more central to Britain's interests in the EU.
Under Commission rules Mr Cameron has to make his nomination in the early autumn and secure agreement among other leaders at the Council of Ministers. That list is then submitted to the European Parliament for approval.
Register for free to continue reading
Registration is a free and easy way to support our truly independent journalism
By registering, you will also enjoy limited access to Premium articles, exclusive newsletters, commenting, and virtual events with our leading journalists
Already have an account? sign in
Register for free to continue reading
Registration is a free and easy way to support our truly independent journalism
By registering, you will also enjoy limited access to Premium articles, exclusive newsletters, commenting, and virtual events with our leading journalists
Already have an account? sign in
Join our new commenting forum
Join thought-provoking conversations, follow other Independent readers and see their replies