Nick Clegg warns party he won't go to war over Lords reform
Lib Dem leader insists Coalition must not be put at risk as rebels prepare rival blueprint
Andy McSmith
,
Mary Ann Sieghart
Monday 23 April 2012 14:02 Comments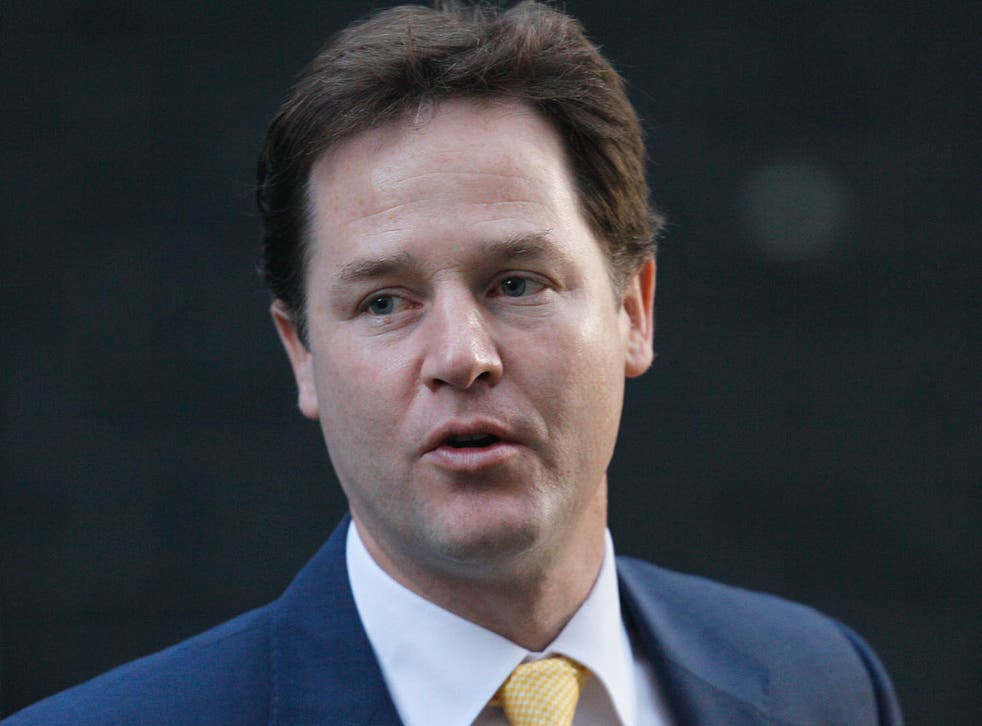 Nick Clegg has sent a clear warning to his party that he is not prepared to put the Coalition at risk to force through reform of the House of Lords against opposition from Conservative sceptics.
In a move that may infuriate Liberal Democrat activists, the Deputy Prime Minister has made it clear that he is not prepared to give David Cameron an ultimatum that Liberal Democrats will withhold support from Tory plans to cut the size of the House of Commons if they do not get their way on Lords reform. For many within his party, the move to an elected House of Lords has become the Holy Grail, after the defeat in the referendum on the alternative voting system and the failure to block a Conservative-led rise in tuition fees.
Mr Clegg's ambition to create an elected House of Lords is also set to receive an unexpected blow today as a rebel group threatens to present a rival reform plan – delaying the process almost indefinitely.
The Independent has learnt that a challenge is being presented from within the committee of peers and MPs that was set up to advise on the intended reforms. The official recommendations will be made today, and, as expected, will suggest that the current House of Lords be scrapped and replaced by a chamber that is four-fifths elected and one-fifth appointed. It will be greeted as welcome news for supporters of reform including both David Cameron and Mr Clegg.
But the committee, led by the former Labour minister Lord Richard, is split down the middle, and its recommendation was passed by only a wafer-thin majority. Twelve of its members – nine peers and three MPs – are threatening to launch a rival blueprint today, at a breakaway press conference, chaired by the former Tory cabinet minister, Gillian Shephard, and backed by the former Labour Foreign Office minister, Baroness Symons.
They argue that the Government is handling the issue the wrong way round. The first step, they say, should be to look at Parliament as a whole to work out what the relationship between the two houses ought to be, before deciding on the composition of the upper house. It is feared that an elected upper house will be much more likely to challenge the authority of the Commons than unelected peers have been.
Lords reform already had the potential to set off the biggest backbench revolt by Tory MPs that Mr Cameron has faced since he became party leader. The split within the Richard committee can only add to the problems the Government will face if it tries to pass legislation before the 2015 general election.
Speaking on BBC's Sunday Politics, Mr Clegg said he would not call for a referendum on the issue, though many supporters of reform, including the Labour leader Ed Miliband, believe that a Yes vote in a referendum is needed to overcome resistance from within Parliament. "The history of constitutional reforms is that they cannot happen without a referendum," a Miliband aide said yesterday.
But Mr Clegg said: "It is for the people who want to advocate a referendum to explain why we should spend millions of pounds of taxpayers' money on an issue where all the parties agree."
Mr Clegg also made it clear that he was not prepared to give Mr Cameron an ultimatum that Liberal Democrats would refuse support for Tory plans to cut the size of the House of Commons if they did not get their way on Lords reform.
Some senior Liberal Democrats, including the party president Tim Farron and Lord Oakeshott of Seagrove Bay, have suggested that the two reforms should be tied together as a single package, to give the Tories a motive to back them on Lords reform. But Mr Clegg said: "We haven't indulged in tit-for-tat choice about which bit of the Coalition Agreement we are going to support or not."
Mr Clegg is hoping that, with David Cameron's support, he can get Lords reform passed by exhorting Tory MPs to stick to coalition agreements, and reminding them he has made sacrifices to keep the Coalition together.
"I have asked Liberal Democrat MPs and peers to back a number of things they didn't like at all. But I did it because it was in the spirit of the Coalition, and I would ask people from all sides of the Coalition Government to continue to govern in that spirit," he said.
But senior Liberal Democrats fear that if the Government holds a referendum on Lords reform – which the reformers are reasonably confident of winning – Mr Cameron will come under relentless pressure from the Tory right to have a referendum on British membership of the EU, which those who favour continued membership might lose.
The Lords reforms...
What the Lib Dems wanted:
A wholly or mainly elected upper chamber of around 300 full time peers, with no more than 60 appointees. Firm proposals to be announced in next month's Queen Speech. No referendum.
What the official report will recommend:
The Lords to become a mostly elected body where members can serve non-renewable, 15-year terms. Lords to be paid £50,000 a year, scrapping existing attendance allowance. Expected to call for an 80 per cent elected chamber.
...And why Lib Dems are Desperate for a victory
Tuition fees
Nick Clegg supported the Government's plans to increase tuition fees to a maximum of £9,000 in 2010. In doing so he broke his pre-election pledge that he would oppose any fee rise.
Privacy
Mr Clegg faced pressure from his backbenchers over Government privacy plans this month and attempt- ed to defend the new "snooping" laws.
NHS reforms
Lib Dem party members opposed Mr Clegg over the NHS reforms. He said the controversial Bill was a better one for the intervention of Shirley Williams, the Lib Dem peeress.
50p tax
Plans to axe the 50p top tax rate were initially opposed by senior Lib Dems before being softened in return for tax cuts on low earners.
Register for free to continue reading
Registration is a free and easy way to support our truly independent journalism
By registering, you will also enjoy limited access to Premium articles, exclusive newsletters, commenting, and virtual events with our leading journalists
Already have an account? sign in
Join our new commenting forum
Join thought-provoking conversations, follow other Independent readers and see their replies