Nick Clegg says Richmond Park by-election could stop hard Brexit
Just as the poll tax was axed, former Lib Dem leader says the result could be a political turning point – forcing Theresa May to change course dramatically on Brexit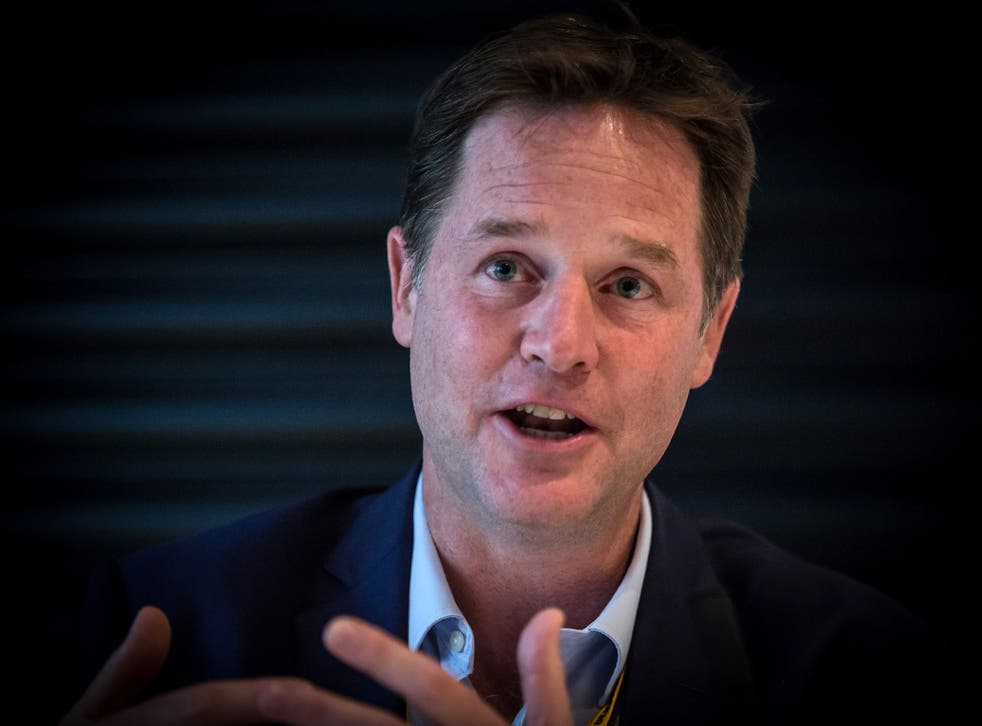 Nick Clegg has claimed a crucial by-election next week could stop a hard Brexit in the same way a previous voting upset reversed the poll tax.
The former Liberal Democrat leader suggested victory in the Richmond Park by-election – sparked by Zac Goldsmith's resignation – could go down in history as a seismic political turning point.
Addressing supporters in the constituency, Mr Clegg said an extraordinary upset was within his party's grasp, marking its return from its general election disaster – and forcing Theresa May to change course dramatically on Brexit.
Dozens of Conservative MPs in other Remain-leaning constituencies would be left fearing for their own futures, he claimed
Mr Clegg said: "Every once in a while a by-election can have real national significance.
"In Ribble Valley it stopped the poll tax, in Crewe it ended Gordon Brown's 10p tax hike and in Brent East it demonstrated the level of public animosity towards the Iraq War.
"This time, a Liberal Democrat victory on an unapologetically pro-European platform could cause the Government to rethink its hard Brexit agenda."
The poll tax was axed within weeks of the Liberal Democrat triumph at Ribble Valley in 1991, which came a few months after Margaret Thatcher's resignation as Prime Minister.
And Gordon Brown announced compensation for people hit by his scrapping of the 10p tax rate very soon after losing to the Conservatives in Crewe and Nantwich in 2008.
Next Thursday's by-election was triggered by Mr Goldsmith's resignation in opposition to the go-ahead for a third runway at Heathrow. He is standing as an independent.
A month ago, one opinion poll gave Goldsmith an apparently-impregnable lead over the Lib Dem candidate, Sarah Olney, of 45 per cent to 22 per cent.
But the Lib Dems are convinced they have successfully shifted the focus of the by-election from Heathrow expansion – which they also oppose – to Britain's withdrawal from the EU.
Around 70 per cent of voters in Richmond Park backed Remain – but Mr Goldsmith was a staunch supporter of the Leave campaign.
According to a Lib Dems survey of 3,500 voters, no fewer than 83 per cent fear Brexit will hit local jobs and 87 per cent believe remaining in the single market should be the priority in the negotiations.
In contrast, only 13 per cent said controlling immigration should be given greater importance – the normal definition of a hard Brexit.
This week, Mr Goldsmith was still focusing on Heathrow, arguing it would already be under construction if he had not been elected to Parliament in 2010.
He has vowed not to return to his former party before a general election, but has failed to dismiss the idea of rejoining the Conservatives at some point.
Mr Goldsmith also wants Ms May to abandon her Supreme Court challenge and put Article 50 to a vote immediately – believing it will "go through very easily".
Controversially, the Conservatives opted not to oppose the new independent – and some Tory MPs have been seen campaigning for Mr Goldsmith.
For Labour, Christian Wolmar has spoken only of seeking to "establish a good Labour base in Richmond Park for the future".
Join our new commenting forum
Join thought-provoking conversations, follow other Independent readers and see their replies