Salmond inquiry: Nicola Sturgeon misled Scottish parliament committee, investigation finds
Follows separate inquiry by QC James Hamilton clearing first minister of breaching ministerial code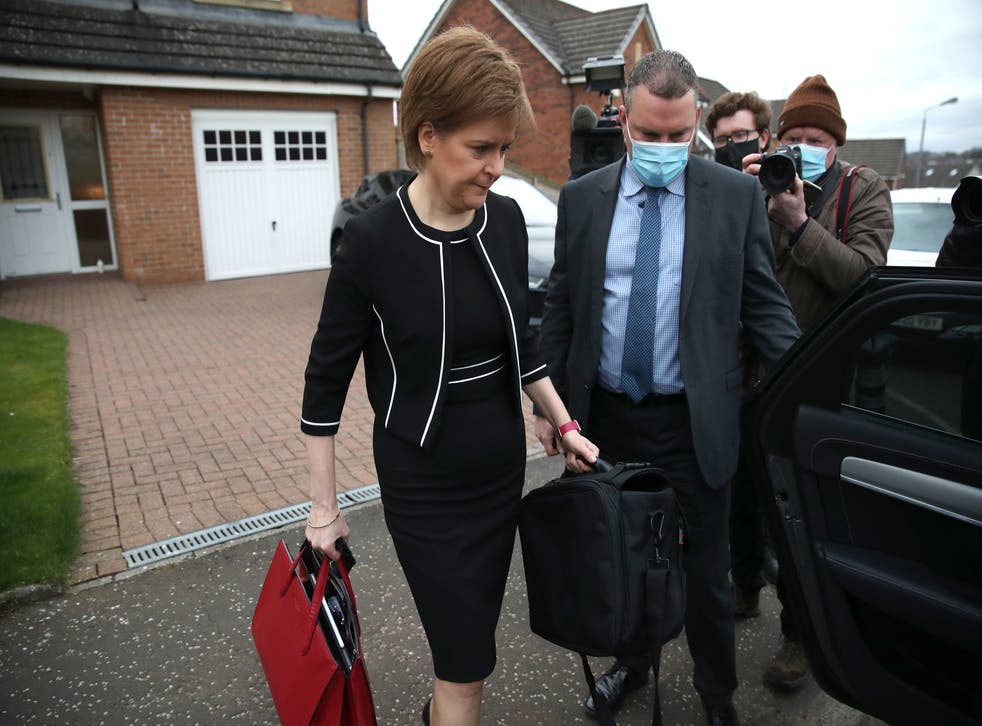 Nicola Sturgeon misled a Scottish parliament committee, an investigation into the government's unlawful handling of harassment allegations against Alex Salmond has concluded.
It comes after a separate independent inquiry by QC James Hamilton cleared the first minister of breaching the ministerial code — a move welcomed by her as "comprehensive, evidence-based and unequivocal" — but said it was up for Holyrood "to decide" whether she misled MSPs.
Publishing their conclusions, which were partially leaked last week, members probing the Scottish government's botched handling of harassment allegations against the former first minister said they "find it hard to believe" Ms Sturgeon had "no knowledge of any concerns about inappropriate behaviour on the part of Mr Salmond prior to November 2017".
Follow Nicola Sturgeon news live: Latest as SNP criticises 'attempt to smear' FM
The committee on the Scottish government's handling of harassment complaints stated: "If she did have such knowledge, then she should have acted upon it. If she did have such knowledge, then she has misled the committee."
It added there was a "fundamental contradiction" in her evidence on whether she agreed to intervene in a Scottish government investigation into complaints by two woman against the former first minister.
Read more:
It said that, in a meeting at her Glasgow home on 2 April 2018, Ms Sturgeon "did in fact leave Mr Salmond with the impression that she would, if necessary, intervene".
The report continued: "Her written evidence is therefore an inaccurate account of what happened, and she has misled the committee on this matter."
After a partial leak of the committee's findings emerged last week, Ms Sturgeon accused some members of having made their minds up before they "uttered a single word of evidence" and dismissed it as a "very partisan leak".
The committee said Mr Hamilton's work — published on Monday — had been "completely separate from the work of our inquiry" and said his inquiry was the "most appropriate place to address the question of whether or not the first minister has breached the Scottish ministerial code".
His report considered whether she had broken the rules of behaviour for ministers in her actions following harassment allegations made against her predecessor, but found "the first minister did not breach the ministerial code" in her behaviour.
Following the publication of the Hamilton report yesterday, the threat of Ms Sturgeon losing a vote of no confidence at Holyrood — spearheaded by the Scottish Conservatives — appeared to disappear, with the Greens saying they would not support such a motion.
Responding to the findings on Monday, Ms Sturgeon said:"As I have previously made clear, I did not consider that I had broken the code, but these findings are official, definitive and independent adjudication of that.
"Prior to its publication, opposition politicians stressed the importance of respecting and accepting the outcome of Mr Hamilton's independent inquiry, and I committed wholeheartedly to doing so. Now that he has reported, it is incumbent on them to do likewise."
Douglas Ross, the leader of the Scottish Conservatives, however, added: "James Hamilton said it was up to the Scottish parliament to decide if the first minister told the truth. The verdict of the parliament committee is — Nicola Sturgeon misled the public.
"This sorry affair has already done enough damage. When will someone take responsibility".
Join our new commenting forum
Join thought-provoking conversations, follow other Independent readers and see their replies