Hollywood producers 'in talks' over Nigel Farage Brexit campaign film
Warner Bros reportedly hoping to meet former Ukip leader and his chief backer when they visit for Donald Trump inauguration
Peter Walker
Saturday 31 December 2016 17:51 Comments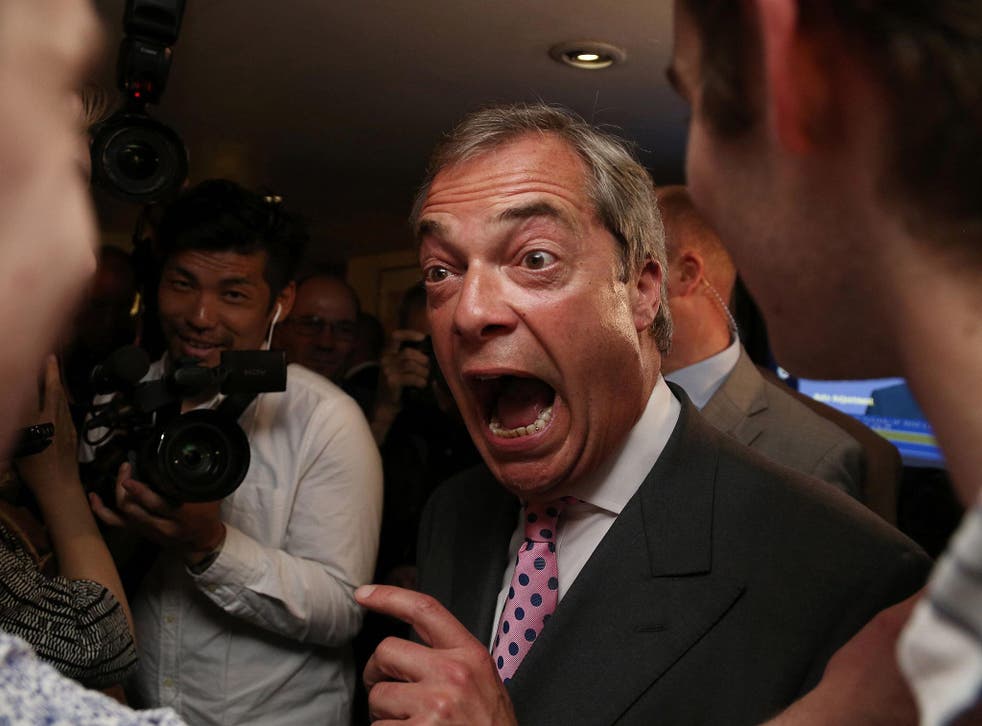 Nigel Farage backer Arron Banks is reportedly in talks with Warner Bros over a film about the former Ukip leader's Brexit campaign.
The American film studios, responsible for the Harry Potter franchise, The Hangover trilogy and The Hobbit trilogy to name a few, is apparently mulling over the movie idea.
According to the Daily Telegraph, producers are hoping to meet Mr Farage and Mr Banks when they visit the United States for Donald Trump's inauguration.
The film would surround Mr Banks's book, titled The Bad Boys of Brexit, which documents the highs and lows of the Leave camp's efforts.
Andy Wigmore, Mr Banks's spokesman, said that while the producers "have done a bit of research … effectively that book is like a screenplay so half the work has been done for them".
"It is not like it is something we would personally benefit from," added Mr Wigmore, who says any profits would go to charity.
"The Bad Boys of Brexit – the film. It is a comedy."
The £18.99 diary, which Daily Mail editor-at-large Isabel Oakeshott helped write, follows primarily Mr Banks, Andy Wigmore and American polster Gerry Gunster's role in Leave.EU.
The trio worked closely with Mr Farage on persuading him to take part in the "Battle of the Thames" when pro-Leave and pro-Remain flotillas linked up parallel.
It has apparently been an unexpected hit in the bookshops.
Nigel Farage responds to Brendan Cox criticism after Berlin attack
The book, which was based partly on the email and text message correspondence with politicians, lobby journalists, the BBC, Victoria Beckham and Nasa, is not actually written from a diary, because Mr Banks did not keep one.
It includes a description of the s***-storm after "Wiggy" posted a "Remembrance Sunday-themed tweet suggesting that voting for Brexit would honour Britain's war dead".
Mr Farage will reportedly fly to the US ahead of the inauguration on the invitation of Mississippi Governor Phil Bryant who introduced him to Mr Trump.
Nigel Farage joins 'Fishing for Leave' flotilla campaigning for Brexit

Show all 10
Mr Wigmore, as reported by The Telegraph, also claims £200,000 in media licencing fees has been made from his infamous photo of the President-elect and Mr Farage in Trump Tower.
It follows reports that Conservative ministers are banned from talking to Mr Farage and the right-wing politician's plea for people to "ignore" the Archbishop of Canterbury's Christmas message.
Mr Banks earlier this year said Mr Trump will consult Mr Farage before Theresa May on UK policy proposals.
The Independent has contacted Warner Bros and Mr Wigmore for comment.
Register for free to continue reading
Registration is a free and easy way to support our truly independent journalism
By registering, you will also enjoy limited access to Premium articles, exclusive newsletters, commenting, and virtual events with our leading journalists
Already have an account? sign in
Join our new commenting forum
Join thought-provoking conversations, follow other Independent readers and see their replies