Nigel Farage suffers Brexit by-election embarrassment after Ukip spelling howler
The former Ukip leader spoke in front of a banner calling on local people to back the party in 'Sleaford and North Hykenham' - but the constituency is Sleaford and North Hykeham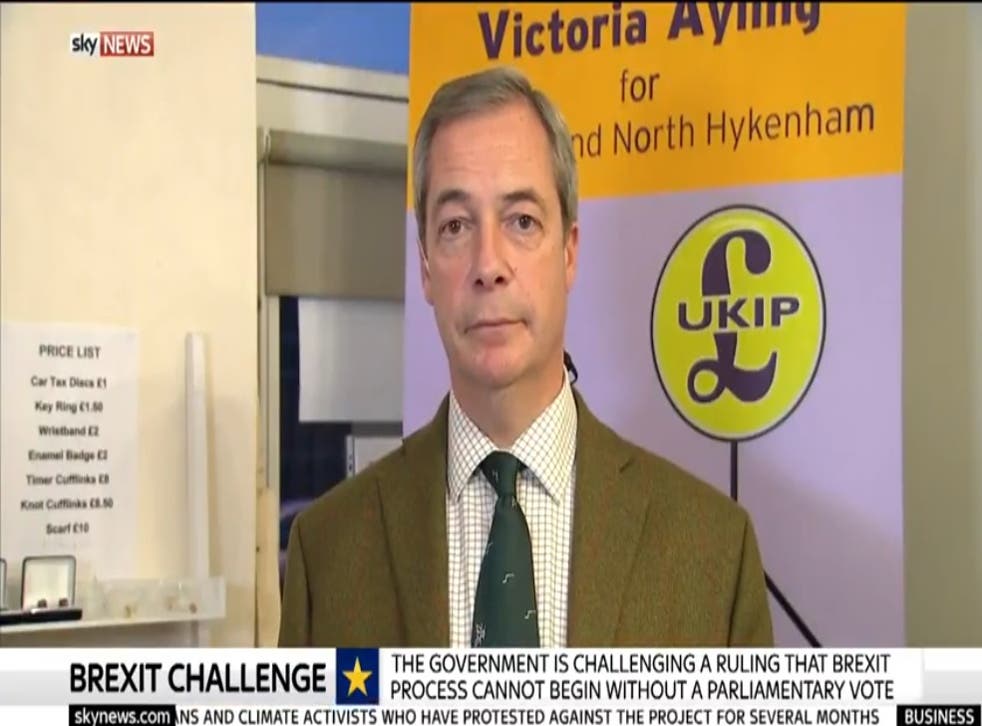 Nigel Farage's hopes of pulling off a shock by-election triumph suffered a blow – when his party was unable to spell the name of the constituency correctly.
The former Ukip leader suffered the embarrassment of being interviewed in front of a banner calling on local people in "Sleaford and North Hykenham" to back his party.
Unfortunately for Mr Farage, the name of the Lincolnshire seat where a 'Brexit by-election' will be held on Thursday is….Sleaford and North Hykeham.
Only yesterday, Ukip was boasting it could pull off a shock on a par with last week's breathtaking Liberal Democrat success in Richmond Park.
Sarah Olney overturned a 23,000 majority to wrestle the South West London seat from former Tory Zac Goldsmith.
The Sleaford and North Hykeham by-election was sparked by the surprise resignation of Conservative MP Stephen Phillips, blaming "irreconcilable policy differences" between himself and the Government.
He had accused Theresa May of "tyranny" by planning to ignore Parliament when she triggers the Article 50 notice for leaving the EU – despite backing Brexit himself.
The Tories are strong favourites to win again, as they enjoyed a whopping majority of 24,115 over Labour last year, with Ukip a close third.
But Victoria Ayling, the Ukip candidate, said: "The overarching feeling is to give the Government a good kick as happened in Richmond, which was predominantly Remain.
"Here it is predominantly Out and they want to give the Government a kick here, so after Richmond it's looking very encouraging."
Join our new commenting forum
Join thought-provoking conversations, follow other Independent readers and see their replies