Nigel Farage claims National Insurance number registrations show ONS 'covering up' UK immigration levels
The ONS said NI number registrations did not show when people had arrived in the UK
Lizzie Dearden
Friday 26 February 2016 11:12 Comments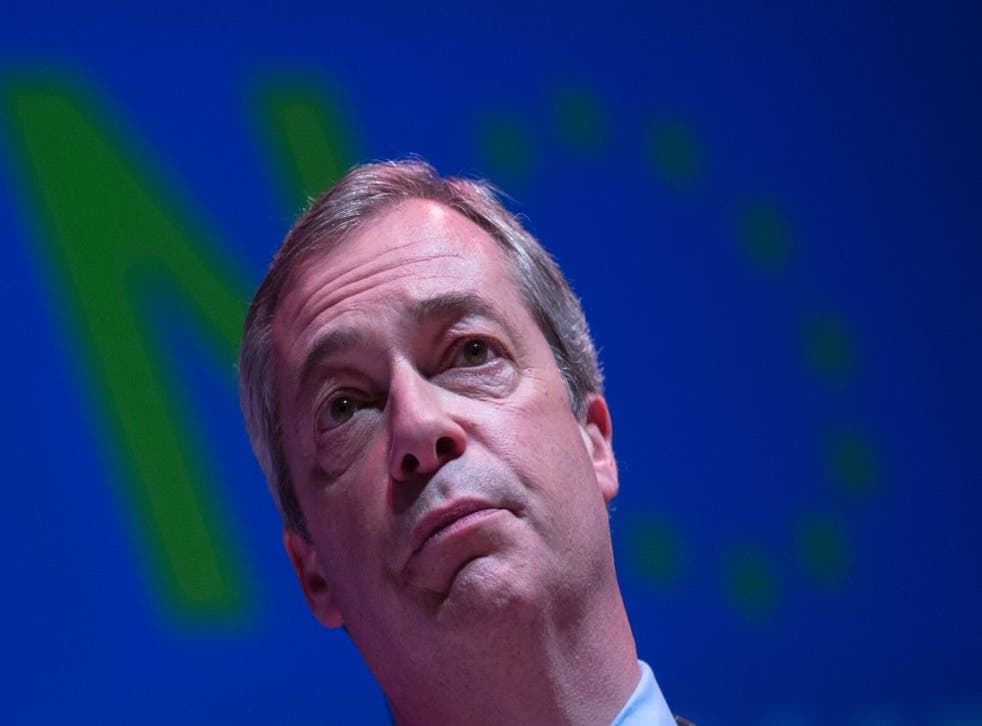 Nigel Farage has accused the Office for National Statistics of covering up immigration levels amid a row over the number of National Insurance (NI) numbers granted.
Figures released on Thursday put the annual rise in net long-term migration to the UK at a "not statistically-significant" 31,000 but recorded 828,000 NI number registrations for foreign citizens in 2015, up 8 per cent on the previous year.
Three quarters of those were from within the EU, including 170 Bulgarians and 39,000 Romanians following the lifting of restrictions on "EU2" nations.
Mr Farage said the grants showed that the Government was "pulling the wool over our eyes" on migration levels.
"If as they claim only 260,000 EU nationals arriving, then how is it possible that 650,000 (sic) National Insurance Numbers have been given to foreign nationals?" the Ukip leader added.
"NI numbers are a simple and clear reflection of the real numbers of people in this country, as without them you can neither legally work, nor claim benefits.
"They do miss out on the large numbers of illegal migrants in the country, but there are no real attempts by the Government to work out how many illegal migrants are here."
Jonathan Portes, Principle Research Fellow at the National Institute of economic and social research, also questions why NI registrations were seemingly rising at a much faster rate than immigration.
"It is very difficult to understand why there should be this sudden divergence," he told the Telegraph.
"I do not believe that you can explain this huge discrepancy now by saying these are people only here for a few months then going back. It is massive and it did not used to be this big."
Anyone born in the UK is assigned a number at birth but those arriving from abroad must apply through the Department for Work and Pensions, and only if they already have the right to work or study.
A spokesperson for the ONS said many of the people applying for the numbers fall outside of the "long-term" migrant category counted in yesterday's statistics, and that others had moved to the UK several years ago but only recently registered for NI.
"It should be noted that these figures also include short-term migrants and the figures are based on recorded registration date on the national insurance recording and pay as you earn system (NPS), that is, after the NINo application process has been completed, and so are not a direct measure of when a person migrated to the UK," he added.
"As a result of this, NINo and International Passenger Survey estimates are not directly comparable with each other."
Around 630,000 NI number registrations in 2015 were from EU citizens – 232,000 from the most prosperous 15 nations, 185,000 from the EU8 and 209,000 from EU2 – while 197,000 were from outside Europe.
Around two million non-British EU nationals are currently working in the UK, as well as 1.2 million non-EU nationals and 28.3 million Brits, according to the latest statistics from the Labour Force Survey.
Net long-term migration rose to 323,000 in the year to September, an increase of around 10 per cent in the previous year, although the ONS said the drop as mainly due to a large decrease in emigration.
Net migration from the EU, 172,000, saw a slight increase on 2014 and the figure for non-EU citizens was also slightly up at 191,000.
In real terms, EU immigration was up from 246,000 to 257,000, while non-EU immigration was down from 289,000 to 273,000.
The ONS uses the UN-recommended definition of a long-term international migrant as a person living in a country for at least a year to make it their "usual residence".
What has the EU ever done for us?

Show all 7
James Brokenshire, the immigration minister, said the Government was attempting to reduce migration "to sustainable levels" and hailed the EU deal secured by the Prime Minister as a way of further reducing numbers.
But politicians backing the "out" camp in the upcoming referendum on Britain's membership of the EU claimed the reforms would have little effect.
Eurosceptic employment minister Priti Patel said Mr Cameron's agreement - which envisages a four-year emergency brake on migrants' benefits - would "do nothing" to reduce arrivals.
As a number of Tory MPs tried to pick holes in the reform package in Parliament on Thursday, shadow Foreign Secretary Hilary Benn noted that, while Labour was divided and Conservatives united over Europe 40 years ago: "There has been a complete reversal of roles…history is repeating itself in mirror image."
Additional reporting by PA
Register for free to continue reading
Registration is a free and easy way to support our truly independent journalism
By registering, you will also enjoy limited access to Premium articles, exclusive newsletters, commenting, and virtual events with our leading journalists
Already have an account? sign in
Join our new commenting forum
Join thought-provoking conversations, follow other Independent readers and see their replies