Nigel Farage to decide on Ukip comeback within a week of the party's poor election result
The former Ukip leader thinks the party has a bright future, if Theresa May's disastrous election paves the way for a watering down of Brexit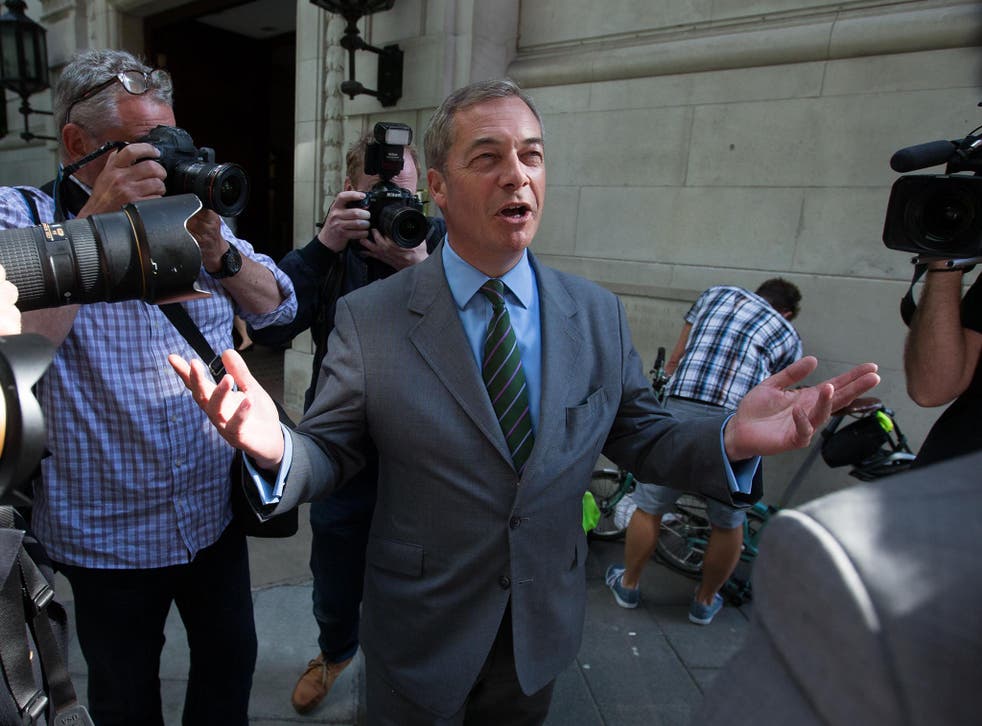 Nigel Farage is considering running for the Ukip leadership for a fourth time, and has said he will make his mind up within a week.
Paul Nuttall resigned on Friday morning after losing his own battle in Boston and Skegness and having seen support for the party collapse in the polls.
But Theresa May's shocking performance in Thursday's general election has called into grave doubt whether she will be able to deliver the kind of "hard" Brexit she had set out, namely leaving the single market and the customs union, paving the way for a return for Mr Farage, and a possible Ukip resurgence.
Writing in the Daily Telegraph Mr Farage said Mrs May's gamble had "reinvigorated a political class which never believed in Brexit."
He said she would now be "treated as a joke in Brussels" and that her speech outside Downing Street, in which she sought to carry on as if nothing had happened, had "bordered on the delusional, with virtually no recognition of the fact that the British people had failed to deliver her a mandate to negotiate Brexit."
He added: "Do not underestimate the strength of opinion among Brexit voters following all of this. They will be furious if we stay in the single market and the customs union, and if we keep paying money into a club whose courts can overrule ours."
Mr Farage stood down as Ukip leader the weekend after the Brexit referendum, but was called back to take on the job temporarily when Diane James stood down. In the ensuing leadership contest, the favourite Steven Woolfe was punched by the Fisheries spokesman Mike Hookem and collapsed in the EU Parliament building.
Since Mr Nuttall took over, his personal image has suffered badly, both in a humilitating by-election defeat and through numerous dubious claims about his personal history, including having been a professional footballer.
Join our new commenting forum
Join thought-provoking conversations, follow other Independent readers and see their replies