Nigel Farage says he will not be offered a job in Donald Trump's administration
The Ukip interim leader says it is 'in the national interest' for elected ministers to 'bury their personal enmity' towards him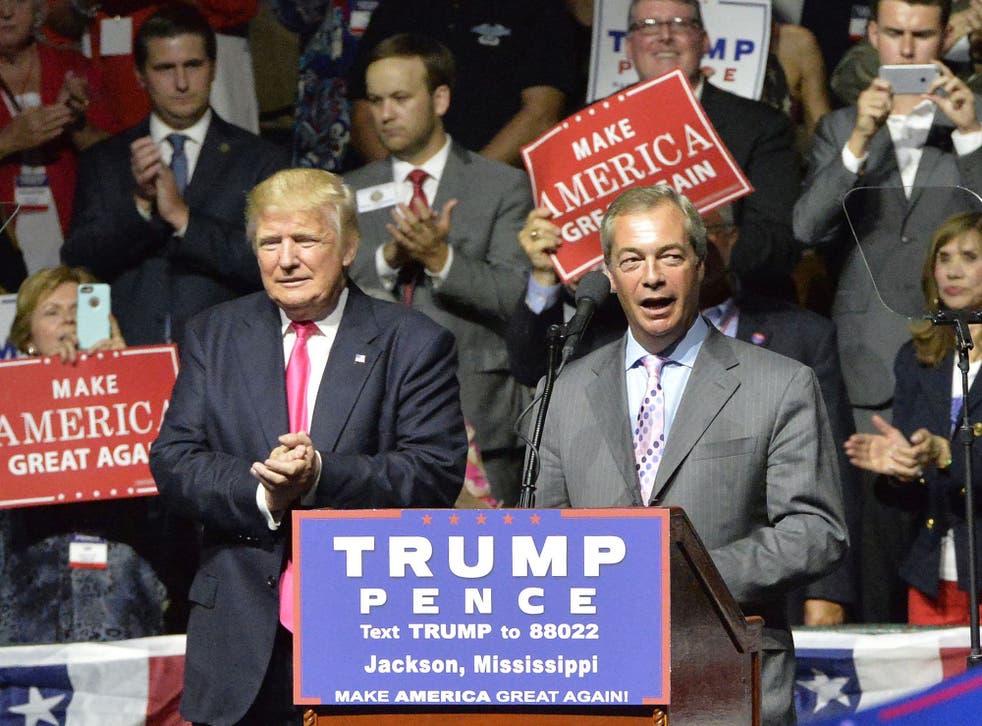 Nigel Farage has not been offered a job in Donald Trump's administration, but warned the government it would be "short-sighted" to continue to criticise him following his meeting with the President-elect.
The interim Ukip leader became the first foreign politician to meet Mr Trump on Saturday after the billionaire's surprise election victory.
"I'm not going to be working for the American administration. Of course I'm not," he said.
Mr Farage told Sky News he would be "very happy" to assist parliament in its dealings with the Trump administration and did not deny he had been in touch with government ministers about this possibility.
While he acknowledged there was animosity towards him among elected ministers, he said he would be able to "mend some fences" between the US and the UK.
"If I can be useful in any way to the British government then I am very happy to do so, although it would appear that the apparatchiks in Downing Street keep saying very negative things about me.
Nigel Farage the first UK politician to meet Trump since election
"I would have thought that was a little bit short-sighted, frankly. If we're honest, there are a lot of people in this conservative government and senior staff in Downing Street who were very rude [about Mr Trump] and I think it is time to mend some fences."
He added: "I would have thought in the national interest they ought to bury their personal enmity towards me and we ought to have a constructive conversation".
Mr Farage refused to detail "whatever private phone calls I may or may not have had with individual ministers" about the possibility of helping the government in their dealings with Mr Trump.
However, senior Conservative Crispin Blunt said it is "completely implausible" the Ukip leader would take up such a role.
Mr Blunt told the BBC's Andrew Marr Show: "I think there's a fantastic opportunity actually for a decent relationship for the United Kingdom with the new administration – and no need for Nigel."
He also said Theresa May has been "extremely wise in having been very reserved and guarded about her comments about Donald Trump right from the beginning, unlike many".
In December, Mr Trump claimed some predominantly Muslim areas in London and elsewhere in the country had become "so radicalised that police are afraid for their own lives".
He called for a ban on all Muslims entering the US following attacks in Paris which killed 130 and were claimed by the so-called Islamic State.
Ms May, Home Secretary at the time, said his remarks were "nonsense" and showed he did not understand the UK.
"I think we all agree that the comments Donald Trump made in relation to Muslims were divisive, unhelpful and wrong," she said amid a debate on whether Mr Trump should be prevented from entering the country for hate speech.
Foreign Secretary Boris Johnson, who was Mayor of London at the time, said Mr Trump's "ill-informed comments" were "complete and utter nonsense".
When asked whether he thought Mr Trump would alter some of his views after becoming President-elect, Mr Farage said it was unlikely.
"I don't think he'll be changing his view about the fact we've got to face up to the threat that comes from Isis and elsewhere," he said.
"I don't think he's going to change his view that he believes in nation state democracy. He's not going to change his view that America's got to get a grip on illegal immigration.
"Is he going to be pragmatic? Yeah. You know what? Business people usually are."
Join our new commenting forum
Join thought-provoking conversations, follow other Independent readers and see their replies