Nigel Farage hints he could return as Ukip leader 'if Brexit is not delievered'
'If Theresa May does as well with Brexit as she did with immigration... then I may well say the job's unfinished'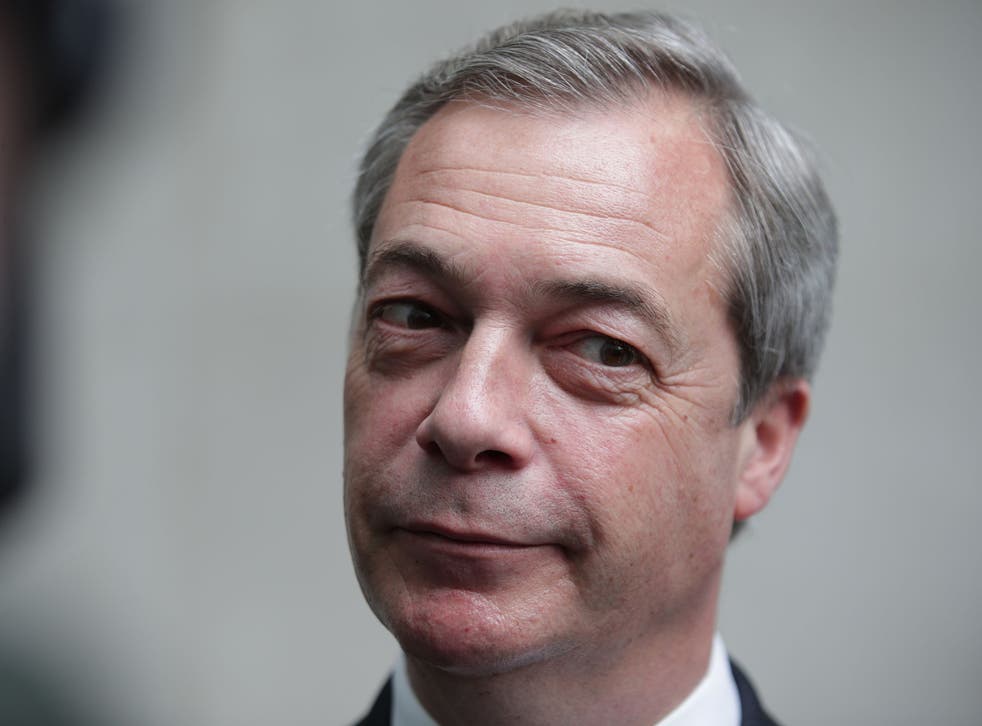 Former Ukip leader Nigel Frage has hinted he could return to the frontline of British politics if Brexit is not "completed".
Speaking on Sky News, the MEP said he had no regrets about not standing as a candidate in the general election.
He was out on the campaign trail on behalf of Ukip on a two-day tour of Kent and Essex – two counties where Ukip did relatively well in the 2015 general election, although the party only managed to win one seat.
When asked whether he might be tempted to run again for the leadership of Ukip, he said that would depend on whether Theresa May's pledge to achieve Brexit was fulfilled.
Appearing to assume the Conservatives are on course to win Thursday's election, he said: "Would I rule out ever coming back to the front line again? That depends on whether this Prime Minster delivers.
"If she does as well with Brexit as she did as Home Secretary with immigration, then ask me that question in two years' time and I may well say, 'Do you know what, the job's unfinished'."
Speaking in Clacton-on-Sea, he said he regretted the "reluctance" of Ukip to evolve and rebrand following the EU referendum.
"I don't think there's any secret about the fact that in my last 18 months as leader I was very frustrated at the reluctance of the party to change," he said.
"I wanted to completely rebrand it and [make it] like the Five Star party in Italy," he said, referring to the populist, anti-establishment party which has made a significant impact on Italian politics, winning more than 25 per cent of the popular vote in 2013.
He added: "Make it an online political party that was cheap and easy to join and for people to engage.
"So I did try to put some quite big modernisations in place, they weren't ready for it, but I think whatever happens next Thursday they will be ready for it."
UK General Election 2017

Show all 47
Ukip was plagued by in-fighting in the wake of Mr Farage's resignation following the Brexit result when he said his political ambition had been achieved.
Diana James succeeded Mr Farage as leader for just 18 days before she suddenly quit saying she didn't feel she had the full support of key figures in the party, leading to a leadership contest which at times bordered on the farcical, before Paul Nuttall emerged victorious.
Ukip is fielding 247 fewer candidates than it did in the 2015 election and polls indicate it is unlikely to win a single seat.
The party had a disastrous performance in the recent local council elections, losing all but one of the seats it was defending
Join our new commenting forum
Join thought-provoking conversations, follow other Independent readers and see their replies