Nigel Farage: Ukip will not form a pact with Tories
'This party is not a splinter of the Conservative party. This party is its own organic force'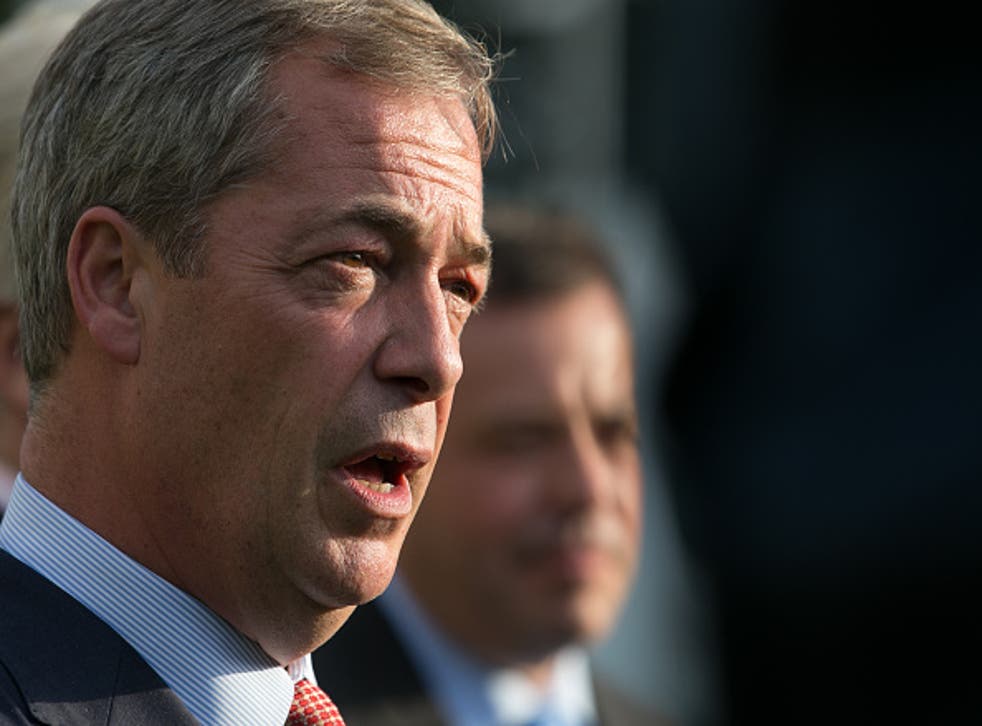 Nigel Farage has rejected calls for Ukip to form an election pact with the Conservative party, and said the party will be "targeting everybody in this campaign."
David Cameron is under increased pressure from Conservative backbenchers to strike a deal with Farage following Ukip's milestone victory in the Clacton by-election where Tory defector Douglas Carswell became the party's first elected MP.
Talking to Sky News, Farage said: "If I was to call a silence and ask our activist here now whether they wanted a pre-election pact with the Conservatives I think I would need to be bundled into that room for my own safety.
"This party is not a splinter of the Conservative party. This party is its own organic force.
"We want to win our own representation in Westminster and we believe only by doing that can we fundamentally change British politics.
In response to David Cameron's claim that if you vote for Farage, you'll end up with Ed Miliband, he said: "What we saw in Clacton was very clear. The people voted Ukip and they got Ukip."
Who's next? Conservative MPs who could defect to Ukip

Show all 8
Fresh from his by-election victory, Douglas Carswell backed Farage: "I argued for a pact when I was a Conservative member of parliament, I have a lot of sympathy for people in the Conservative Party, many of whom are my friends, who want that.
"But I comprehensively lost the argument and I'm not about to start arguing with my new friends in my new party, these decisions are decisions that need to be made by Nigel.
"There is something a little bit iffy about the idea of pacts, because it suggests politicians fixing things for their convenience. Why don't we be frank and honest, let the voters decide, let the voters make up their mind and abide by their verdict."
Both were campaigning for Mark Reckless, another former Conservative MP now aligned with Ukip, in Rochester in Strood, where the next big by-election will be held.
At a rally, Carswell said the main Westminster parties had run a "highly personal, aggressive smear campaign" against Mr Reckless since he announced his defection.
He told supporters: "The aggressive smear attacks on Mark tell us more about the values of those who run the big corporate parties in Westminster than they do about this decent, honourable, patriotic, diligent candidate in this contest."
Among those calling for a Ukip-Conservative pact are Tory MPs Jacob Rees-Mogg and Peter Bone.
Mogg told the Times: "We should think about what that means in terms of the Ukip-Conservative relationship because the Conservative family could win a majority on that basis.
"Otherwise, the only thing we manage is mutually assured destruction."
Bone supported that idea: "In seats where it is difficult for us to win, maybe let Ukip run in that seat - being endorsed by the Conservatives."
John Baron, Conservative MP for Basildon and Billericay, last night refused to rule out following his former Eurosceptic colleagues by jumping ship.
He told BBC2's Newsnight: "You should never say never in politics but the bottom line is my very strong preference is to stay within the Conservative party."
Carswell praised Baron but said any decision to defect was "intensely personal".
He said: "I can't speak for John. I know John and he is a good man, a decent man who shares my values, but these are intensely personal decisions."
(Additional reporting from PA)
Join our new commenting forum
Join thought-provoking conversations, follow other Independent readers and see their replies