Nimby? Cameron accused after his council halts library closures
Opposition culture spokesman says: 'It's one rule for the Tories and another set for the rest of us'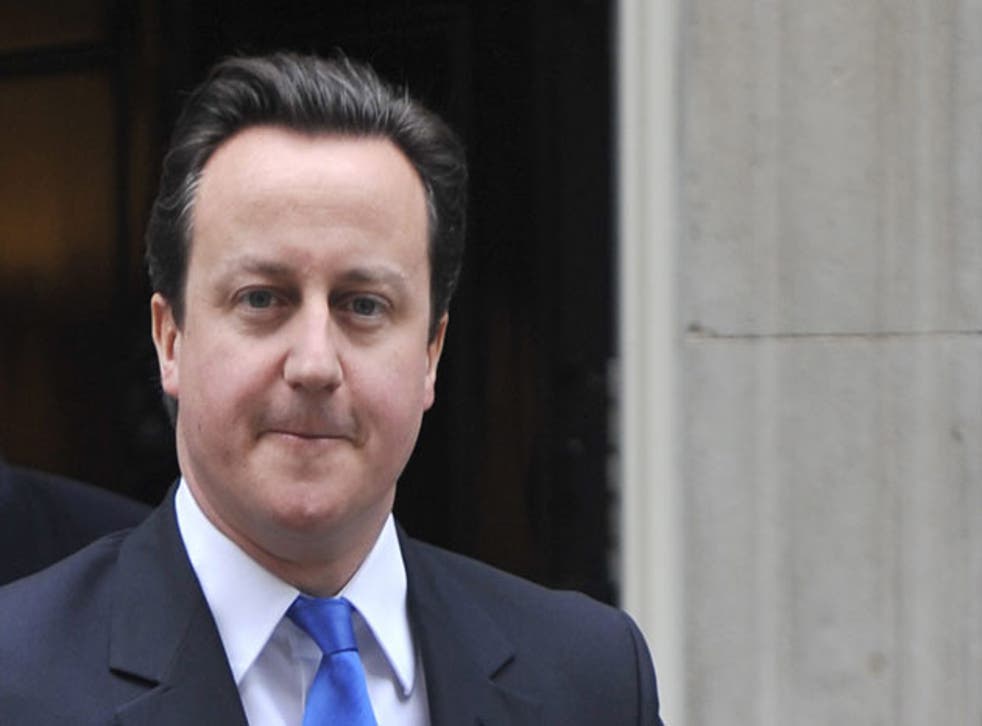 The Prime Minister was accused last night of intervening to protect his own constituents from sweeping library cuts after a last-minute reprieve was granted by Oxfordshire County Council (OCC). The Tory-run council, which had steadfastly defended its proposal to stop funding 20 of the county's 43 public libraries, last Tuesday deferred the decision until the summer.
The Labour culture spokesman, Ivan Lewis, attacked the move, saying the suggestion that Oxfordshire had received preferential treatment would appal anyone concerned about their libraries. "Local library campaigners across the country will be enraged by David Cameron's arrogance and hypocrisy, lecturing us all about the necessity of these cuts while intervening to save himself from embarrassment in his own backyard," Mr Lewis said. "It's the same old Tories: one rule for them and a different set of rules for the rest of us."
The council announced the closures in November, assuming that community groups would take over closing libraries amid the fanfare of the Big Society. Instead, thousands of people, including authors such as Philip Pullman, Colin Dexter and Mark Haddon, spoke out passionately against the Oxfordshire cuts.
The Independent on Sunday understands that Mr Cameron left the beleaguered libraries minister, Ed Vaizey, in no doubt over his annoyance at having to deal with the fallout of widespread libraries cuts in his own backyard. Councillors have hastily started exploring alternatives to closures.
Jeremy Hunt, the Secretary of State for Culture, Media and Sport, could have been forced to order an independent inquiry into the library cuts which, critics argue, disproportionately affect the poorest communities in the county. The main libraries in the wealthy constituencies of Witney (Mr Cameron) and Wantage (Mr Vaizey) were never under threat, though some of the smaller village libraries are. Earlier this month, Mr Cameron's election agent, Barry Norton, who is the leader of West Oxfordshire District Council, joined protesters campaigning against library cuts.
This comes at the end of a bad week for the Prime Minister, who has spent much of his time trying to defend the Big Society. While publicly insisting that councils must make their own tough decisions to achieve massive central-government imposed savings, the tens of thousands of angry library users across the country will not have gone unnoticed.
Tim Coates, the former managing director of Waterstone's, has been helping councils to reduce library overheads and admin costs to prevent closures. Mr Coates's repeated offers to help Oxfordshire to find alternative ways of saving £2m a year from the library budget were "stubbornly refused". He said: "It's obvious that the Prime Minister and Ed Vaizey have found this deeply embarrassing and have now requested the council find a way out of the mess."
More than 500 libraries are under threat or recently closed out of 4,500, according to Public Libraries News. Oxfordshire's plans are among the most drastic. Concerns about the legality of the council's decision were raised as the 20 libraries earmarked for closure were named in November, before it had conducted an assessment of local needs to ensure socially disadvantaged groups were not disproportionately affected.
Richard Stevens, a Labour councillor and solicitor, represents residents of the poor Blackbird Leys estate which was reprieved last week.
"Like with forests, I think this is about the wrath of Middle England. Oxfordshire thought Big Society would take over libraries, but they have failed to explain what this means or how it would work. This last-minute consultation means the decision, and any subsequent legal action, has been delayed until the summer."
Keith Mitchell, the leader of OCC, said he had spoken to the PM about libraries last weekend but Mr Cameron understood the council's position. "David Cameron has not brought any pressure nor any specific suggestions, other than supporting us in what we do... this is a government that leaves us to take difficult decisions whether we like it or not," Mr Mitchell said.
Spokesmen for the PM and DCMS said yesterday that they were unaware of any representations by the PM, and that it was a local matter.
Meanwhile, lawyers acting for Lewisham residents are a step closer to a legal challenge to the council's decision to shut five libraries in the face of 20,000 petition signatures. The Government was asked last Friday to order an investigation into the cuts under the Public Libraries and Museums Act.
So, what do you do for the Big Society?
The PM wants hard-pressed families to volunteer more. We asked government ministers if they walked the walk...
David Cameron
Prime Minister
I am saving my local pub and church hall.
Nick Clegg
Deputy Prime Minister
Can't say, won't say
William Hague
Foreign Secretary
Can't say, won't say
George Osborne
Chancellor of the Exchequer
I have volunteered for a number of charities in my constituency.
Kenneth Clarke
Justice Secretary
I am voluntarily putting in place policies which mean that charities are subcontracted to deliver rehabilitation programmes for ex-offenders.
Theresa May
Home Secretary
Can't say, won't say
Liam Fox
Defence Secretary
I support the Strawberry Line Café. Patron of North Somerset Mencap, Children's Hospice SW, Clevedon Pier & Heritage Trust, Portishead Lifeboat Trust.
Vince Cable
Secretary of State for Business, Innovation and Skills
I am patron of Shooting Stars Children's Hospice, Ndoro Children's Charity, PKD and Richmond Mencap.
Iain Duncan Smith
Work and Pensions Secretary
I am president/patron/trustee of 15 causes, including Chapel End Savoy Players, 27F Squadron, Motability, Prostate Cancer Charity.
Chris Huhne
Secretary of State for Energy and Climate Change
Can't say, won't say
Andrew Lansley
Health Secretary
I ran a Sunday school once for the local church. Now I tend to do things in the constituency, like the WRVS at the local hospital. (The Daily Politics, BBC2)
Michael Gove
Education Secretary
I help out in the crèche at St Mary Abbots Church. I am a supporter/patron/ fundraiser of seven groups, including Frimley Park baby unit, Help for Heroes.
Eric Pickles
Communities and Local Government Secretary
Can't say, won't say
Philip Hammond
Transport Secretary
I am joint president of Weybridge Youth Club, vice-president, Basingstoke Canal Society, patron, White Lodge Trust (for children with cerebral palsy).
Caroline Spelman
Environment, Food and Rural Affairs
I set up two charities in my constituency: one to help drug users and one to help the victims of domestic violence.
Andrew Mitchell
International Development
I founded the Conservatives' social action project in Rwanda and return each year to teach English. I have a long-standing involvement in charities.
Jeremy Hunt
Culture Secretary
I set up my own charity that helps children with Aids in Africa.
Owen Paterson
Northern Ireland Secretary
Can't say, won't say
Michael Moore
Secretary of State for Scotland
Can't say, won't say
Cheryl Gillan
Secretary of State for Wales
Can't say, won't say
Danny Alexander
Chief Secretary to the Treasury
I back a number of local groups. I am a supporter of the Cairngorms farmers' market. (Daily Mirror)
Baroness Warsi
Conservative Party chairman
Can't say, won't say
Lord Strathclyde
Leader of the House of Lords
Can't say, won't say
Francis Maude
Cabinet Office minister
I do – golly, what do I do? I do a whole load of things. I'm involved in my local church. Um, gosh, that's a really unfair question cold. (PM programme, Radio 4)
Oliver Letwin
Cabinet Office minister
I spend a Sunday morning a month serving at the community shop in my village – which I helped set up. I was a trustee of the Social Mobility Foundation.
Register for free to continue reading
Registration is a free and easy way to support our truly independent journalism
By registering, you will also enjoy limited access to Premium articles, exclusive newsletters, commenting, and virtual events with our leading journalists
Already have an account? sign in
Register for free to continue reading
Registration is a free and easy way to support our truly independent journalism
By registering, you will also enjoy limited access to Premium articles, exclusive newsletters, commenting, and virtual events with our leading journalists
Already have an account? sign in
Join our new commenting forum
Join thought-provoking conversations, follow other Independent readers and see their replies