No such thing as a free school lunch? What parents think of Nick Clegg's plans
There is some caution, but supporters of the scheme are excited about its benefits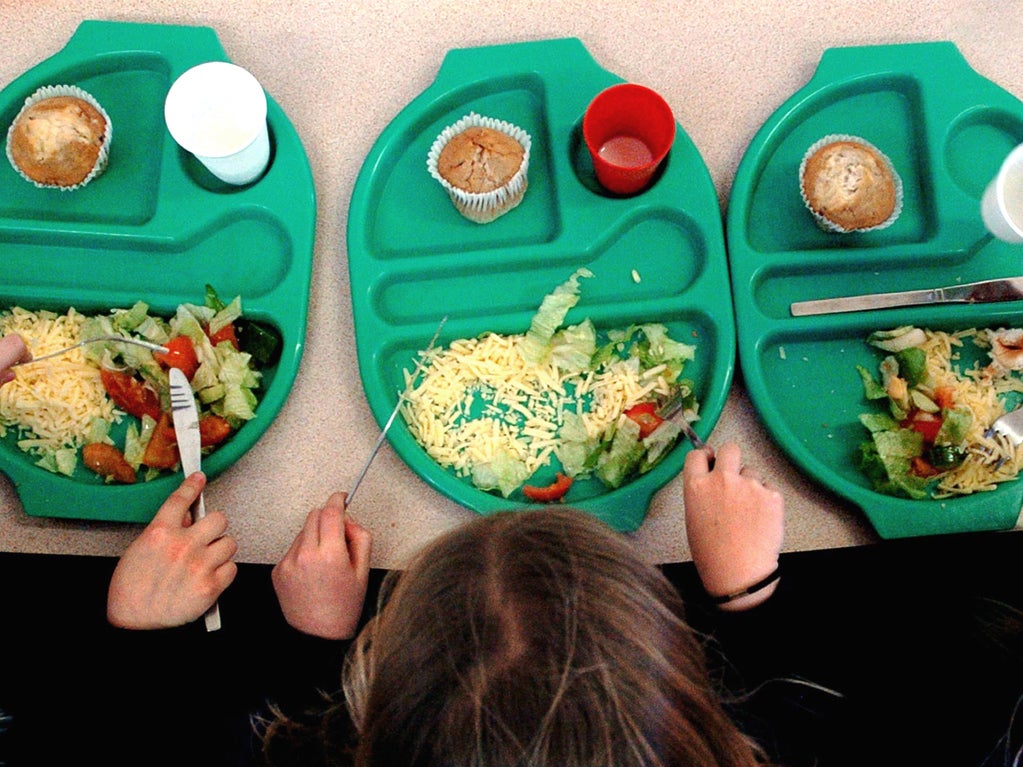 Try telling parents who send their children to primary school in Southwark, south London, that there's no such thing as a free lunch and they'd probably laugh. Because that's just what their kids have been enjoying, every day, since the start of term.
That perk will extend to every family with children aged four to seven from next September, when the Government's policy of extending free school meals to all pupils for the first three years of primary school in England comes into play. Nick Clegg, the deputy prime minister who announced the plan at the Liberal Democrat conference, would ultimately like to see every pupil get a free hot meal. Ideally.
Fans of the initiative, such as the restaurateur Henry Dimbleby, believe it will make pupils healthier and help them to do better at school. Plus experience shows that making the benefit universal has boosted take up, quite apart from removing the stigma of being different from those tucking into something prepared at home.
Just six children out of 485 brought in a packed lunch today at one school in Southwark, according to Karen Willis, head teacher at St James' Church of England Primary in Bermondsey. In Islington, in north London, which has offered free school meals since September 2010, 85 per cent of pupils on average eat for nothing, with the figure rising to 94 per cent in St Mark's Primary School. (That said, some parents claim they've seen standards deteriorate over the years, with one mother forced to make packed lunches for three of her children because the meals aren't up to scratch.)
Then there's the financial saving for those families worst off: one local mum told Peter John, leader of Southwark Council, she was paying for her daughter to take dancing lessons. "The fact is, there was an increasing number of parents falling into dinner money arrears. This puts money back into pockets," he said. "It's changing children's eating habits. Parents have told us that their kids go home and ask for fruit and vegetables."
Mr Dimbleby, who co-founded the Leon restaurant chain and led a government review of school meals earlier this year, said making lunch free "completely changed the culture" within schools, with the least affluent pupils benefiting the most. He sees the move, which will cost £600m a year on top of the £428m already being spent on feeding those eligible to free meals, as part of a wider strategy of teaching people how to "live well" at school: cooking lessons for all children aged 14 and under will also start next September.
Richard Watts, a Labour councillor in Islington, added that teachers reported a significant impact on the atmosphere in a classroom. "When kids aren't hungry, they learn better." Elsewhere, students in Newham and Durham, where a free school meal was piloted for two years, were found to be on average two months ahead of their peers.
Not that everyone is on board. Far from it. Jonathan Simons, chair of Governors and co-founder of the Greenwich Free School, spoke for many educational professionals when he urged head teachers to be allowed to spend any spare cash. "A head might decide that the money would be better spent on free breakfast clubs, ironically not an option under this year plan." Mr Simons, who is also head of education at the Policy Exchange think tank, added: "Allocating more funds to the pupil premium would hand some of the poorest children in the UK and additional £500 each."
And despite "broadly welcoming" the news, Helen Barnard, poverty research manager at the Joseph Rowntree Foundation, said more detailed evaluation was needed to work out how universal free school meal pilots boosted results. "Otherwise it will be difficult to judge in the future whether to maintain or extend the policy," she added.
As for those parents with qualms who can afford to pay, Mr John and Mr Dimbleby both said there was nothing stopping them from making other financial contributions to their school. "But we don't say 'I can afford to pay for my visit to the NHS' and that's a universal benefit," Mr John added.
CASE STUDIES
Colin Taylor, 37, father of two
"My five year old is in her second year of school in Bermondsey, Southwark, and since she started the school has offered free school meals to all children, irrespective of financial support in the home. This council-led initiative, which covers all school children in Southwark from the age of 5 to 11, even extends to parents and guardians. I haven't tried it out, but apparently the lasagne is very nice.
"We're lucky as a family in that we don't have to rely on free school meals for our kids. Some may think that because we don't rely on them we shouldn't be eligible, but I disagree. The school can't make any assumptions about children's diet out of school, and circumstances in the home can change so quickly. This way the school ensures all children get at least one good meal a day.
"It seems to me that eating well is so important to children in their wider education - better attention span and more energy, for example - as well and ensuring they get a balanced diet. Southwark have offered this to all primary school children, and for that I'm very grateful to them."
Karen Willis, head teacher, St James' Primary School, Bermondsey
"I think it's really important that children have a good quality hot meal and we know that sometimes for some pupils it's their only hot meal of the day. It's hard to measure the benefits because there are so many different factors and it's hard to generalise, but if we have decent food then it helps concentration.
We make all our meals on site and make sure we have really good quality ingredients. We didn't have any trouble [offering everyone a free meal] because we did have an awful lot of children who already had school lunch. It's lovely to see all the children sitting together and eating. It's a very good thing from that perspective and helps children's social skills. I eat with the children every day and so does the rest of the staff. It's lovely."
Join our commenting forum
Join thought-provoking conversations, follow other Independent readers and see their replies