North Korea nuclear crisis: Trump says UK not doing enough to pressure Pyongyang to denuclearise after Theresa May meeting
US President calls for tougher stance against rogue state after describing North Korea's leader as 'Rocket Man on a suicide mission'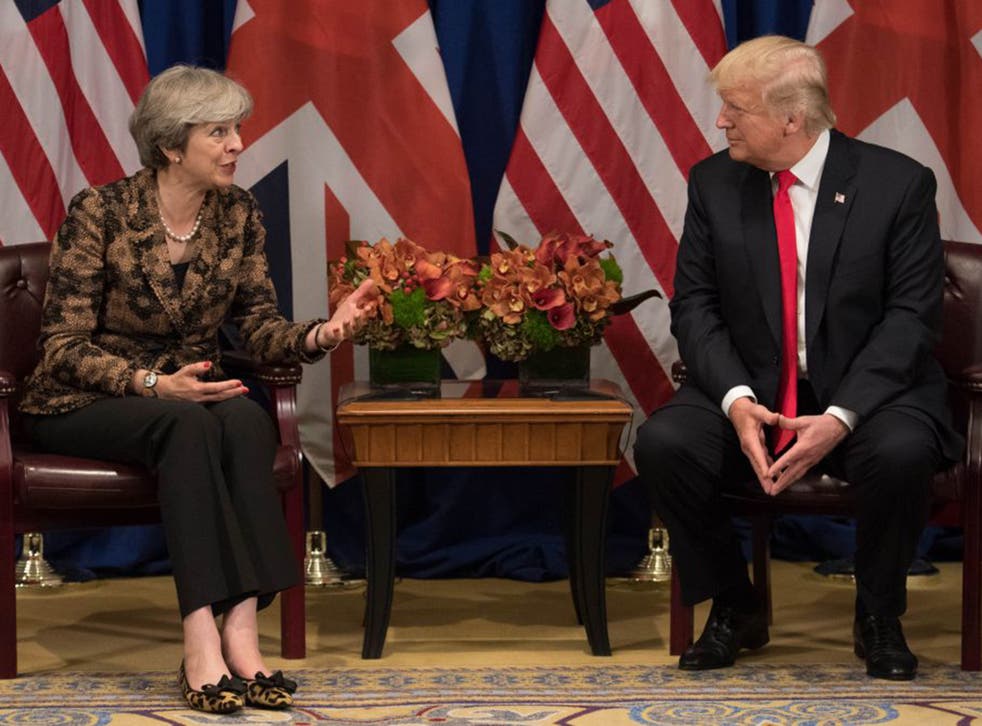 President Donald Trump urged Britain to put more pressure on North Korea to give up its nuclear weapons when he met with Theresa May, the White House has said.
The pair met for talks during the Prime Minister's visit to the United Nations in New York, where she denounced North Korea's "outrageous proliferation" of nuclear weapons and called on foreign powers to toughen their stance against the regime.
It comes after Mr Trump described North Korean leader Kim Jong-un as "Rocket Man on a suicide mission" and threatened to "totally destroy" the pariah state in his first speech to the United Nations General Assembly in New York.
The US President also revealed he would announce fresh sanctions on North Korea during a meeting with Afghan President Ashraf Ghani on Thursday, although he was expected to stop short of targeting oil supplies.
Ms May met with Mr Trump shortly after delivering a speech to the UN where she offered a thinly veiled rebuke to the US President for pulling out of the Paris climate change deal.
Describing the talks, a White House spokesperson said: "They discussed approaches to end Iran's destabilising influence in Syria and Iraq. The two leaders also reviewed next steps on the Iran nuclear deal.
"President Trump asked the United Kingdom to increase pressure on North Korea to denuclearise.
"The President and Prime Minister exchanged views on how to improve the two countries' joint efforts on counterterrorism, including addressing the use of the internet by terrorists. Prime Minister May briefed President Trump on the status of the Brexit negotiations."
Both leaders agreed that North Korea's repeated missile tests were done "against all standards of international behaviour" and the international community, including China, needed to come together to intensify economic pressure on the regime, according to No 10.
Join our new commenting forum
Join thought-provoking conversations, follow other Independent readers and see their replies