North Korea nuclear crisis: Dangers of triggering war 'extremely great', Defence Secretary Michael Fallon warns
'They are clearly accelerating the missile program, the range is getting longer and longer'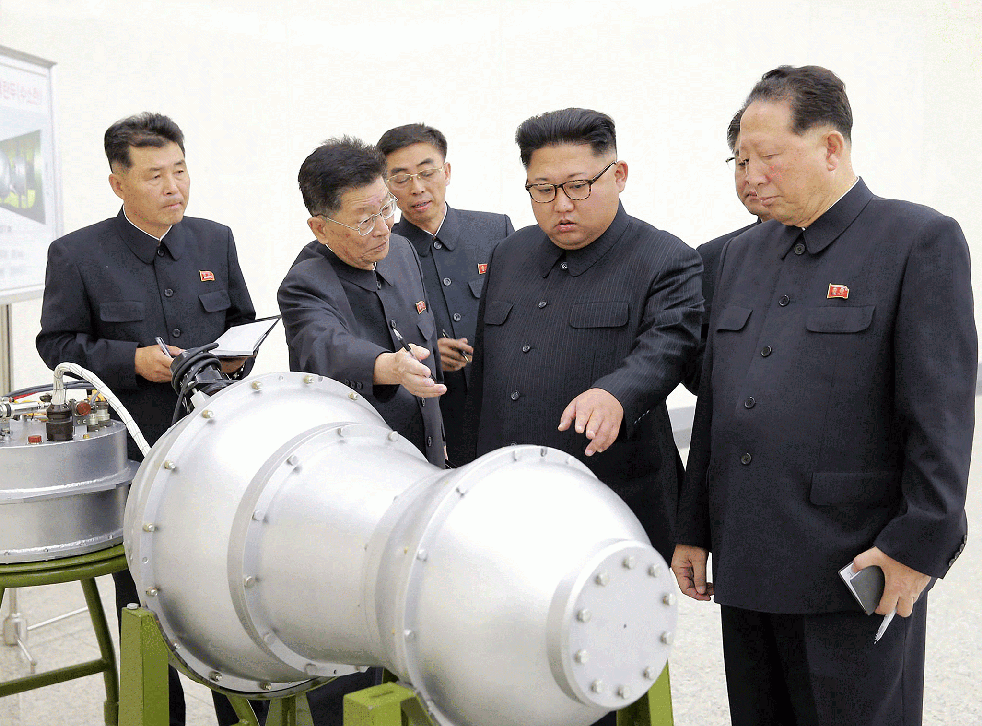 North Korea's nuclear weapons programme must be "halted" before it develops a missile capable of hitting London, the Defence Secretary said.
Asked if the rogue state could strike the UK capital, Sir Michael Fallon replied: "Not yet, but they are clearly accelerating the missile programme, the range is getting longer and longer."
He added: "We have to get this programme halted, because the dangers now of miscalculation, or some accident triggering a response, are extremely great."
On potential Nato involvement to help defend the US if North Korea carried out is threat to attack Guam, in the Pacific, Sir Michael added: "Guam is part of the United States.
"It's United States sovereign territory and the United States, of course, under the United Nations, has the right to ask other members of the United Nations to join in its self-defence."
The comments appeared to toughen up Britain's stance, just a few weeks after the Government insisted it was not preparing to help the US target North Korea's nuclear weapon sites.
A claim that the RAF has been asked to join a spying operation to pinpoint nuclear locations and artillery batteries was "flat out wrong", sources said last month.
But, last week, North Korea conducted its sixth – and largest – nuclear test, with experts believing the state either has, or is very close to, developing a hydrogen bomb.
Amid widespread international criticism, US Defence Secretary James Mattis warned of "a massive military response" if there was any threat to the United States, its territories or its allies.
Asked about the escalation, on the BBC's Andrew Marr Show, Sir Michael said the UK was working closely with the White House to achieve a "diplomatic solution" to the crisis.
"What we have to avoid at all costs is this spilling over into any kind of military conflict, so we're working flat out at the UN to get a better resolution there, to enforce the existing sanctions, we're looking at sanctions across the EU and of course we're trying to persuade China to keep its neighbour in check," he said.
Kim Jong-un inspects weapon North Korea says is powerful hydrogen bomb

Show all 6
The United States is seeking a vote on a United Nations resolution that would impose the toughest-ever sanctions on North Korea.
Asked if the situation is close to war in the Pacific, following the threats against Guam, Sir Michael replied: "The United States is fully entitled to defend its own territory, to defend its bases and look after its people.
"But this involves us. London is closer to North Korea and its missiles than Los Angeles."
Earlier, Nato Secretary General Jens Stoltenberg refused to say whether an attack on the US territory of Guam would be covered by Article five, in which an attack on one member of the alliance is considered an attack on all.
He told the same programme: "I will not speculate about whether Article five will be applied in such a situation.
"What I will say is we are now totally focused on how can we contribute to a peaceful solution of the conflict and press North Korea to stop its nuclear missile programmes."
Register for free to continue reading
Registration is a free and easy way to support our truly independent journalism
By registering, you will also enjoy limited access to Premium articles, exclusive newsletters, commenting, and virtual events with our leading journalists
Already have an account? sign in
Register for free to continue reading
Registration is a free and easy way to support our truly independent journalism
By registering, you will also enjoy limited access to Premium articles, exclusive newsletters, commenting, and virtual events with our leading journalists
Already have an account? sign in
Join our new commenting forum
Join thought-provoking conversations, follow other Independent readers and see their replies