The Battle for Belfast: How Remainers are pulling together to oust the DUP
In three key seats, Sinn Fein, the SDLP and Alliance are hoping the Remain vote will help them remove senior DUP figures from their seats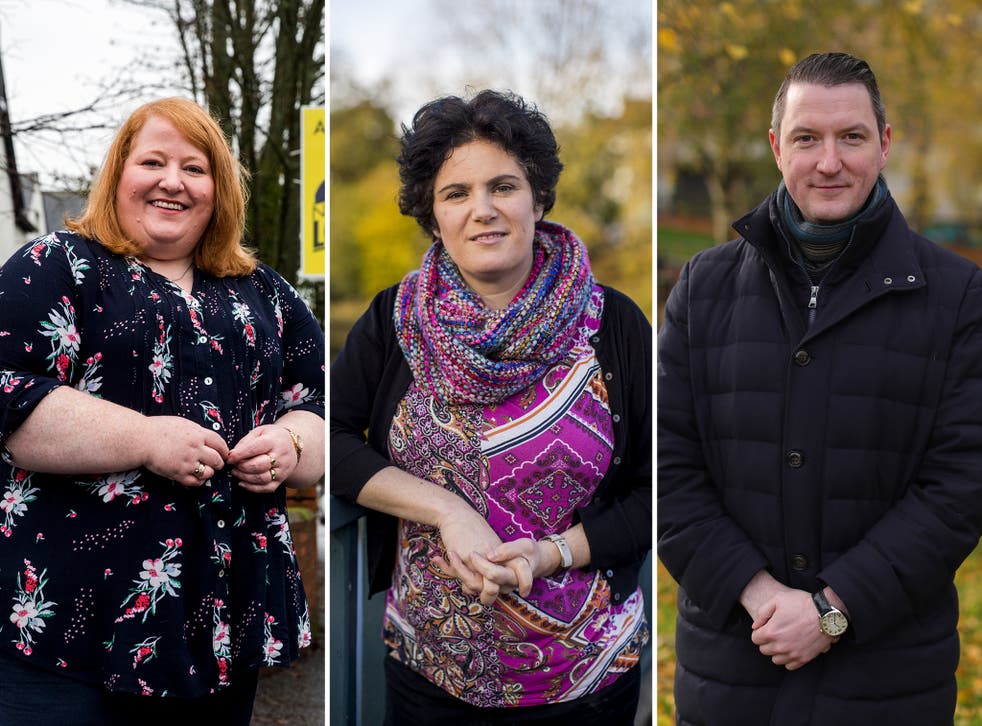 As Northern Ireland heads to the polls on Thursday, the DUP are in a curious position.
In 2017, they propped up the Conservative government, proclaiming the great influence their 10 MPs would have at Westminster, and how they could shape the course of their desired Brexit - despite 56 per cent of people in Northern Ireland voting to Remain. After rejecting Theresa May's deal (too soft), then Boris Johnson's deal (hard, but with an unacceptable Irish Sea border), they returned to Belfast, with their tails between their legs.
In this election, again they're asking voters to give them a mandate to go and influence the Westminster government - without so much as a hint of irony. The truth is they won't be hugely punished.
Politics in Northern Ireland remains deeply tribal, and many unionists will still back their biggest party for fear of splitting the vote and handing a victory to what they see as the other side. The DUP are also attempting to distance themselves from Boris Johnson's "betrayal" over the unpopular Brexit deal.
So while Sinn Fein will take a fistful of seats along the border, the DUP will still romp home in many of its safe constituencies.
Top 10 marginal seats to watch at the general election

Show all 10
But in some seats, Remainers are giving them a run for their money. As many as 60 per cent of voters in Belfast wanted to remain in the EU, yet aside from Sinn Fein in West Belfast, the other three seats in the city are held by the DUP. This week, the pro-Remain parties of Northern Ireland hope to change that.
For 20 years, North Belfast has been the seat of Nigel Dodds, DUP grandee and their leader at Westminster. He is being challenged here by Sinn Fein's John Finucane - the current Lord Mayor of Belfast and the son of solicitor Pat, who was murdered by loyalist gunmen in his family home in 1989.
"I grew up in North Belfast and it was pretty much as safe a unionist seat as you could get," he tells The Independent. "But I think that's different now because society has moved on, and there's a regressive brand of politics that they want to leave behind. People want to remove those very loud Brexiteer voices who are not representative."
Mr Dodds has a majority of 2,081, but with the SDLP and Greens not running against Sinn Fein, this seat is in a virtual dead heat. Mr Finucane is working hard to win over people who wouldn't normally vote for his party. As Irish republicans, Sinn Fein abstain from taking their seats in the House of Commons (seven at the last election), but he believes this position has never been easier to justify, given the chaos that has played out at Westminster.
"The Brexit project is very much an English nationalist project, and they're entitled to have that," he explains. "There is a momentum that will be forcing this through no matter how much damage it will cause here in Belfast or across Northern Ireland.
"For those who backed Remain, or have come around to backing Remain since 2016, protection for them has come from Dublin, Brussels, Washington DC, and protection is never going to come from the green benches of Westminster."
Mr Finucane describes Mr Dodds as the "arch-Brexiteer" of Northern Ireland, having been part of the Vote Leave campaign. "People see this as a real opportunity to send a powerful message beyond Belfast that we rejected, and continue to reject, Brexit."
In South Belfast, the DUP's Emma Little-Pengelly (with a majority of 1,996) is under threat from a nationalist who would take up her seat in Westminster. The SDLP's Claire Hanna says people are feeling "disenfranchised and unheard" in the Brexit debate, and she wants to change that.
"There are some crazy things being said in Westminster about Ireland and Brexit, and there's nobody there to correct them," she says. "There are many people who may have voted Sinn Fein in the past, but who now see a situation where we have votes coming down to a handful of MPs, and that protecting Ireland's interests should come ahead of party ideology."
Indeed both Sinn Fein and the Greens have stood aside in this seat to aide Ms Hanna's fight against the DUP, who she says have left Northern Ireland in an "unequivocally worse position" than when they entered the confidence and supply arrangement with the Conservatives in 2017.
"They had an incredible amount of power and influence, and they had the opportunity to use it to positive effect for people in Northern Ireland and they chose not to."
The DUP have dug themselves into a Brexit-shaped hole, first by backing it in spite of the ever-increasing Remain consensus in Northern Ireland, then by rejecting Theresa May's deal in favour of a harder one, then by rejecting Boris Johnson's harder deal once they saw it would be damaging to the union.
"They have yet to articulate a form of Brexit that matches both their red lines and the red lines of the people who live here and don't want a hard border," says Ms Hanna. "Perhaps it's dawning on them that you can have a hard Brexit or you can have the union but you can't have both."
Arguably the SDLP's strongest asset, Ms Hanna - a Stormont MLA who has even been endorsed by Taoiseach Leo Varadkar - looks poised to take this seat and ensure her party's return to Westminster. Nevertheless, she is well aware that Northern Ireland MPs cannot reroute Brexit alone.
"We've got to roll with the punches in terms of what is on the table after the election," she admits. "If there happens to be a majority of parties other than the Conservatives, then a People's Vote is our preferred next step."
But it's not just nationalists like Sinn Fein and the SDLP who are lining up to take on the DUP - this extends to all the pro-Remain parties, including the Alliance Party. Neither nationalist nor unionist, Alliance is a centre-ground party, increasingly representative of the other constituency in Northern Ireland, who are not committed either way on the constitutional question.
The slow but steady growth of Alliance was evident in local council elections earlier this year, as well as the election of party leader Naomi Long as one of the region's three MEPs. She is taking on the DUP's Gavin Robinson in East Belfast (with a majority of 8,474), a seat which she previously held from 2010 to 2015, because she says the unionist party is pursuing an agenda which is not supported in the constituency.
"What we've had from the DUP is a very extreme Brexit stance," says Ms Long, pointing out that the party has lurched to the right as the process has gone on. "Even some of those in East Belfast who would have voted Leave feel they're not being listened to at Westminster."
While nationalists and "Others" in Northern Ireland have largely backed Remain, a Lucid Talk poll released in recent days showed that only 38 per cent of unionists now back Leave, with 41 per cent in favour of Remain. Support for Boris Johnson's deal is in single digits across all communities. And it seems the DUP have already got the message. Brexit doesn't feature at all in the party's election broadcast, campaign literature, or their official website. Ms Long says this "speaks volumes about how wrong they have got this, and how little they want to be held to account for their decision."
Alliance must draw cross-party support to take East Belfast, but the party is not in favour of pacts. So while Sinn Fein, the SDLP and the Greens have stood aside to give Ms Long a clear run here, Alliance have not exactly returned the favour. In fact, they are the only party running in all 18 of Northern Ireland's constituencies - and with a 50-50 gender quota at that.
"We are standing to be MPs for five years, and our manifesto is broader than just Brexit," says Ms Long. "So I think it's important that we stand and give people that choice."
Like the SDLP, Alliance are in favour of a second referendum - with Remain on the ballot. While this stance has been criticised as one which ignores the wishes of Leave voters, Ms Long argues that's not the case.
"I've never patronised people who voted Leave," she says, "but what they were promised in 2016 was a kind of unicorn Brexit which would be all things to all people, and what we're now getting is a lame donkey Brexit under Boris Johnson, and I think given that choice, some people may decide that they would prefer to keep things as they are.
"They should have the opportunity to change their mind just as the prime minister himself has done on numerous occasions on this issue."
As election day approaches, it seems likely that the SDLP will take South Belfast, although it will be a harder fight for Alliance in East Belfast. But if there's only one Northern Ireland seat to keep your eye on, it's Dodds v Finucane in North Belfast. A win for Sinn Fein here would be a major victory, and its loss would be devastating for the DUP.
As with so many seats across the UK, the success of pro-Remain candidates in Northern Ireland will lie entirely in people's willingness to vote tactically; to send a message to the DUP, and elect more voices who will reflect the pro-EU majority.
Register for free to continue reading
Registration is a free and easy way to support our truly independent journalism
By registering, you will also enjoy limited access to Premium articles, exclusive newsletters, commenting, and virtual events with our leading journalists
Already have an account? sign in
Register for free to continue reading
Registration is a free and easy way to support our truly independent journalism
By registering, you will also enjoy limited access to Premium articles, exclusive newsletters, commenting, and virtual events with our leading journalists
Already have an account? sign in
Join our new commenting forum
Join thought-provoking conversations, follow other Independent readers and see their replies