As it happened
ended
1488554936
Northern Ireland election results live: Ballot counting underway after snap vote to save power-sharing
Crucial election attempts to restore power-sharing to Northern Ireland and avoid direct rule being imposed from London
Siobhan Fenton
Belfast
Friday 03 March 2017 12:44 Comments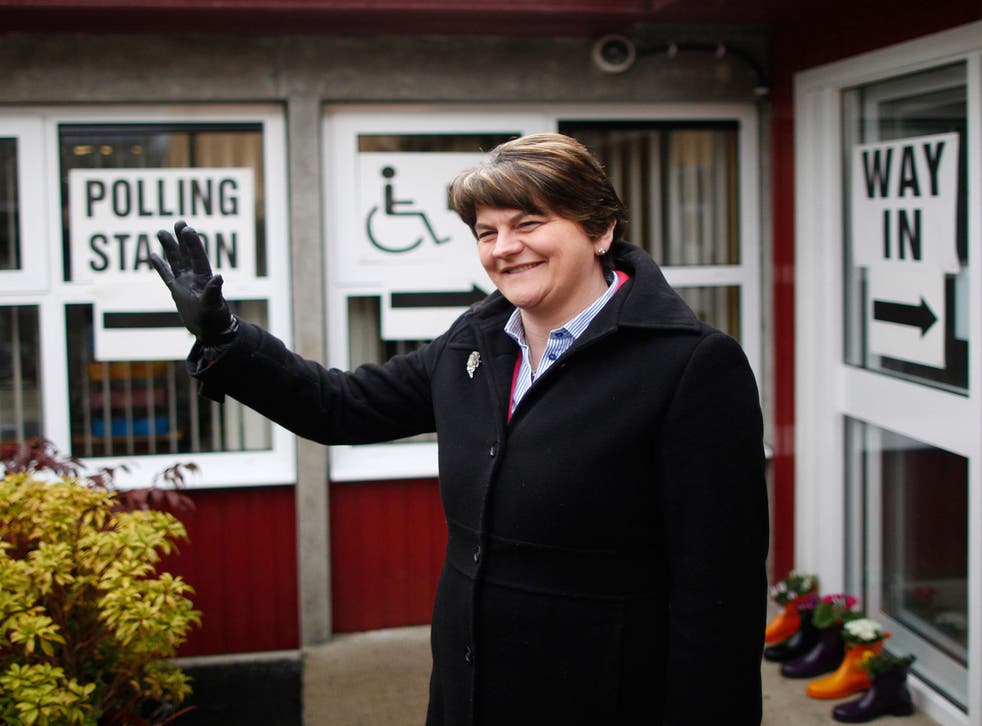 Ballot counting is taking place across Northern Ireland today, to ascertain the result of an emergency election called in a bid to save power-sharing in the region.
A higher than average turn-out is understood to have cast their ballots in the crucial vote for the Northern Ireland election.
First results are expected late this afternoon.
Emergency elections called after Sinn Fein pulled out of power-sharing in January
Vote attempts to elect fresh government willing to return to power-sharing and restore devolution
If unsuccessful, Northern Ireland faces being run directly from London for the first time in a decade
Please wait a moment for the live blog to load
Voting takes place using a Proportional Representation system of Single Transferable Vote. This means that rather than marking ballot papers with an 'x' by the name of a preferred candidate, voters in Northern Ireland assign preferences by ranking candidates 1, 2, 3 etc. Vote counting therefore takes longer than in Westminster elections.
The election was sparked by nationalist party Sinn Fein's decision to pull out of power-sharing at Stormont. They were protesting their unionist counterpart's behaviour in how they handled allegations of a major financial scandal.
The Renewable Heat Incentive scheme, presided over by Democratic Unionist Party leader Arlene Foster, appears to have cost the taxpayer some £480 million due to gross mismanagement. She strongly denies any wrong doing. After she refused to step down, Sinn Fein resigned from power-sharing, meaning the DUP also lost their positions.
The elections are an attempt to elect a fresh government which will be willing to resurrect power-sharing. If this does not happen, Northern Ireland may have to be ruled directly from London in lieu of devolution.
1488541710
I'm at the Belfast count centre in the city's Titanic quarter, where vote counting is underway.
Siobhan Fenton
3 March 2017 11:48
1488541793
We're expecting counting to last all day and possibly into tomorrow as well.Unlike Westminster elections, which use a First Past The Post system and require voters to put an 'x' in their preferred candidate's box on the ballot, Northern Ireland Assembly elections use a complex system of proportional representation known as 'single transferable vote'.
Siobhan Fenton
3 March 2017 11:49
1488541911
Under single transferrable vote, voters rank their preferred candidates 1, 2, 3 etc down the ballot paper. This system is designed to boost the representation of minority opinions and communities and is a mechanism put in place under the Good Friday Agreement to prevent majoritarian rule in Northern Ireland. Unfortunately, that makes both casting and counting votes take a little longer than Westminster votes, so we're in for a long day.
Siobhan Fenton
3 March 2017 11:51
1488542936
For people who might be unfamiliar with Northern Irish politics, a quick recap of how the election came about, and its significance: Power-sharing in Northern Ireland collapsed in January after Sinn Fein pulled out of the executive. They were protesting how their counterparts in the Democratic Unionist Party had been implicated in a major financial scandal, thought to have cost Northern Irish taxpayers some £480 m. Under power-sharing rules, both nationalists and unionists must share power at all times, for Stormont to remain in place. So after Sinn Fein pulled out, Northern Ireland Secretary James Brokenshire was left with no choice but to call fresh elections. The hope is that the elections will elect a fresh government who will be willing to share power, in order to restore Stormont. However, if that doesn't work, Northern Ireland faces being run directly from London, in a process known as 'direct rule, for the first time in a decade. If this happens, it will be a major blow for the peace process and a significant step back for Northern Ireland.
Siobhan Fenton
3 March 2017 12:08
1488545658
Turn-out among the electorate has reportedly been very high this year. Some constituencies have seen an increase of 13% in votes cast, compared to last year. This high turn-out is likely to be seen as positive news for supporters of devolution and a sign that the Northern Irish public wants power-sharing to remain.
Siobhan Fenton
3 March 2017 12:54
1488546067
Turn out in the election across Northern Ireland is 64.78%. This is the highest since the first Stormont elections held immediately after Good Friday Agreement in 1998.
Siobhan Fenton
3 March 2017 13:01
1488546619
Turn out in the Fermanagh & South Tyrone constituency is among the biggest across Northern Ireland, standing at 72.6%. The area is home to Arlene Foster, DUP leader and one of 6 MLAs for the region. This election has been called due to backlash against Foster after she was implicated in a major financial scandal, known as the RHI or 'cash for ash'. A surge in turn out may represent local anger at her, resulting in constituents coming out to try and oust her, or be a sign of local DUP faithful rallying the troops to ensure she stays. Either way, the Fermanagh & South Tyrone constituency will be a key one to watch today and represents something of a litmus test as to the general attitudes towards the DUP across the region.
Siobhan Fenton
3 March 2017 13:10
1488553993
Results are starting to trickle in here in Belfast. As Northern Ireland uses the single transferrable vote system, rather than first past the post, results aren't clear cut like in Westminster elections, but rather we have a long day ahead of us in terms of seeing how different voter preferences are transferred. However, this much is becoming clear so far- Sinn Fein have performed exceptionally well in West Belfast, fighting off People Before Profit (an anti-sectarian socialist group which gave them a real run for their money in the last election)- Sinn Fein have also performed very well in South Belfast. It's a middle class, well-educated area of Belfast by-and-large and by no mens a traditional Republican heart land. So Sinn Fein's success here may indicate a strong performance across the board.- Alliance's leader Naomi Long has topped the poll in East Belfast. A highly charismatic and well-liked politician, Long has strong support among both nationalist and unionist communities and was expected to do very well.- The UUP and SDLP appear to be in real trouble across Northern Ireland, both Sinn Fein and Alliance appear to be mopping up anti-DUP protest votes, despite the UUP and SDLP being the official opposition.
Siobhan Fenton
3 March 2017 15:13
1488554320
The Ulster Unionist Party seem to be performing poorly across Northern Ireland. Their hopes of taking anti-DUP protest votes seem to have been dashed.This begs serious questions about the future of the UUP and whether it is relevant to Northern Irish politics anymore. In many ways, the 'cash for ash' scandal the DUP was involved in was a perfect storm, which should have made this an easy election for the UUP. Their failure to make headway in these circumstances, begs the question of what it would take for them to get popular backing.Anti-DUP unionists appear to be migrating towards the Alliance Party, Northern Ireland's anti-sectarian party. Over the last few election cycles we've seen Alliance creep up on the UUP and inhabit their position as a centrist party.
Siobhan Fenton
3 March 2017 15:18
1488554936
Sinn Féin's leader Michelle O'Neill has topped the poll in Mid Ulster.O'Neill has had a baptism of fire since being made leader of Sinn Féin in the North of Ireland last month, following Martin McGuinness' resignation due to ill health.She has risen to the challenge, coming across as a credible and professional leader in the recently televised leaders' debates. Both McGuinness and Sinn Féin stalwart Gerry Adams gave O'Neill their blessing, which helped ease the transition and brought traditional Republican support into her corner.In many ways, O'Neill represents a new stage for Sinn Féin, who is thought to be prioritising the party's socialist principles, as much as the constitutional question.After a strong performance in her own constituency and what increasingly looks like a stellar performance for Sinn Féin across Northern Ireland, O'Neill's position as leader in the North looks secure.
Siobhan Fenton
3 March 2017 15:28
Register for free to continue reading
Registration is a free and easy way to support our truly independent journalism
By registering, you will also enjoy limited access to Premium articles, exclusive newsletters, commenting, and virtual events with our leading journalists
Already have an account? sign in
Join our new commenting forum
Join thought-provoking conversations, follow other Independent readers and see their replies