Direct rule from Westminster should be imposed within weeks if Northern Ireland crisis cannot be solved, says DUP
Stalemate at Stormont will be a New Year headache for Theresa May – with DUP and Sinn Fein as far apart as ever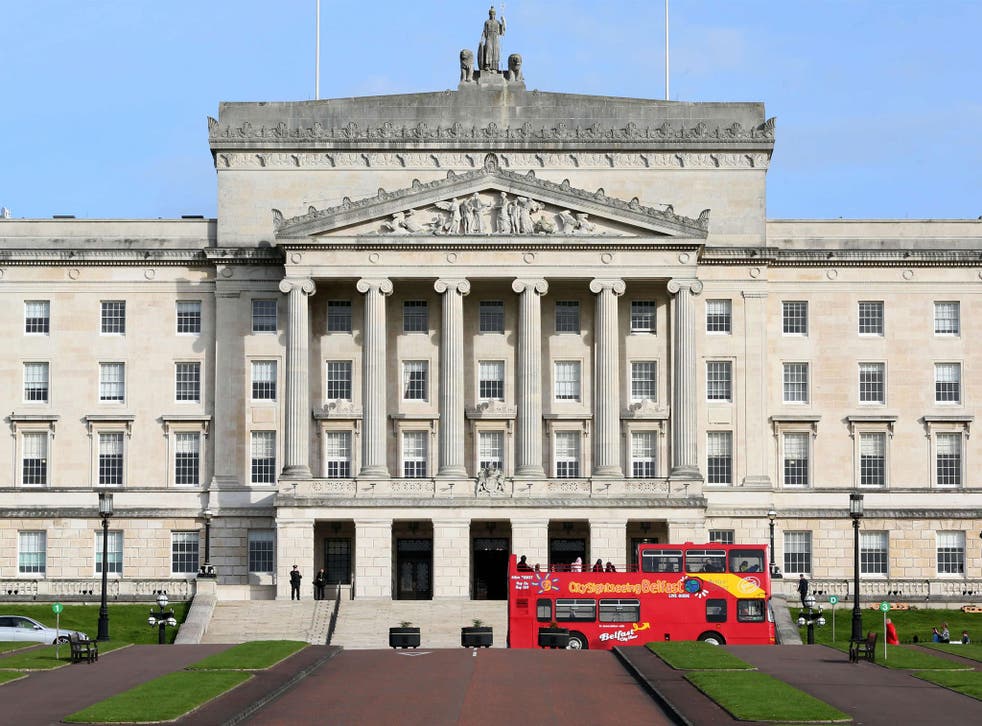 Direct rule should be imposed in Northern Ireland within weeks if its political crisis cannot be solved, the leader of the Democratic Unionist Party has said.
Arlene Foster put the Stormont stalemate near the top of Theresa May's New Year problem list, as she blamed Sinn Fein for the failure to re-establish a devolved executive.
The Prime Minister has sought to avoid the draconian step of rule from Westminster, despite it being almost exactly a year since Northern Ireland had a functioning administration.
In her New Year message, Mrs Foster said the return of "locally elected and accountable politicians" remained the best way to run Northern Ireland.
However, she added: "A return to direct rule would be an inferior alternative, but it would be a government.
"But the people of Northern Ireland deserve a government and if Sinn Fein persist with their intransigence then the Secretary of State [James Brokenshire] should move to appoint direct rule ministers early in the New Year."
In demanding a quick solution, the DUP leader also rejected calls for the talks to be shifted outside of Northern Ireland to a hothouse format in England.
"Recent rounds of talks have been bedevilled by the setting of pre-conditions by Sinn Fein," Mrs Foster claimed.
And she added: "Let's set ourselves a short time frame. And let's do it here at home, rather than in some fancy English stately home."
The power-sharing institutions collapsed last January over the DUP's handling of a green energy scheme that was left with a £490m overspend.
The rift with Sinn Fein widened after the DUP refused to agree to a stand-alone Irish Language Act, to put Gaelic on an equal par in law to English.
Fearing criticism from more hardline unionists, the DUP insisted on an all-embracing Culture Act, which would also guarantee the rights of Ulster Scots speakers.
Sinn Fein claimed the DUP had been "emboldened" by propping up the Conservatives in power at Westminster – making it less willing to compromise at Stormont.
In November, Mr Brokenshire imposed a budget on Northern Ireland, warning the local civil service would otherwise run out of money, but stepped back from full direct rule.
Meanwhile, Ms May has been criticised for not stamping her authority on the talks, even as the DUP "cash-for-votes" deal keeps her in Downing Street.
In her New Year message, Sinn Fein's Stormont leader Michelle O'Neill made clear the party would only return to Stormont if the DUP gave ground on both the Irish language and on gay marriage.
She argued renewed power sharing was possible soon, but "only if the institutions represent genuine and equal partnership government for all our people".
"That will require the British Government and the DUP accepting the political and democratic reality which has already been made abundantly clear by the electorate," Mrs O'Neill said.
Both London and Dublin must "pave a pathway to restore the institutions on the basis of equal partnership and respect in the terms set out almost 20 years ago", she added.
Join our new commenting forum
Join thought-provoking conversations, follow other Independent readers and see their replies