Norway's prime minister warns that leaving the EU wouldn't work for Britain
Erna Soldberg spoke to David Cameron at Downing Street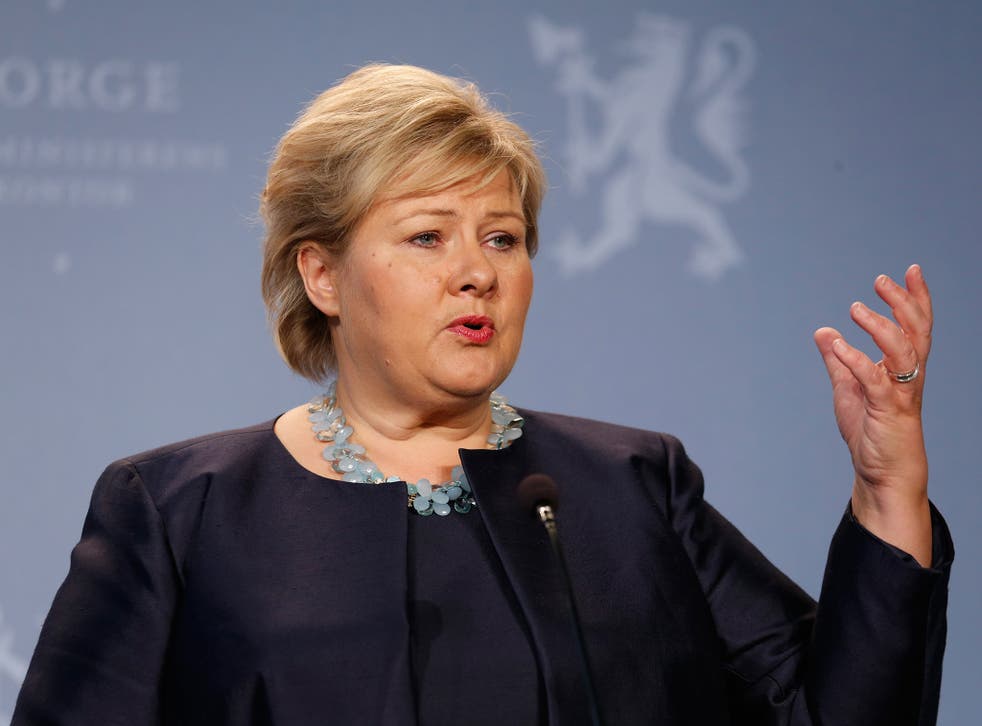 Norway's prime minister has warned Britain against leaving the EU – arguing that the Nordic country's relationship with Europe would not work for the UK.
Erna Solberg said that Norway's own arrangement – membership of the European Free Trade Area but not the EU itself – would not work for Britain.
A Downing Street read-out of a meeting between David Cameron and Ms Solberg said she also supported moves to cut regulation within the trade bloc.
"[Mr Cameron and Ms Solberg] discussed the prime minister's work to win a renegotiated package for the UK in the European Union," the spokesperson said.
"Prime Minister Solberg said she supported the Prime Minister's work to build a more flexible EU and to cut red tape.
"She also agreed with the prime minister that Norway's position in the European Free Trade Area but outside the EU would not work for the UK."
Norway has never been a member of the European Union. In 1972 it voted against joining by 53.5 per cent at a referendum. It again voted against joining in 1994 by 52.2 per cent.
Proponents of the so-called "Norway option" say Norway gets access to the European single market, is not a part of the EU's political union, and pays a lower contribution to the EU than it would if it was a member.
Critics say Norway has to effectively implement all EU rules, has no say in how they are made, and still contributes a significant amount of money to the EU budget.
Ms Solberg is the leader of Høyre, the Norwegian conservative party. Høyre is traditionally the most pro-European of all Norway's political parties and advocates the country join the bloc in the long term.
The nordic leader is in London for a Syria aid conference hosted by Britain.
The Leave.EU campaign said there were many advantages to being in the European free trade area.
What has the EU ever done for us?

Show all 7
"There is an enormous network of discussion and consultation even within EFTA/EEA, on a global and regional level, long before these rules ever get near a statute book.
"The UK would be an active part of this network, along with over 190 international bodies," a spokesperson for the campaign said.
"EEA/EFTA representatives participate in over 500 committees and expert groups involved in what is known as 'decision shaping' at single market level.
"Above EU level, EEA/EFTA representatives have their own seats on many global bodies which we cannot as EU member states."
Mr Cameron is today meeting with European Council president Donald Tusk. The pair will discuss what progress has been made convincing other EU leaders of a reform package offered to Mr Cameron by Mr Tusk.
This morning it was reported that French President Francois Hollande said the package was a good "compromise" but that Britain should expect no more concessions.
The Conservative manifesto pledged to hold an EU referendum before the end of 2017 – though one is now expected to be held as early as this June.
The vote will follow a renegotiation of Britain's membership of the EU, Mr Cameron said.
Eurosceptics have ridiculed Mr Cameron's draft deal so far, with some of his own MPs branding it "thin gruel" and the eurosceptic press describing it as a "joke".
Join our new commenting forum
Join thought-provoking conversations, follow other Independent readers and see their replies