David Cameron's 'u-turn on a u-turn' over cigarette packs is attempt to prevent Tories' tobacco firm links from becoming election issue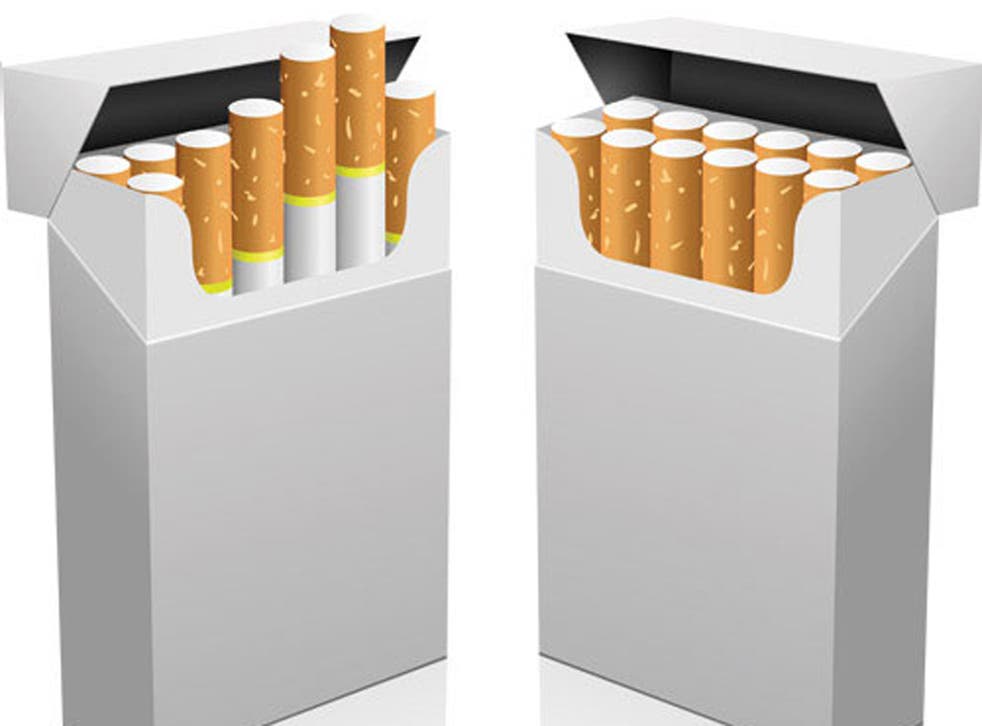 David Cameron has attempted to prevent Tory links with big tobacco companies from becoming an election issue by paving the way for mandatory plain cigarette packaging.
The Tories had been accused by Labour of pandering to the commercial lobbying interests of their election strategist Lynton Crosby - whose company has links to the industry - when they announced they were backing away from plans to remove branding from cigarette package in July.
But in what was effectively a double u-turn ministers said on Thursday that they had now commissioned a rapid review of the effectiveness of the measure by the paediatrician Sir Cyril Chantler to be completed by March.
At the same time, changes will be made to the Children and Families Bill currently going through Parliament so that a ban on branded cigarette packets can be imposed "without delay" if the review concludes it is the right course.
If, as expected following its successful role out in Australia, the review finds that plain packaging is effective then the measure is likely to be on the statute book by 2015.
This will allow the Conservatives to neutralise Labour attacks that the party is prepared to put the interests of the tobacco lobby ahead of public health.
Thursday's move was warmly welcomed by health campaigners but the tobacco companies said it would not have an impact on legal smoking levels and would simply lead to an increase in smuggling and counterfeit products.
Labour's shadow health minister Luciana Berger said ministers had been forced into "u-turning on a u-turn".
"The minister says we need another review but the Government have already had a review and the evidence is clear for all to see," she said.
"Standardised packaging makes cigarettes less attractive to young people. We should be legislating now, not delaying."
But the Public Health Minister Jane Ellison insisted that the Government had made clear last July that it was simply taking a "pause", following a public consultation in 2012, to consider the evidence from Australia.
Ms Ellison said that there would be no new public consultation and that Sir Cyril's review would have access to the submissions made in the course of last year's consultation.
"We will introduce standardised tobacco packaging if, following the review and consideration of the wider issues raised, we are satisfied there are sufficient grounds to proceed," she said.
However there was anger among some Conservative MPs who accused the Government of caving in to the "nanny state brigade".
"What we expect from Conservative ministers, who believe in individual freedom and individual responsibility, is to stand up to the health zealots and nanny state brigade who would ban everything and have everything in plain packaging if they could do so," said the Tory backbencher Philip Davies said: "
But Dr Harpal Kumar, chief executive of Cancer Research UK, said there was "no question" that imposition of plain packaging would save thousands of lives in future.
"Stopping cigarettes being marketed to children as a glamorous and desirable accessory is one of the greatest gifts we can give the next generation," he said.
Simon Gillespie, chief executive of the British Heart Foundation, added: "Introducing standardised packs could prevent a generation of young people starting a deadly and highly addictive habit."
But British American Tobacco said the evidence from Australia showed that the "experiment" with plain packaging had failed.
"There has been no impact on legal tobacco volumes in Australia and the steady decline in tobacco consumption that Australia had experienced in recent years has actually eased, not increased, since the introduction of plain packaging," the company said in a statement.
"Instead, the evidence shows that the introduction of plain packaging of tobacco products has coincided with an increase in illicit trade."
Register for free to continue reading
Registration is a free and easy way to support our truly independent journalism
By registering, you will also enjoy limited access to Premium articles, exclusive newsletters, commenting, and virtual events with our leading journalists
Already have an account? sign in
Register for free to continue reading
Registration is a free and easy way to support our truly independent journalism
By registering, you will also enjoy limited access to Premium articles, exclusive newsletters, commenting, and virtual events with our leading journalists
Already have an account? sign in
Join our new commenting forum
Join thought-provoking conversations, follow other Independent readers and see their replies