Oldham West and Royton by-election: Tom Watson dismisses Nigel Farage claims of Labour's 'bent' victory as 'sour grapes'
Ukip leader made formal complaint as he alleges that people were turning up with 'bundles of postal votes' and says he saw some boxes with 99 per cent of the votes going to Labour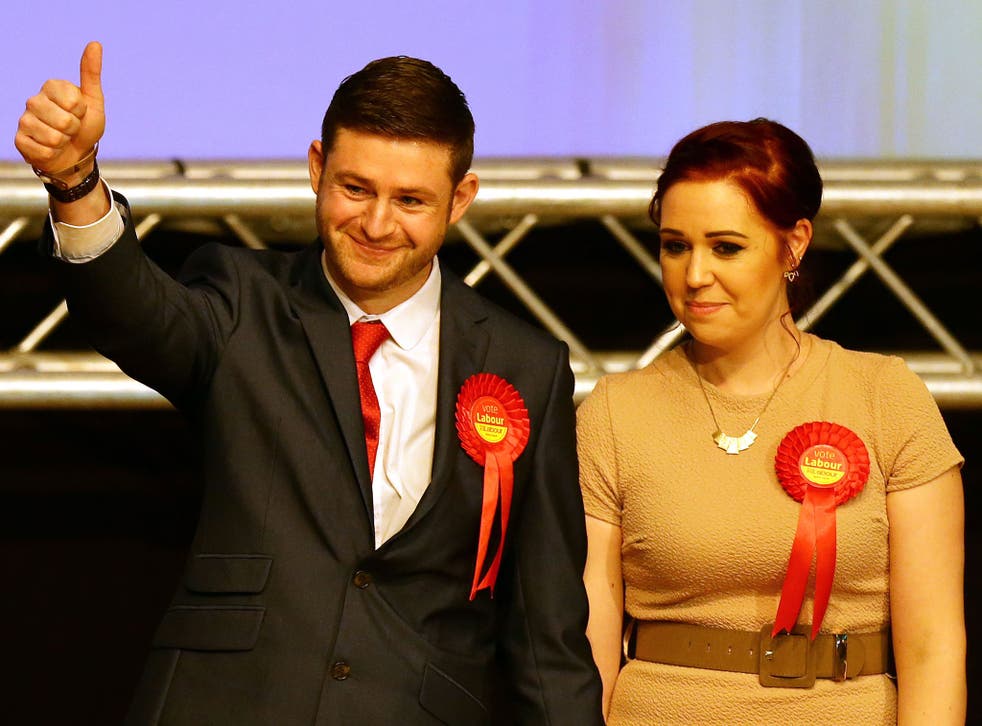 Tom Watson has dismissed Nigel Farage's allegations that Labour's victory in the Oldham West and Royton by-election was "bent" as "sour grapes".
The Ukip leader made a formal complaint about the vote, which saw Labour win by a comfortable margin in its first electoral test under Jeremy Corbyn.
He alleged that people were turning up with "bundles of postal votes" and said he had seen some boxes with 99 per cent of votes going to Labour.
"[That] does not seem to be consistent with modern liberal democracy," he told the BBC.
But Mr Watson said: "If he has got evidence of that, he should have told the police immediately.
"I have spoken to our organisers and they have got no knowledge of that."
The deputy Labour leader hailed the "decisive" margin of victory, which saw Oldham Council leader Jim McMahon beat Ukip candidate John Bickley by 17,209 votes to 10,722 - increasing Labour's share of the vote and dashing Ukip hopes of making a breakthrough.
"If this was a referendum on Jeremy Corbyn, then he has won. It was a decisive victory with our share of the vote going up," Mr Watson told the Today programme before urging internal party critics of Mr Corbyn to take note.
"I hope our MPs look at this result. What's happened since Jeremy became leader and I became deputy leader is we have focused on issues that affect the working people of Britain.
"I think people responded to that at the ballot box. I hope our MPs will see that if you stand up for working people, they respond by supporting you at elections."
There were cheers from relieved Labour supporters of "We backed Jim" as Mr McMahon, 35, gave his victory speech and paid tribute to the late Michael Meacher, whose death triggered the by-election.
He said: "I think tonight that Michael will be watching over us and I was so scared of letting people down, and that together we delivered a result that Michael would be proud of."
He said thousands of people had travelled from all over the country to ensure that Labour had a "good result".
Labour's 62.2 per cent share of the vote was up 7.5 per cent on the May general election. Party leader Jeremy Corbyn tweeted he was "delighted" with the result, which he hailed as a "vote of confidence".
"By-elections can be difficult for the party holding the seat, and turnouts are often low," he said. "But to increase our share of the vote since the general election is a vote of confidence in our party. It's a clear demonstration that Labour is the party working people trust."
Ukip had been expected to make advances in the by-election but its candidate John Bickley polled just 6,487 votes.
Mr Farage branded the result "perverse" and said "serious questions need to be asked". He claimed to have "evidence from an impeccable source that postal voting was bent".
He said the margin of victory for Labour raised questions about the electoral process in areas with large ethnic minority communities, claiming that constituencies with large numbers of minority voters who do not speak English "effectively the electoral process is now dead".
"There are some really quite big ethnic changes now in the way people are voting. They can't speak English, they have never heard of Ukip or the Conservative Party, they haven't even heard of Jeremy Corbyn.
"I'm commenting on the state of modern Britain, post mass immigration. It means effectively that in some of these seats where people don't speak English and they sign up to postal votes, effectively the electoral process is now dead."
Ukip deputy leader and North West MEP Paul Nuttall also claimed postal voting had "distorted" the result and predicted that Ukip with have an MP in the north of England "within the next 18 months".
Chancellor George Osborne was one of the first to congratulate Mr Corbyn on the victory after bumping into his political enemy on the train to Manchester:
Result: Oldham West and Royton by-election
Labour 17,209
Ukip 6,487
Cons 2,596
Lib Dem 1,024
Greens 249
Monster Raving Loony Party 141
Join our new commenting forum
Join thought-provoking conversations, follow other Independent readers and see their replies