Online hate crime to be tackled by new national police hub, Home Secretary says
'What is illegal offline is illegal online, and those who commit these cowardly crimes should be met with the full force of the law'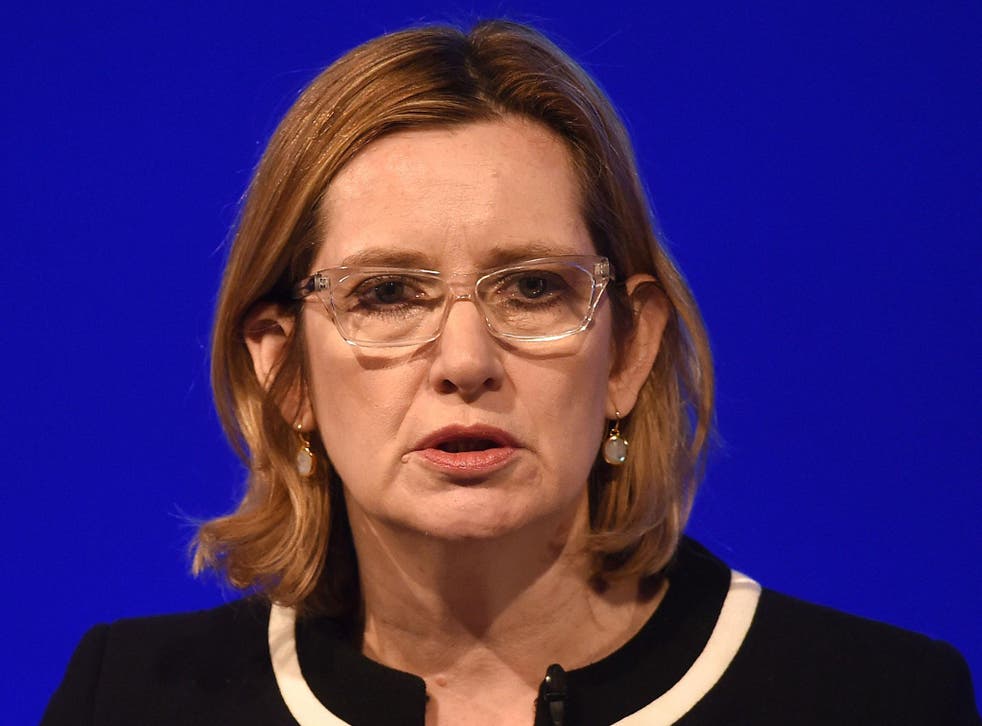 A new national police hub is to be set up to crack down on those who commit online hate crime.
Home Secretary Amber Rudd announced a series of measures, which will include improved support for victims and a drive to increase the prosecution of those who abuse other internet users based on their race, religion, sexual orientation, disability or gender.
Social media giants including Facebook and Twitter have come under fire for not doing more to crack down on offenders amid fears the cost of policing the internet could prove a drain on scarce resources following sweeping cuts in police forces across the UK since 2010.
Groups monitoring anti-Semitic and Islamophobic abuse say that a significant proportion of incidents involve the internet and police have at times appeared reluctant to rigorously investigate online threats.
The number of police officers in the UK fell sharply between 2010 and 2016, from 144,353 to 122,859.
The Home Office said the hub will be run by a "small team of specialist officers" with initial funding of £200,000.
The hub's activities will include assessing whether the particulars of a complaint amount to a crime, combining duplicate reports and identifying perpetrators who hide behind the cloak of online anonymity.
Where appropriate, the hub will make referrals to online platforms so that hateful material can be removed.
The unit will have the job of deciding which force should be responsible for investigating each case, removing any uncertainty which could arise in cases where a complainant is located in one area, with the alleged perpetrator in another.
Ms Rudd said the hub would improve the nature and scale of what she termed a "despicable" form of abuse.
"Online hate crime is completely unacceptable. What is illegal offline is illegal online, and those who commit these cowardly crimes should be met with the full force of the law.
"The national online hate crime hub that we are funding is an important step to ensure more victims have the confidence to come forward and report the vile abuse to which they are being subjected.
"With the police, we will use this new intelligence to adapt our response so that even more victims are safeguarded and perpetrators punished."
Following referral to the hub via True Vision, a police reporting website, individual complaints will be assessed and relevant cases assigned to the appropriate local force for investigation.
There was a surge in reports of hate crime both in the real world and online following the EU referendum in June 2016, while police figures show another spike around the terrorist attacks that hit the UK earlier this year.
A total of 62,518 hate crimes were recorded by forces in England and Wales in 2015/16, while the CPS completed a record 15,442 hate crime prosecutions.
Head of the CPS Alison Saunders had promised action, saying the Crown would seek stiffer penalties for offenders.
Writing for the Guardian, Ms Saunders said it was vital to counter hate speech online as it could fuel physical violence, such as the Charlottesville protests, where a white supremacist rammed his car into a group of counter-demonstrators, killing a woman.
"Left unchallenged, even low-level offending can subsequently fuel the kind of dangerous hostility that has been plastered across our media in recent days," she wrote. "That is why countering it is a priority for the CPS.
UK news in pictures

Show all 50
"Whether shouted in their face on the street, daubed on their wall or tweeted into their living room, the impact of hateful abuse on a victim can be equally devastating."
A number of people have been jailed in the UK in recent years for posting online hate speech, including student Liam Stacey who was given a two month sentence for racist tweets he sent after footballer Fabrice Muamba suffered a heart attack.
But the European Commissioner for human rights, Thomas Hammarberg, said he believed the sentence was excessive.
Speaking the day before he left office, he said: "It was too much. He shouldn't have gone to prison. To put him in prison was wrong.
"Politicians are at a bit of loss to know how to … protect internet freedom while also having regulations against [things like] hate speech and child pornography.
"There are limits to freedom of expression but regulators don't know how to handle this. It would be useful to have a more enlightened discussion at a European level, otherwise we are going to have different practices in different countries.
"People are at a loss to know how to apply rules for the traditional media to the new media. It's tricky and that's why there needs to be a more thorough discussion about this."
National Police Chiefs' Council lead for hate crime Assistant Chief Constable Mark Hamilton said the right to free speech would be respected within the limits of the law.
"Hateful abuse online can leave victims with significant psychological harm, but can also lead to more serious physical offences, so police need to be able to intervene at the earliest possible stage to reassure victims that we will act to protect them.
"We recognise and will uphold the right to free speech even where it causes offence - but this does not extend to inciting hatred or threatening people."
The new hub is expected to be operational before the end of the year.
Register for free to continue reading
Registration is a free and easy way to support our truly independent journalism
By registering, you will also enjoy limited access to Premium articles, exclusive newsletters, commenting, and virtual events with our leading journalists
Already have an account? sign in
Register for free to continue reading
Registration is a free and easy way to support our truly independent journalism
By registering, you will also enjoy limited access to Premium articles, exclusive newsletters, commenting, and virtual events with our leading journalists
Already have an account? sign in