Osborne defies PM and blocks plastic bag tax
We are using more and more, but Treasury puts popularity with shoppers before the environment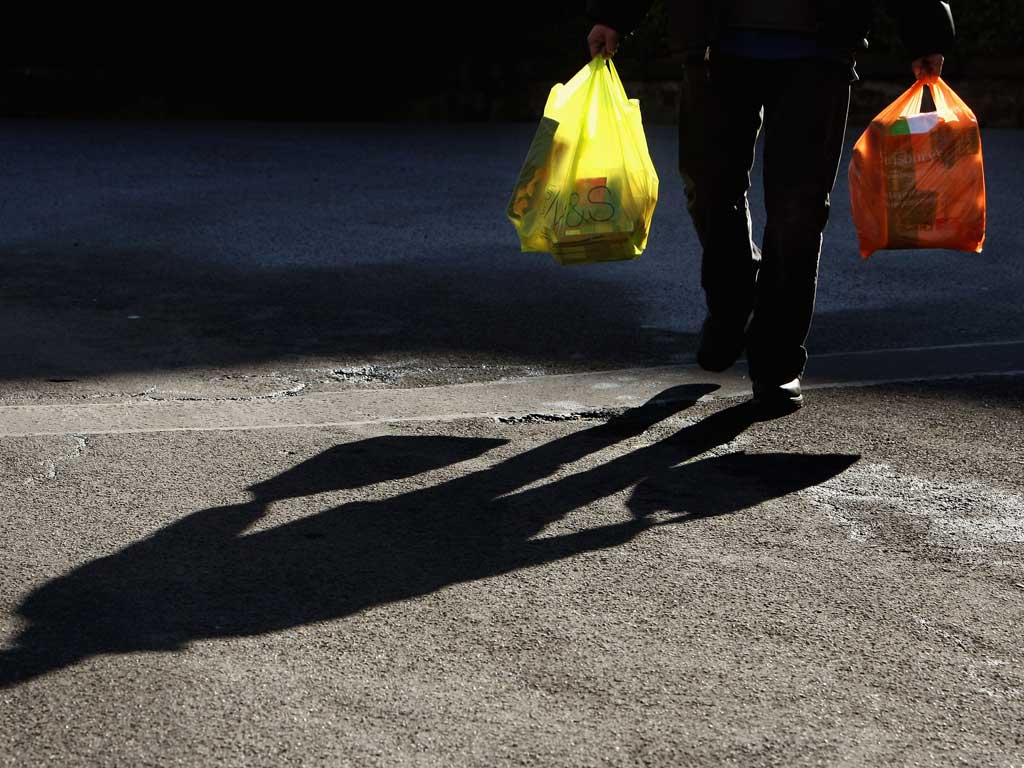 A tax on plastic carrier bags has been blocked by the Treasury despite pressure from David Cameron, senior government sources claimed last night.
The PM threatened supermarkets with a levy after a sharp rise in single-use bags threatened to reverse a previously successful campaign to limit their environmental impact.
The Independent on Sunday has learnt that Caroline Spelman, the Environment Secretary, wanted a "bag tax" to be included in the Budget in March and the Queen's Speech last month. But it is understood the idea has been knocked back, in part because of fears the Government could be accused of adding to the cost of the weekly shop at a time when families are struggling financially.
Those close to the government negotiations said there has been a "firm push back" from the Treasury. "After granny taxes, pasties and fuel fiascos there doesn't seem to be the stomach for any cost-of-living consequentials. It looks dead in the water from here," said a source.
It could leave England as the only part of the UK where bags are given away. A scheme to charge 5p per bag began in Wales in October, with claims that one supermarket saw bag use slump by more than 70 per cent as a result. Northern Ireland is following suit from April next year, charging 5p a bag rising to 10p from 2014, and the Scottish government is to consult on the idea.
The Department for Environment, Food and Rural Affairs has examined a range of ideas, including an outright ban, as in Italy. It had hoped to make an announcement this year, enabling legislation that would allow for a tax if retailers failed to honour voluntary agreements to reduce plastic bag use. They can take 1,000 years to rot away.
"It is still a battle to fight," said a Defra source. "The Treasury has tried to rule it out but we are still pushing for it."
A Treasury insider yesterday expressed surprise at the allegation, adding: "We don't rule it out. A lot of things are under consideration all of the time."
Some in government are pointing the finger at George Osborne, linking this latest blow for environmental campaigners to his repeated public attacks on regulations designed to protect important habitats.
In the wake of the Budget, coalition MPs joined Labour backbenchers calling for the Government to bring forward legislation imposing a charge on single-use plastic bags. Among those backing a Commons motion, which also demanded a ban on free plastic bags at the London Olympics, were the Tory MPs Zac Goldsmith and David Morris, and Lib Dems Mike Hancock and John Leech.
Defra has previously been stung by the suggestion that it has U-turned on taking action to cut the number of plastic bags used in England. In June 2011, officials said defensively that the idea was not in the coalition agreement. A month later, figures showed there had been a sharp year-on-year rise in bag use across the UK. Figures from the government waste agency Wrap showed that 6.4 billion single-use bags were used by supermarket customers in 2010/11, a 5 per cent increase on the year before and the first rise since the issue was publicised in 2006, when 10.7 billion bags were given out.
In September, Mr Cameron issued an ultimatum to supermarkets that the rise in bag use had to be reversed by this summer. "Retailers need to do better. I want to see significant falls again. I know that retailers want to do better, too, but, if they don't, I will be asking them to explain why not," he said.
Join our commenting forum
Join thought-provoking conversations, follow other Independent readers and see their replies