'Our national shame': Health Secretary Jeremy Hunt blasts British society's neglect of its elderly
Jeremy Hunt's provocative speech blaming public for growing isolation of old people is welcomed by charities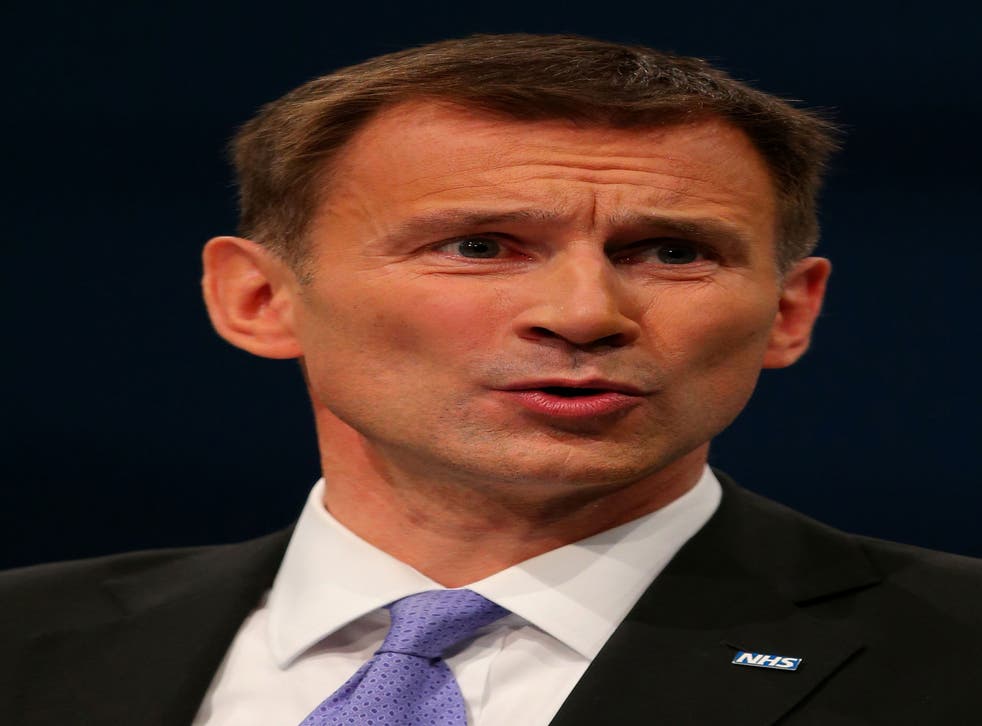 Up to a million elderly people are being consigned to a life of loneliness and ill health because of society's shameful failure to take responsibility for older relatives, the Health Secretary Jeremy Hunt will say today.
In a provocative speech, Mr Hunt will warn that too many old people are unnecessarily placed into care or left isolated in their own homes when they could be looked after by relatives. He will also call on Britain to learn from other cultures where "the social contract" between young and old is far stronger.
Mr Hunt's comments, which have been welcomed by charities, represent the first time that the Government has waded into the controversial debate around society's responsibility towards Britain's growing elderly population.
But it also highlights the concern amongst ministers at the increasing cost to the state of looking after people who might otherwise be cared for by relatives.
In the speech to the National Children and Adults Service (NCAS) conference, Mr Hunt is expected to highlight research showing there are now 800,000 people in England who are chronically lonely. And he will claim that "each and every lonely person has someone who could visit them and offer companionship".
"There is a problem of loneliness that in our busy lives we have utterly failed to confront as a society," he will say. "Apart from the sheer cost of human unhappiness, loneliness is as bad for one's health as smoking 15 cigarettes a day. It is worse for you than obesity because it increases the risk of heart disease, blood clots and dementia."
He adds that the lonely elderly "live amongst us – ignored to our national shame". Mr Hunt, who has a Chinese wife, will say that he has been "struck by the reverence and respect for older people in Asian culture" and suggest that Britain has much to learn from the way other countries look after and respect the elderly.
"In those countries, when living alone is no longer possible, residential care is a last rather than a first option," he will say. "And the social contract is stronger because as children see how their own grandparents are looked after, they develop higher expectations of how they too will be treated when they get old… We must learn from this – and restore and re-invigorate the social contract between generations."
Mr Hunt will stress he believes there are clear circumstances when a care home was the "right option" for an older person. And he says no family should feel condemned for taking "that difficult decision". But he adds it is important not to have to settle for care that is just "good enough".
Caroline Abrahams, director of the charity Age UK, said she agreed with Mr Hunt that "a seismic shift is needed in attitudes towards older people and ageing in this country".
But she added she was extremely concerned that cuts to local authority budgets were exacerbating the problem of loneliness because they are causing the closure of many support services for older people, like lunch clubs.
"We can all do our bit to help fight the growing problem of loneliness by making time for older relatives, friends and neighbours," she said. "But the Government must also take action to address the huge gap in social care funding."
Further reading:
Case study: 'People can get isolated just through the process of getting old'
Register for free to continue reading
Registration is a free and easy way to support our truly independent journalism
By registering, you will also enjoy limited access to Premium articles, exclusive newsletters, commenting, and virtual events with our leading journalists
Already have an account? sign in
Register for free to continue reading
Registration is a free and easy way to support our truly independent journalism
By registering, you will also enjoy limited access to Premium articles, exclusive newsletters, commenting, and virtual events with our leading journalists
Already have an account? sign in
Join our new commenting forum
Join thought-provoking conversations, follow other Independent readers and see their replies